(Tempe, AZ)  Led by stellar numbers from multiple people, No. 18 Sun Devil Volleyball closed out the home season on a high note, beating Oregon State in four sets (30-28, 25-13, 21-25, 25-23) on Sunday afternoon in Desert Financial Arena.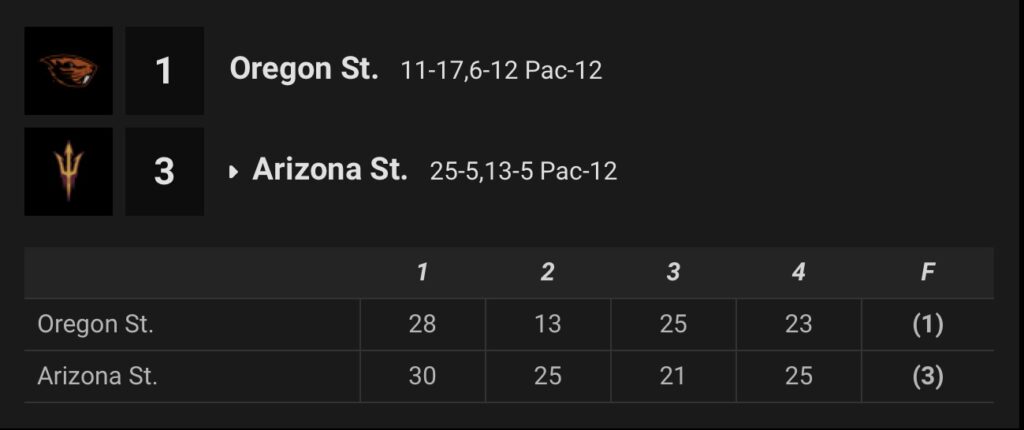 Notable Stats
Arizona State improved to 25-5 (13-5 Pac-12), which is in sole possession of the third-highest win total in program history. Additionally, the 13 conference wins tie for the most in ASU history (1993, 1986, 1975).
ASU avenged its loss to Oregon State (11-17, 6-12 Pac-12) from earlier this season to split the season series. The Sun Devil serve showed up, as usual, dropping in eight aces, compared to the Beavers' two.
For the second match in a row, graduate setter Shannon Shields earned a double double, getting 47 assists and a team-high 14 digs (ties her season high). It is her ninth of the season and 19th of her career. Additionally, it was her eighth time this season with 40-plus assists. She also had a career high in kills with eight and added four blocks.
Junior outside hitter Geli Cyr hit a blistering .632, a career high, with 12 kills. She earned double figures in digs with 13, reaching double-digit digs in four of the last five matches. This was her second-straight double-double, which is the fourth of the season and 10th in her career.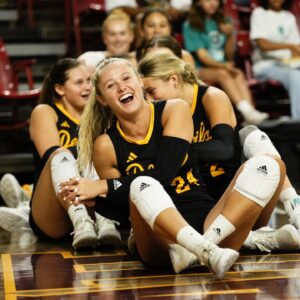 Senior opposite Marta Levinska had her 15th-straight match with double-digit kills, notching 18 to lead the team. She also had eight digs and four blocks.
Bringing another strong offensive weapon, senior middle blocker Claire Jeter had 10 kills on a .588 clip, her fourth match of the year reaching double figures. She also had three aces.
Graduate libero Mary Shroll had her eighth match in a row with double-digit digs, collecting 11.
Leading the defense at the net was graduate middle blocker Maddie McLaughlin with four blocks, adding five kills as well.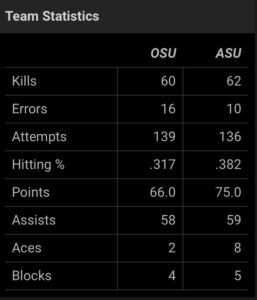 Junior defensive specialist Meadow Cooper tied her career high in aces today with two.
First set (30-28) was the second-longest set of the season after a 31-29 first set at UCLA, which ASU also won. Arizona State is 4-4 in sets that go to extra points this season.
This was the fifth match of the season that Arizona State had 3,000-plus fans in attendance. Today, there were 3,313.
The team finished the home slate with an impressive 9-1 record.
Prior to the match, six Sun Devils were honored for Senior Day: Cooper, Levinska, McLaughlin, Jaden Ravnsborg and Shields.
Set One: ASU 30, OSU 28
The Sun Devils and Beavers opened the first set close but Arizona State continued on to lead with a 5-0 scoring run to go up 5-2. The following eight plays were back and forth with each team alternating points with the home team holding a 15-12 lead after a block from Shields and McLaughlin, forcing Oregon State to call their second timeout. The Beavers came back to get within one and make the score 16-15, resulting in the Sun Devil's first timeout. The points alternated between each team with Arizona State preserving its lead of 21-19 until Oregon State came back to tie the set 22-22, calling for another Sun Devil timeout. Both teams returned to the court fighting for the first set result all the way until the final score of 30-28 for a Maroon and Gold win.
Set Two: ASU 25, OSU 13
The Sun Devils started the second set with a 5-0 scoring run, sending Oregon State to call an early timeout, but Arizona State came back from the break to extend the run to 6-0, all with Jeter serving and getting an ace in the process. The Beavers started to catch up, but the Sun Devils held their lead of 14-6 with a run of 4-0 that saw another ace (from Shroll), Oregon State called its second timeout. After the timeout, the ASU points kept coming as the team went on to hold a minimum of an eight-point lead and secure its second set win with a final score 25-13.
Set Three: OSU 25, ASU 21
Looking for a comeback, Oregon State recorded the first four points of the set and held a lead of 7-2 over Arizona State until the home team called a timeout. The Sun Devils battled, but it was not enough to steal the Beaver's 18-13 lead before calling an additional timeout. The break served the Sun Devils well as they recorded six more points, including kills from three different Devils, to catch up to the Beavers' lead of 21-19 and force them into a timeout. Despite ASU earning two additional points, OSU preserved its lead and ultimately won the set by 25-21.
Set Four: ASU 25, OSU 23
The final set opened with Oregon State holding a single point lead until Arizona State stole the advantage with a 3-0 scoring run, making the set 6-3 and resulting in an OSU timeout. The Sun Devils owned the advantage for the next nine points but lost it when the Beavers recorded a 3-0 scoring run of their own to lead 11-10, which sent the Sun Devils into a timeout. The home team secured the lead again but turned it over to the visiting team who earned three-consecutive points and forced Arizona State to call another timeout. After five ties starting at 17-17, the Sun Devils took the lead again at 22-21 following an OSU serving error. The final scenes were as close as they could be with the score tied 23-23 before the Sun Devils earned the victorious two final points off of back-to-back kills from Cyr.
Up Next
No. 18 Sun Devil Volleyball closes out the season next weekend with a trip to Washington State for a match on Wednesday at 1 p.m. MST, followed by the annual rivalry match against Arizona on Saturday in Tucson at 5 p.m. MST.
Press Release courtesy of Sun Devil Athletics – Birgen Grueskin, media relations intern