Trayanna Crisp led the Sun Devils with 17 points and six assists (zero turnovers), while Journey Thompson (12 points) and Maggie Besselink (10 points) combined for 22 points.
Treasure Hunt (7 points), Mallory Miller (5 points), Morasha Wiggins and Hanna Miller(four points each) came off the bench to add an additional 20 points in scoring.
M. Miller and Besselink tied for the team lead in rebounds (7), while Kadidia Toure and Besselink paced ASU in steals (3).
Jaddan Simmons, who came into the game leading the Pac-12 in free throws made (27/5th in the nation) & attempted (30/7th in the nation), continued her consistency in both categories as she led the team in attempts and makes (6-8), as part of her eight-point, six-rebound night.
"Super proud of this group and I mean, that was just for us, such a team effort from start to finish," ASU head coach Natasha Adair said after the win. "It was about growth and just putting together 40 full minutes and we started it on defense, and we finished it on defense and so I'm very proud of how we responded and excited about the momentum that we can carry into (this week's Paradise Jam)."
Adair was especially impressed with how the Sun Devils responded following their first loss of the season at Grambling State on Thursday, a game in which ASU came back from 17 down to tie the game before the Grambling State won it with a 3-pointer in the closing seconds.
"I think we took a lot from that game in the sense of competing for 40 (minutes)… I just felt like we set the tone from the tip today," Adair said. "We didn't let up and we talked about that. We went back, we watched where there were just moments in that game where we didn't capitalize on turnovers, we didn't finish at the free throw line, we didn't finish at the rim. So today was just about focus and finish; whatever play we made, finish."
Idaho State took its only lead of the game after Laura Bello's free throw put the Bengals up 1-0 less than a minute into the game.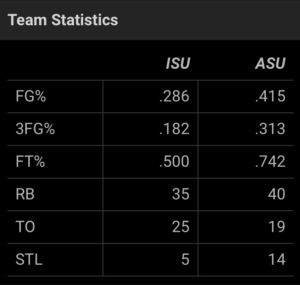 Toure's layup ignited nine straight points scored by the Sun Devils in the span of just under two minutes. The scoring spree included a pair of free throws by Simmons and was polished off by five straight points from Crisp (a 3-pointer and a layup). Two more free throws by Simmons with 2:49 remaining made it an 11-1 run.
The Devils were so dominant on the defensive end the Bengals did not score their first field goal of the game until Maria Dias' layup with 15 seconds left in the quarter.
Crisp's eight points helped the Sun Devils to an 18-5 lead after 10 minutes.
The Sun Devils continued with their relentless defense in the second quarter as the Bengals did not reach a double-digit point total until Dias' jumper pushed Idaho State's number on the scoreboard from nine to 11 with 2.46 remaining. The Bengals ended making only 18 percent of their shots during the first 20 minutes.
Offensively, the Sun Devil bench was responsible for 11 of the team's 14 points in the quarter: Wiggins (4 points), M. Miller (4 points) and Hunt (3 points). Miller also added six rebounds, the most of any Sun Devil in the entire first half.
The Sun Devils led by as many as 22 in the first half after Crisp's 3-pointer gave ASU a 29-7 advantage with 4:38 remaining in the quarter.
Bello's jumper with 3:19 remaining jumpstarted Idaho State's offense as the Bengals hit four of their last seven shots of the half to get within 17 at the half, 32-15.
The Bengals got as close as 15 points in the opening seconds of the second half before the Sun Devils responded with the game's next nine points, capped off by Thompson's layup that gave ASU a 41-17 lead.
The Sun Devils went on to lead by as many as 36 points following Hunt's layup with just under four minutes remaining in the game.
For the second time this season, the Sun Devils forced a team-high 25 turnovers which they converted into 24 points. They have averaged 22.2 points off turnovers this season.
ASU will conclude the opening month of play with a trip to the Virgin Islands where it will play three games in three days at the Paradise Jam: vs. No. 11 Texas (Thanksgiving Day at 6 p.m. MST on ESPN+), vs. USF (Friday at 3:45 p.m. MST on ESPN+), vs. High Point (Saturday at 3:45 p.m. MST on ESPN+).
Press Release courtesy of Sun Devil Athletics – Steve Rodriguez