(Tucson, AZ)  The Pima Community College men's basketball team (18-5, 11-4 in ACCAC) took control in the first half of its game against Central Arizona College (7-16, 5-10).
The No. 12 ranked Aztecs (Division II) defeated the Vaqueros (Division I) 94-75 to earn their 14th win in the last 16 games. The Aztecs swept the Vaqueros during the regular season winning 95-83 in Coolidge back in December.
The Aztecs led the entire game. Up 28-17, the Aztecs outscored the Vaqueros 22-11 in the final 9:44 of the half to take a 50-28 lead at the break.
The Aztecs never surrendered their double-digit lead in the second half.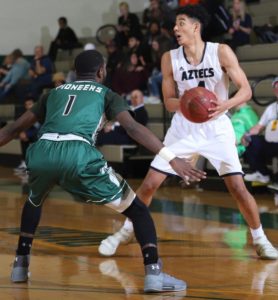 Sophomore Abram Carrasco scored a game-high 34 points as he went 13 for 19 from the field including 4 for 7 from three-point range. Carrasco has 1,075 points in his Pima career as he edges closer to Isaiah Murphy (Cienega HS), who scored 1,109 points. Murphy Gershman (Tucson HS) totaled 1,210 points and Greg Cook finished with 1,240 points.
Sophomore Kennedy Koehler finished with his 13th double-double of the season. He had 21 points and 10 rebounds. Sophomore Robert Wilson (Salpointe Catholic HS) had 11 points and six rebounds while freshman Rashad Smith posted 11 points, six rebounds and six assists.
The Aztecs get back to ACCAC Division II play on Wednesday as they travel to Scottsdale Community College. Tipoff is set for 7:30 p.m.
Courtesy of Pima Athletics