GCU senior third baseman Juan Colatohit a pair of home runs, including a decisive three-run blast in the seventh inning that broke a 2-2 tie. He also homered in the first inning to put the Lopes (15-9, 7-1 WAC) on the board.
"It's just fun to play against such a good team," Colato said. "That gets the juices going, and hopefully I was able to barrel those balls."
Colato also homered in Friday's series opener. He accounted for four RBIs on GCU's five runs by homering from each side of the plate on Saturday.
"It was a big day by Juan offensively," Lopes head coach Andy Stankiewiczsaid. "He put together some big at bats to be able to stay out in front. It's a team game. We have a bunch of guys on this team that want to help and be a part of it. It was Juan's day to help us offensively."
On the mound, Lopes freshman right-hander Daniel Avitia turned in another impressive performance. After allowing a run in each of the third and fifth innings to tie the game at 2-2, Avitia only got stronger. He retired the final nine batters he faced to finish out a seven-inning performance, his longest outing of the season. Avitia allowed just three hits while striking out five in collecting his third victory.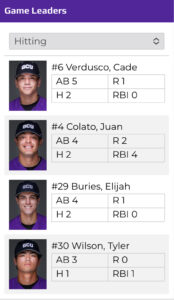 "He got stronger," Stankiewicz said. "That's great for a freshman. We needed that performance. We needed someone to help us get back on the horse. He gave us exactly what we needed. That was a great performance by him. Tip our hat to that young man."
After a tough evening out of the bullpen on Friday, GCU turned in a clean sheet on Saturday. Junior Blake Reilly, senior Brodie Cooper-Vassalakis and junior Vince Reilly combined to throw two scoreless, hitless innings with a pair of strikeouts.
"I'm proud of Brodie coming back in here tonight and getting a big out," Stankiewicz said. "Vince Reilly coming in and being able to slow his heart beat down a little bit."
GCU's only run not aided by Colato came in the fourth inning. Sophomore first baseman Elijah Buries hit a double and scored when sophomore catcher Tyler Wilson grounded a two-out single up the middle.
The Lopes tallied 10 hits, including multi-hit efforts from Colato, Buries and sophomore left fielder Cade Verdusco.
GCU pitching limited the Hornets to three hits, matching the Lopes' season low for an opponent.
GCU, leading the WAC West Division by 1 1/2 games, will face its first conference rubber match of the season when the teams close out the series on Sunday at noon.
Press Release courtesy of Grand Canyon University Athletics – Josh Hauser