(Tucson, AZ)  Phoenix local Marissa Schuld tossed a perfect game and No. 17 Sun Devil Softball (25-5, 6-0 Pac-12) swept through Tucson and run-ruled in-state rival No. 14 Arizona (19-10, 0-6 Pac-12) on Sunday afternoon, 8-0, in five innings to complete the series sweep.
Schuld spun the first perfect game for the Sun Devils since Feb. 9, 2017 against UTEP and the eighth perfect game in program history. Her offense did plenty to back her up, recording 12 hits and four home runs on the afternoon. Over the weekend, the Sun Devils outscored the Wildcats 28-2 through three games.
"In the box, we came and did some damage, we got good pitches and we hit them hard," head coach Trisha Ford said. "Marissa pitched her guts out today, she pitched a gem and I thought we played stellar defense for her and they wanted it for her, I think there was an extra chip on everyone's shoulder."
The Sun Devils are on a 13-game win streak after today's five-inning affair against the Wildcats and have swept both Pac-12 series to open league play this year. This weekend marked the 13th time Arizona State has swept Arizona and the first time since 2011 ASU has swept Arizona in Tucson. The Sun Devils have taken six of the last seven games from their rivals.
Both run-rules this weekend are the first to happen down in Tucson.
Arizona State had its fifth game with four home runs this season. All four this afternoon came by way of the solo variety as Jazmyn Rollin and Emily Cazares notched a pair in the third inning before Yannira Acuña and Cydney Sanders did the same in the fourth. On the weekend, the team combined for eight home runs to Arizona's one.
Acuña, Rollin and Sanders all had above a 1.250 slugging percentage while Acuña, a Tucson native, hit .750 on average this weekend. In 75 at-bats for the team, they had 33 hits, eight doubles and eight home runs.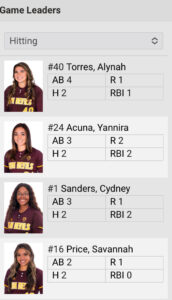 HOW IT HAPPENED
Arizona State 8, Arizona 0
Leadoff hitter Alynah Torres singled to left to start the game. Just three pitches later, Yannira Acuña blasted a double off the wall to put runners on second and third. Cydney Sanders hit a blooper to bring a single runner home for a 1-0 Sun Devil lead. Following a walk, Jazmyn Rollin hit a sacrifice fly to bring in another run to push the lead to 2-0, which is how the Sun Devils would walk away from the top frame.
Savannah Price drew a walk to start the second inning and Yanni Acuña was hit by a pitch. With one out, Sanders walked to load the bases, but a double play stranded the runners to end the half-inning.
Rollin smashed her 10th home run of the season to extend the lead to 3-0, then Emily Cazares hit another home run toward right field to make it 4-0 in the top half of the third inning.
To open up the fourth, back-to-back solo home runs by Yanni Acuña and Sanders helped extend the lead to 6-0.
With one out, Jessica Puk singled through the gap, with Price executing a bunt to advance Puk to second, while being safe at first. Torres hit an RBI double to bring in Puk and extend the lead to 7-0 and Acuña brought in Price to cap off the scoring.
The rest was all Schuld as the former Wildcat was more than up to task against her previous team. After getting the save in the series opener on Friday, Schuld got the nod today and simply kept Arizona out of sorts all afternoon – needing just two strikeouts while issuing nine fly outs and four ground outs.
Schuld threw just 58 pitches, 43 of which were strikes. It was the first time this season she had gone at least 5.0 innings without allowing an earned run.
Quotes
Arizona State Head Coach Trisha Ford:
On Marissa:
"This is a special day for her, she's been dominate all year honestly and for her to come out here today to keep her emotions in check and pound the zone and throwing her off-speed says a lot about her."
Senior Pitcher Marissa Schuld:
On playing her former team:
"Obviously there were emotions from me and I wanted to show the player that I can be, and sticking to my plan not making the game too big, taking it pitch-by-pitch was important."
On her perfect game:
"It feels really good, it wouldn't be achievable without my team, they have my backs and I'll have their backs at the end of the day."
Press Release courtesy of Sun Devil Athletics – Paige Shacklett