(Westlake Village, CA)  The Arizona State Sun Devil men's golf team not only won the highly-competitive Southwestern Invitational on Wednesday, it put everyone in the rear view mirror in the final two rounds as it shot a tournament-record 30-under, topping USC's 26-under in 2016.
ASU earned its ninth Southwestern Invitational title presented by Topgolf Wednesday at the North Ranch Country Club (par 72/6,992 yards) in Westlake Village in convincing fashion, while David Puig earned his second straight individual honor.
After shooting a 13-under 275 — tied for the second-best round in Southwestern Invitational history — on Tuesday, the Sun Devils went out and shot 12-under 276 which was seven shots better than anyone on the final round.
It marked ASU's ninth Southwestern team title — but its first since 2001 — as no one was won more.
Puig became the first back-to-back Southwestern champion, and the fourth two-time winner. It marked the seventh time ASU won the individual title (breaking a tie with USC for the most). Puig's 7-under 65 Wednesday was one shot off the tournament 18-hole record.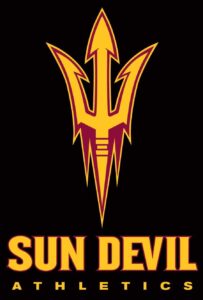 DAVID PUIG'S INDIVIDUAL TITLES
David Puig (Jr.) Southwestern Invitational (Jan. 24-26, 2022)
David Puig (So.) Amer Ari Intercollegiate (Feb. 2-4, 2021)
David Puig (So.) Southwestern Invitational (Jan. 25-27, 2021)
Here are some other numbers to know about the dominating performance.
2: Preston Summerhays led the tournament in par-3 scoring (2.83) and was one of only two players to shoot under par on the short holes (-2).
9: ASU has now competed in the tournament 29 seasons and has won nine titles. It won the 1980, 1983, 1986, 1993, 1996, 1998, 2000 and 2001 championships before this year's win.
10: Four Sun Devils finished in the top 10. In addition to Puig winning the title, Cameron Sisk (tied for second), Preston Summnerhays (tied for sixth) and Mason Andersen (tied for tenth) also
13: ASU topped host and defending NCAA champion Pepperdine by 13 strokes. The Sun Devils shot 30-under 834 (283-275-276) while Waves shot 17-under 847 (287-277-283)
17: Puig posted 17 birdies tied for most in the tournament.
75.41: The final round scoring average was 75.41, but Puig shot a 7-under 65.
SUN DEVIL INDIVIDUAL WINNERS
David Puig, 2022 & 2021
Paul Casey, 1998 (won the event his freshman season and was his first of six collegiate titles in his ASU career).
Todd Demsey, 1994
Billy Mayfair, 1987
Dan Forsman, 1980
David Lee, 1979
Press Release courtesy of Sun Devils Media Relations – Doug Tammaro