Miller's 2nd season at GCU features 16 home games, expanded WAC
(Phoenix, AZ)  A new brand of Grand Canyon women's basketball was established last season, but now GCU fans will be able to see it as the Lopes assembled a schedule with 16 home games and road tests to prepare for the first year of an expanded WAC.
Coming off an 18-7 season with a nationally ranked pressure defense, GCU will return its top defenders and add WAC leading scorer Amara Graham to maintain second-year head coach Molly Miller's winning ways.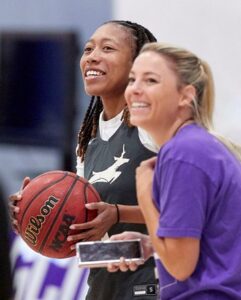 Miller, the national leader in career winning percentage (.892), will prepare the Lopes in nonconference play with home and neutral games against 2021 conference runners-up (UC Irvine and Liberty), a road game against the 2020 WAC champs (Kansas City) and visits from two teams that GCU beat on the road last season (Eastern Washington and Houston Baptist).The slate builds toward conference play, where the WAC features three new teams that finished last season in the top four of the Southland (Stephen F. Austin, Sam Houston State and Lamar). Stephen F. Austin, a Jan. 20 visitor to GCU Arena, finished last season No. 28 in the NCAA's NET Ranking and carried a 19-game winning streak into the NCAA tournament.
"We have built a challenging schedule that will prepare us for the increased level of conference competition this season," Lopes head coach Molly Millersaid. "We're excited to play in front of our fans and give them their first in-person look at our style and how it can keep them on the edge of their seats. The passion, energy and effort our team displays on the court will be inspiring and fun to watch."
GCU will open the regular season at home against Arizona Christian on Nov. 10 and remain at GCU Arena for a Nov. 16 game against Eastern Washington, which the Lopes beat 84-78 last season.
Nonconference home games also include a Nov. 26 tilt against Nicholls State, a team with a similar penchant for creating turnovers. Nationally, Nicholls ranked 25th (19.6 opponent turnovers per game) while GCU was fourth (23.3).
That game will be part of a home back-to-back with a game against Houston Baptist, which the Lopes defeated 79-76 last season with 18 points from returning guard Ny'Dajah Jackson.
UC Irvine, last season's Big West runner-up, will finish GCU's nonconference home schedule on Dec. 23, a week before WAC play starts at Chicago State.
The Lopes play five nonconference games away from home. They visit former WAC foe Kansas City (Nov. 20), CSU Fullerton (Dec. 4) and Northern Arizona (Dec. 9) before the South Padre Island Classic (Dec. 17-18). GCU will play Liberty, last season's ASUN runner-up at 19-8, and UT San Antonio.
"This schedule will allow us to build off the success we started last season while incorporating a large group of newcomers," Miller said. "Our standards and goals remain the same. The schedule mix of quality opponents, road trips and Havocs home-court advantage will put us in position to reach those goals."
That includes trying to win the WAC with 11 new players, featuring conference scoring champion Amara Graham, formerly of UT Rio Grande Valley. GCU ranked second in the nation with 13.4 steals per game and five returnees, featuring All-WAC Tournament Team honoree Tiarra Brown, accounted for 10.5 of those steals per game.
The Lopes have an 18-game conference schedule with new opponent trips to Abilene Christian (Jan. 13) and Sam Houston State (Feb. 26) and home games against Lamar (Jan. 8), Stephen F. Austin (Jan. 20) and Sam Houston State (Jan. 22).
Season tickets, starting at $50, are available by visiting the schedule page on gculopes.com or calling 602-639-8979.
Go to the full schedule here.
Press Release courtesy of Grand Canyon University Athletics – Paul Coro