Jazmine Hill returned to form with her first multi-hit game of the season, including her first home run of the year. Jordyn VanHookcontinued her fast start with a home run and a single to notch her second multi-hit game of the year. Continuing to shine in the circle, Kenzie Brown entered in the third inning in relief of Mac Osborne and struck out four over three scoreless innings for the Sun Devils.
How It Happened:
BYU was able to put four runs on the board in the top of the first inning.
The Cougars added two more runs in the top of the second frame to lead 6-0.
In the bottom third, Hill singled through the left side, as Harper walked to put runners on first and second. Vanhook singled in the gap to score Hill and Harper, as she advanced to second on a throwing error. Immediately after, Alexa Milius doubled to the center field wall to add another ASU run, making it 6-3.
After a scoreless fourth frame for both teams, Hill batted lead-off in the bottom fifth and belted a home run to bring the Sun Devils within two. Then, Vanhook smacked a solo home run toward left field to cut the Cougars' lead to one, 6-5 heading into the sixth inning.
BYU was able to score four runs in the top of the seventh to extend their lead.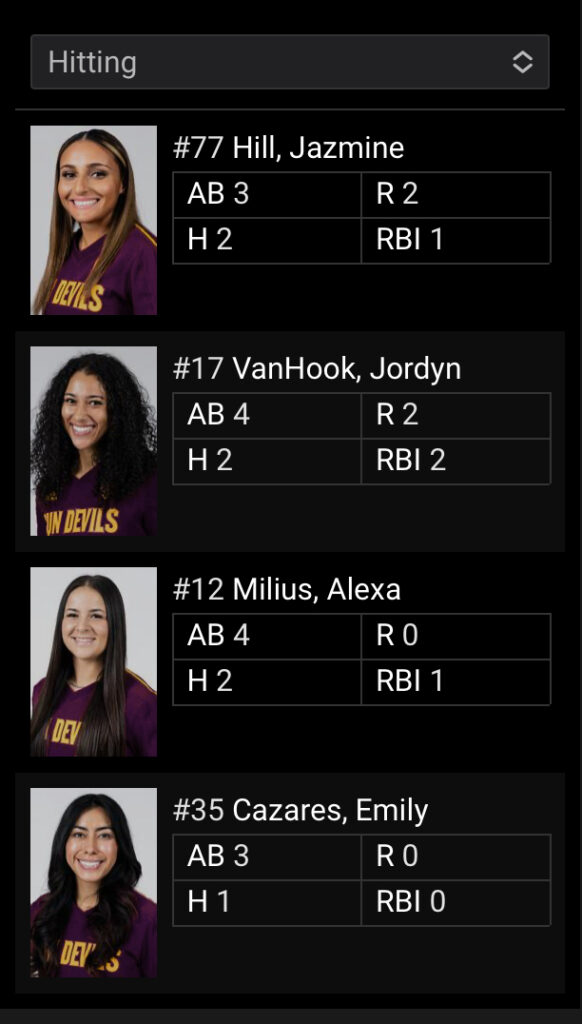 Quotes:
Head Coach Megan Bartlett
On cutting deficit closer: 
"It's time to claw your way back, right? If we're not going to defend so well, we better hit so well. BYU's a tough team, I mean traditionally that's a postseason team. They win their conference, traditionally in the top-40. So you know what you're in for, we came out and didn't play some ball so well, they jumped ahead. So at that point, it's just time to be gritty, have quality at-bat, have good pitch selection, not try and make any one at-bat too big. So we found a way to claw back."
On Kenzie Brown: 
"Love Kenzie Brown. That kid has got special stuff in her, she is incredibly talented. She can spit it up, she can spin it down, she can move it off speed and just plays the game with this incredible passion and joy, you can see it come off of her on the mound. As she gets more innings under her belt and time goes on, we really expect some big things from Kenz and she's gonna be a big part of the program."
On any big takeaways from tonight's game: 
"We just gotta clean it up on all sides of the ball. This team still, 13 and 21 new kids. Some of them are new completely to college softball, there's some 18-year-olds mixed into there. So we're just still working through options and settling into lineups. It wasn't gonna be easy, so this is that moment you push yourself and you figure out how do I get better? How do I get back to it? How do I get my mind in the right place and just move on to the next? So you can't get that game back, so you gotta stay present, get ready for the opponent tomorrow, so we will see how short of a memory they have. But we got four ball games left this weekend and a lot on the way."
Up Next:
Sun Devil Softball will look to bounce back tomorrow against Portland State at 5 p.m. MST in day two of the Littlewood Classic. Coverage can be seen on ASU Live Stream-2.
Press Release courtesy of Sun Devil Athletics – Zach Wargo & Olivia Dowell