(Lancaster, CA)  Park University Gilbert men's basketball team concluded their two game road trip with a contest against RV University of Antelope Valley that ended 79-60. The two schools met in Mesa, Ariz. during the end of 2022, in which the Pioneers put a down a 97-47 showing.

Head coach Gordon Stubblefield said, "We knew tonight was going to be a challenge but we pressured and caused some mistakes on Antelope Valley's end. Now we will just prepare for the upcoming home games against Merced and Simpson."
The Buccaneers took an early lead after going on a 9-7 run during the first two minutes of the half. Unfortunately, they found themselves trailing the remainder of the night. Before heading into halftime, Zach Lewkowski was able to clinch a crucial back to back three-point shot and jumper, closing the point gap to just 28-36.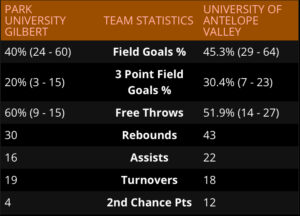 Turnovers played a huge role throughout the evening, with the Bucs scoring 23 points off of 18 Pioneer turnovers. When it came to shooting, both sides of the court struggled to sink any three-pointers. Park finished shooting 20% from behind the arc, with the Pioneers shooting 30%.
LC Ballard saw 32 minutes of playing time, in which he contributed a team high of 16 points on 7-15 shooting and five assists. The bench made a difference in the game, racking in 35 points from big scorers like Lewkowski and Tre Adams who drained 12 and eight points respectively. Aidan Moreno had his sights on completing his second double-double of the season with seven points and a team high of eight boards.
The Buccaneers are slated to host the University of California-Merced on Jan. 26 at 7:30 p.m. followed by Simpson University on Jan. 29 at 7:30 p.m. Both contests will be held in Bell Bank Park, powered by Legacy Sports.
Press Release courtesy of Park University Athletics – Lainie Hallows