(Tempe, AZ)  The Sun Devils have had some great players stay home and carve out some great careers on Frank Kush Field. Local high school stars have made the short commute after growing up watching the maroon and gold in their young years. Below is a list — one that we are continuing to update — of former Arizona high school football stars who also made a big impact in Tempe.
By no means is what you see a completed list. If your favorite Sun Devil from an Arizona high school isn't listed, you can either a) assume they will be; b) send Sun Devil communications student assistant Zach Wargo  ( zwargo@asu.edu ) a nice note reminding him of your local heroes.)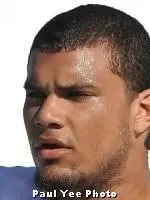 Corey Adams (2009-2012) — Saguaro High School
Adams anchored a Saguaro defensive line that propelled the Sabercats to three straight state titles from 2006 to 2008. Adams, regarded as one of the best defensive players in the country, was the No. 54 ranked prospect in the country and the fifth ranked defensive tackle by ESPN. Adams, a five star prospect, earned first team All-State honors from the Arizona Republics. As a three year letterman with the Sun Devils, Adams collected 30 tackles, 2.5 sacks including a forced fumble.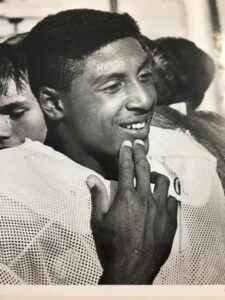 Eric Guliford (1989-1992) – Peoria High School
The wide receiver spent four years in Tempe playing in 43 games for the Sun Devils. Eric Guliford was able to assemble 2408 yards for his career with his 164 receptions which included 11 touchdowns for ASU. While he wasn't only catching footballs, he played a pivotal role in special teams as he had 665 return yards for his career, along with two punt return touchdowns in the 1991 and 1992 season. The Kansas City native was able to play five seasons in the NFL for the Minnesota Vikings, Carolina Panthers and the New Orleans Saints where he appeared in 52 games, and started in 13 over the five-year span. Guliford had 134 career receptions with 1300 receiving yards with one touchdown in his career.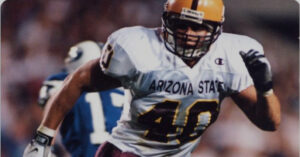 Adam Archuleta (1996-2000) — Chandler High School
An All-State honorable mention in 1995, Archuleta was named the Channel 12 News Defensive Player of the Year. Archuleta was selected to the All-Valley team as a corner back and running back. Archuleta was not initially given a scholarship by ASU, but made the team as a walk on in 1996. After red shirting his first year with the program, he then gained playing time as a backup linebacker in 1997 and eventually worked his way into the starting lineup and was named to the All-Pac-10 First team in 1999. Archuleta was also named the 1999 Pac-10 defensive Player of the year. Archuleta was selected in the first round of the 2000 NFL Draft by the St. Louis Rams. Archuleta played seven years in the NFL with the Rams, Washington Football Team and Bears and compiled 530 tackles, 18 sacks, four interceptions and three defensive touchdowns. He also earned Sun Devil Hall of Fame honors.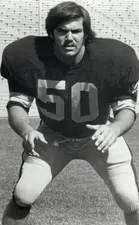 Bob Breunig (1971-1974) — Alhambra High School
Breunig, the 10th Sun Devil to be enshrined into the College Football Hall of Fame, was a 1974 All-American who helped the lead the Sun Devils to a 28-8 record and three straight Fiesta Bowl victories as a three year starter. Breunig was the 1974 team MVP, and served as a captain from 1973-1974. In his two years as a team captain, ASU captured two straight WAC championships. Following a prosperous career at ASU, Breunig was selected with the 70th pick in the third round of the 1975 NFL Draft by the Dallas Cowboys. Breunig played in 117 straight games for the Cowboys, helping "America's Team" to six NFC Championship game appearances and three Super Bowls, including a victory over the Denver Broncos in Super Bowl XII. Breunig was inducted into ASU's Ring of Honor in 2012, and the College Football Hall of Fame in 2015.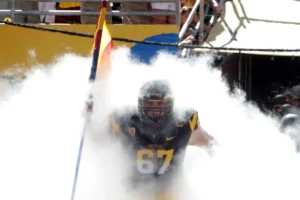 Kyle Caldwell (2003-2006) — Saguaro High School
Caldwell was the top rated player in the state by SuperPrep magazine and was awarded the Ed Doherty State Player of the Year award and the Curley Culp Defensive Player of the Year award as a senior. During that senior season, Caldwell accounted for 131 tackles, 34 tackles for loss, 30 sacks, 29 quarterback hurries four forced fumbles and three fumble recoveries. While Caldwell was busy terrorizing offenses, he also spared time to wreck opposing defenses as well. Caldwell rushed for 515 yards and eight touchdowns as a fullback during his senior season. Caldwell finished his high school career with 334 tackles, 45 sacks, 82 quarterback hurries, 13 caused fumbles and 12 fumble recoveries. Caldwell also scored 18 total touchdowns as a fullback and tight end. Despite nagging injuries in the early stages of his college career, Caldwell only missed three games during his career. Caldwell earned Pac-10 All-Freshman honors in 2003, and was an All-Pac-10 honorable mention in 2006. After his collegiate career, Caldwell went back to his high school roots as the defensive line coach for the Sabercats.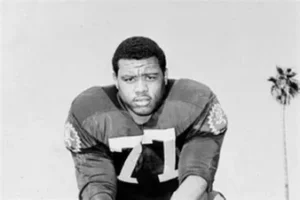 Curley Culp (1965-1968) — Yuma High School
Sun Devil Hall of Famer Curley Culp excelled in football and wrestling during his high school career, winning back-to-back state wrestling championships in 1963 and 1964. After a dominant high school career, Culp enrolled at ASU. In 1967, Culp was named an All-American on the gridiron and also won the 1967 NCAA heavyweight wrestling championship. After his collegiate career, Culp was selected in the second round of the 1968 AFL Draft by the Denver Broncos, who then later traded him to the Kansas City Chiefs were he became a stalwart presence on their defensive line. Culp anchored the Chiefs front seven, and spent seven years with teh Chiefs from 1968-1974. During his time in Kansas City, the Chiefs beat the Minnesota Vikings in Super Bowl IV, and Culp played a significant role in nullifying the Vikings rushing attack. In 1975, Culp was traded to the Houston Oilers where he notched 11.5 sacks and was named the NFL Defensive Player of the year as well as being selected as a first team All-Pro. Culp was inducted into the Pro Football Hall of Fame in 2013.
D.J. Davidson (2017-2021) — Desert Ridge High School
A three-star recruit rated by Scout who developed into the 147th pick in the 2022 NFL Draft by the New York Giants, Davidson anchored a Desert Ridge defense that proved to be one of the strongest in the state. He was a 2015 All-State selection by the Arizona Republic after a season where he recorded 57 tackles, 5.5 sacks and two forced fumbles. Davidson has started 16 of the Sun Devils' last 17 games, anchoring the interior of the defensive line. In his career with ASU, Davidson compiled 137 tackles, 16 tackles for loss and five sacks. He was named the Curley Culp Outstanding defensive linemen and was one of two Sun Devils to start all 12 games on defense in 2021. Recorded 31 defensive "stops" on run defense in 2022, good for second in the FBS among interior linemen behind only Cincinnati's Curtis Brooks.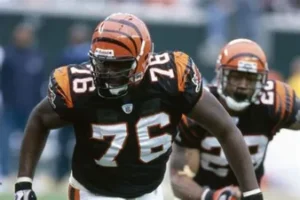 Levi Jones (1998-2000) – Santa Cruz Valley High School
Levi Jones was one of the most dominant offensive lineman in Sun Devil football history. He went from a walk-on defensive lineman as a freshman at Arizona State to one of the most reliable offensive lineman in the nation. Made the move from left guard to left tackle for his final two seasons at ASU, blossoming in the role of protecting the quarterback's blindside. Jones won the Morris Trophy in 2001, given to the best offensive lineman in the Pac-12 as voted on by the players. He was named a Football News second-team All-American after a stellar senior campaign. After moving to left tackle following his sophomore season, Jones received first-team All-Pac-10 honors in 2001 and second-team honors in 2000. Jones played sparingly on the defensive side of the ball as a freshman, registering 13 tackles and one sack while receiving Honorable mention Pac-10 All-Academic honors. After his ASU career, Jones was drafted 10 th  overall by the Cincinnati Bengals in the first round of the 2002 NFL Draft. Jones became the highest drafted Sun Devil since Gerald Riggs in 1982 and tied for the sixth-highest draft pick in Sun Devil Football history with his former teammate Terrell Suggs. Jones went on to play seven seasons with the Cincinnati Bengals, making 89 starts on the offensive line, mostly at left tackle. Jones also played one season for
the Washington Redskins, starting eight games before retiring.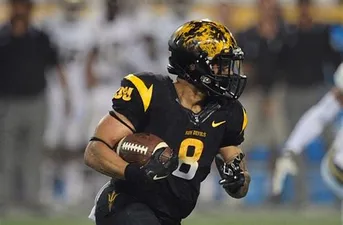 D.J. Foster (ASU 2012-2015) — Saguaro High School
Before starting his career with the Sun Devils, Foster was one of the most prolific players in Arizona high school history. In his senior season at Saguaro, Foster led the Sabercats to the Division III state championship and set state records for the most touchdowns in a season with 60. He also set records for the rushing yards in a game, touchdowns in a game, touchdowns in a career as well as points in a season and career. He earned All-Arizona honors as a running back in 2011 and as a defensive back in 2010. Foster never missed a game at ASU, appearing in all 53 during his time in Tempe. He finished his career with the longest streak of games with a reception in Pac-10/12 history with 53. Foster finished his career second on ASU's reception list with 222, and sixth in receiving yards with 2,458. Foster also scored 32 touchdowns and tallied 4,829 all-purpose yards during his collegiate career.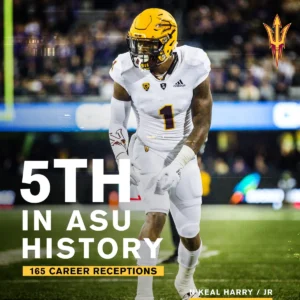 N'Keal Harry (ASU 2016-2018) — Chandler High School
Before becoming one of the best receivers in college football and one of the top prospects in the 2019 NFL draft, Harry led the Chandler Wolves to the Arizona State Championship in 2014. Rivals.com had Harry as a five star recruit and the No.1 wide receiver prospect in the country, and was rated as the top player in Arizona by Rivals.com, ESPN and 24/7 Sports. Harry finished his high school career with 119 catches for 2,715 yards and 25 touchdowns, with his best season coming during the Wolves state championship run where he caught 30 passes for 657 yards and 13 scores. Harry followed up his junior season with a 48 catch season, and went for 802 yards and seven touchdowns in 11 games. Harry was the highest rated Rivals.com local recruit to sign with the Sun Devils. After joining the Sun Devils, Harry was twice named to the All Pac-12 first team in 2017-18, and finished his career with 213 catches and 2,889 receiving yards, putting the Chandler native third on ASU's list at the time of his departure. Harry is now entering his third season in the NFL with the New England Patriots.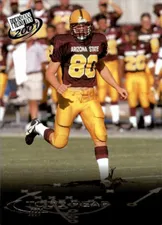 Todd Heap (1998-2000) — Mesa Mountain View High School
Heap, a 2013 Sun Devil Hall of Fame inductee, was a three-year letterman in football and helped the Toro become the first team to win back-to-back state championships in 1996 and 1997. Heap earned all-State honors, all-Arizona, Super all-State, Arizona 5A Player of the Year, Ed Doherty Player of the Year Award and all-East Valley Two-Way Player of the Year as a senior. When Heap graduated, he was the Mountain View record holder in receiving yards with 1,377, receptions with 87 and most career touchdowns. At the time of his departure from ASU, he was considered the best tight end in ASU and Pac-10 history. Heap was the first tight end in Sun Devil history to earn first team All-Pac-10 honors in 1999, and then followed up the honor with another first team nod in 2000. Heap left ASU as their all time receptions leader for a tight end with 115 catches and the all time leader in tight end receiving yards with 1,685. Heap was selected in the first round of the 2001 NFL Draft by the Baltimore Ravens, where he was selected to back to back Pro-Bowls in 2002 and 2003.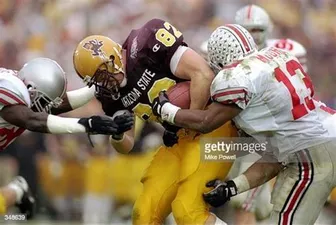 Steve Bush (1992–1996) –Paradise Valley High School
With tremendous hands and a sharp blocker from Paradise Valley, Arizona. Bush played five seasons at ASU and started 54 games in Tempe as a tight end. Bush caught seven touchdowns in his career which includes 737 yards over the five seasons. His best season in Tempe was in 1996 when he caught three touchdowns for 263 yards, before moving on to the NFL as a member of the Cincinnati Bengals in 1997. Bush would play for the Arizona Cardinals and the San Francisco 49ers in his nine seasons in the NFL as a special teams blocker while playing both fullback and tight end in his 118 games in the league.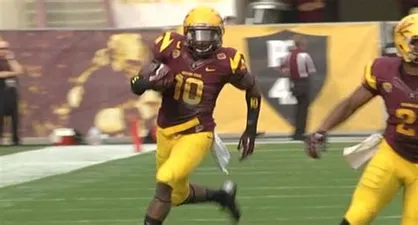 Keelan Johnson (2008-2012) — Mesa High School
Johnson finished his high school career ranked as the No. 3 cornerback in Arizona as well as the No. 9 running back in the state by Scout. Johnson led Mesa High with 16 total touchdowns and led the Jackrabbits in rushing and receiving, carrying the ball 92 times for 761 yards (8.3 YPC) with 11 touchdowns. Johnson also caught 19 passes for 324 yards with two scores.  Johnson recorded 1,279 all-purpose yards on offense and totaled 59 tackles with three interceptions at defensive back. Johnson appeared in 49 games, making 18 starts for the Sun Devils, recorded 169 tackles and left Tempe with eight interceptions which was tied for the most picks in the program since 2000. Johnson went undrafted in the 2013 NFL Draft, but played for the Miami Dolphins, Philadelphia Eagles, Dallas Cowboys and Seattle Seahawks from 2013-2015. Johnson has since moved to the Canadian Football League, where he won a Grey Cup in 2016 with the Ottawa Redblacks.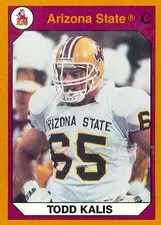 Todd Kalis (1983-1987) – Thunderbird High School
Started his Sun Devil Career as a defensive linemen until he was told he'll be moving to the offensive side of the ball. After not playing a lot in 1984, he was able to start every game as a guard from 1985 through 1987 as he ended his career with 36 straight starts as a Sun Devils which included being a part of the 1986 Rose Bowl Team which defeated Michigan. After his career in Tempe, he was then selected in the fourth round by the Minnsota VIkings in the NFL Draft. Kalis played six seasons for the Vikings and started in 15 games. He would spend two more seasons in the NFL, one with the Steelers and his last with the Bengals. He would play 103 NFL games while starting in 67.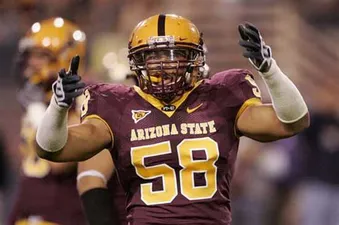 Dexter Davis (2006-2009) — Thunderbird High School
Davis was a 2005 graduate of Thunderbird after being awarded an postseason all-region selection by PrepStar Magazine, Davis was a two-time first-team all-state honoree and was named as an All-Arizona selection by the Arizona Republic. In 2004, Davis was named Super All-State in 2004 by Phoenix Metro Magazine and won the Curley Culp Award, which is presented by the Valley of the Sun Chapter of the National Football Foundation and College Football Hall of Fame to the state's best defensive lineman. Upon his arrival at Arizona State, he started all 13 games as a defensive end in 2006, earning his honorable mention Freshman All-America and Pac-10 All-Freshman and honors by The Sporting News. While being presented with the team's Bill Kajikawa Sun Devil Award, given to the team's top freshman player at ASU's year-end banquet after recording six sacks, 10.5 tackles for loss and three forced fumbles in 2006, which was the third most sacks by a freshman, trailing Terrell Suggs (2000) and Shante Carver (1990). Throughout his Sun Devil career Davis ranked third in school history with 31 sacks, totaling 136 tackles (85 solo), 45.0 tackles for loss (minus 248 yards) and 10 forced fumbles in his four seasons after starting all 50 games. Davis went on to play one season in the NFL after being selected in the seventh round by the Seattle Seahawks in 2010.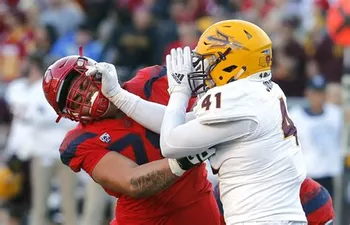 Tyler Johnson (ASU 2017-2021) — Highland High School
Before he transitioned to defensive end, Johnson was a jack of all trades player at Highland High School in Gilbert. Johnson recorded a rushing, receiving, punt return, and kick return touchdown in his varsity career and was named to the 2015 All-Arizona first team as a tight end by the Arizona Republic. Johnson was the No. 4 prospect in Arizona according to Scout, and was ranked No. 281 in the ESPN top 300. Johnson earned playing time in the back half of the 2018 season after converting to defensive end, and his 20 pressures over the final seven weeks of the season were the ninth most among edge rushers in the Pac-12. Despite the Sun Devils only playing four games in 2020 Johnson had his best season to date, recording five sacks.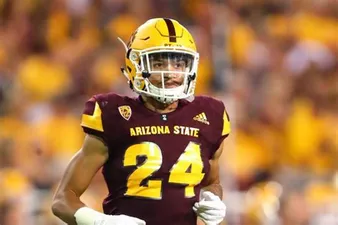 Chase Lucas (ASU 2016-2021) — Chandler High School
Lucas, a seventh-round (No. 237) draft pick by the Detroit Lions in 2022, helped lead the Wolves to the 2014 Arizona State championship and was the third ranked prospect in the state by Rivals.com, and the fourth best by 24/7 Sports. A running back in high school before switching to play defensive back at ASU, Lucas rushed for 2,219 and 25 touchdowns while racking up north of 1,000 receiving yards as well. During the Wolves 2014 state championship run, Lucas rushed for 1,126 yards on 155 carries (7.26 YPC) and 13 touchdowns. After redshirting his first season at ASU, 2021 was Lucas's sixth year in Tempe. He was the 2021 captain and finished second in ASU history in games started with 49 and played in 53. He earned Pac-12 All Conference honors for the third time and a Frank Kush captains award winner in 2021. He posted 223 total tackles in five seasons at ASU and collected 34 tackles and broke up six passes in 2021. Went 5-0 against Arizona and had six career interceptions, including three in 2018.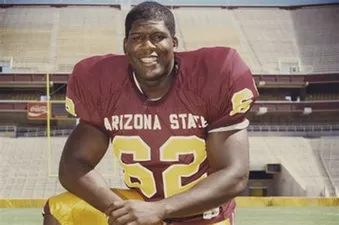 Randall McDaniel (1984-1987) — Agua Fría High School
McDaniel played football and ran track at Agua Fria before his career at ASU. At ASU, McDaniel helped propel the Sun Devils to their first ever Rose Bowl appearance where the Sun Devils handed the Michigan Wolverines their only loss of that season. McDaniel was drafted by the Minnesota Vikings in the first round of the 1988 NFL Draft and he went on to play 14 seasons and make 202 consecutive starts. McDaniel also made 12 straight Pro Bowls and nine straight All-Pro teams. In 1997, McDaniel became the first guard in NFL history to catch a touchdown pass in the Pro Bowl.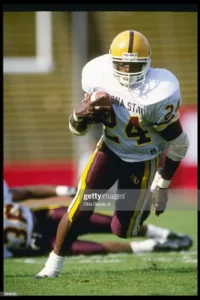 Mario Bates (1991-1993) – Amphitheater High School
Bates helped carry Amphitheater to the 1990 state title game after breaking the large-schools single season rushing record with 2,740 yards. Once he arrived at ASU he went on to rush for more than 1,000 yards in 1994 as he was honored with first-team All-Pac-10 tailback that year. In his three years with the Sun Devils he went on to rush for 2,025 yards, 14 touchdowns after starting in 33 games in his tenure in Tempe. Bates was selected in the second round of the 1994 NFL draft by the New Orleans Saints, with his best season coming in 1995 when he rushed for 951 yards, seven touchdowns, along with 114 receiving yards. Bates played for the Arizona Cardinals for two seasons and one season with the Detroit Lions.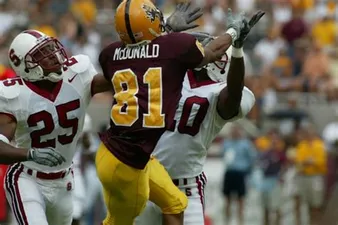 Shaun McDonald (1999-2002) — Shadow Mountain High School
McDonald was one of the top offensive weapons in the west and earned All-American honors from SuperPrep and was listed as the No.14 skill athlete in the country. McDonald was the No.5 wide receiver in the Western Region by PrepStar magazine, and was named to the All-State First-Team by Arizona Football Magazine. Once he got to ASU, McDonald was a first-team All-Pac-10 preseason selection by Football News and a second-team selection by the Sporting News. McDonald was a Third-Team All-American in 2002, as well as an All-Pac-10 first team selection in 2001 and 2002. McDonald was drafted in the fourth round of the 2003 NFL Draft by the St. Louis Rams. McDonald's best season came in 2007 when he caught 79 passes for 943 yards and six touchdowns as a member of the Detroit Lions.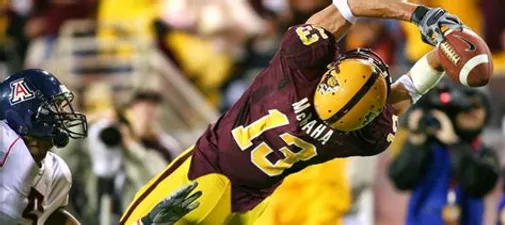 Chris McGaha (2005-2009) — Moon Valley High School
McGaha received recognition as the Arizona Republic's Big School Player of the Year in 2004, as well as the Arizona Cardinals high school Player of the Year. McGaha was also a first-team All-Arizona selection as well as an All-Playoffs selection by Azpreps.com. In the 2004 4A state championship game, McGaha hauled in seven catches for 137 yards and two touchdowns while also adding an interception on the defensive side in a comeback victory over Glendale Cactus. McGaha led the state in Arizona in receiving in 2004, finishing the year with 82 catches for 1,593 yards and 22 touchdowns. One of the most prolific receivers in ASU program history, McGaha finished his Sun Devil career with 168 catches for 2,242 yards and nine touchdowns. McGaha ranked third in career receptions when he left ASU and was one of six players to notch both 150 receptions and 2,000 receiving yards. McGaha also appeared in 50 games for ASU, making 42 consecutive starts to end his career.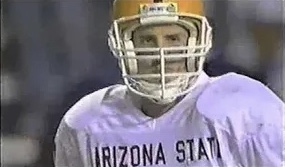 Kevin Galbreath (1990-1992) – Maryvale High School
Playing in all 33 games in his three years as a Sun Devil, Kevin Galbreath has one of many famous plays in Sun Devil history, as in the 1992 season ASU was down 6-0 to the team down south, but he broke off two tackles and scored on a 51-yard touchdown run to lift the Sun Devils to victory as they defeated the Wildcats 7-6 which helped ASU become 6-5 that season. He spent three years in Tempe after coming from Maryville High School, the Phoenix native had 639 career yards which included four touchdowns with the Sun Devils. Galbreath also played on the special teams unit as he returned kicks and punts all three years, assembling 659 return yards in 33 attempts.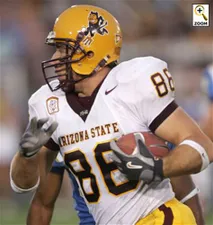 Zach Miller (2004-2006) — Desert Vista High School Miller finished his Sun Devil career with the sixth most receptions in school history. Miller caught at least one pass in 33 of 35 career games and finished his career as ASU's receptions and touchdowns leader amongst tight ends. Miller was selected in the second round by the Oakland Raiders in the 2007 NFL Draft and spent four seasons with the silver and black, catching at least 44 passes in each season he was there. Miller's best season came in 209, where he caught 66 passes for 805 yards and three scores. Miller was selected to the Pro Bowl after a 60 catch, 685 yard, five touchdown campaign in 2010. Following his Pro Bowl nod Miller signed with the Seattle Seahawks, where he was a member of the Super Bowl XLVIII Championship team.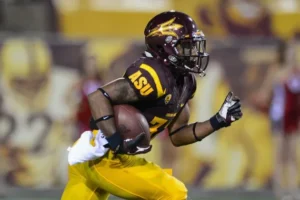 Jamal Miles (2009-2012) — Peoria High School
An offensive, defensive and special teams threat during his time at Peoria, Miles' all-around talent made him a four star recruit from Rivals.com. Miles led the state of Arizona with 197.1 rushing yards per game, totaling 2,168 rushing yards and 29 touchdowns. In four years at ASU Miles continued to be a multidimensional weapon, hauling in 10 receiving touchdowns, racking up three kick return scores, and two rushing touchdowns as well as a punt return score.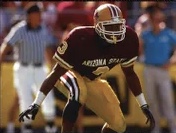 Kevin Minifield (1989-1992) — Camelback High School Miniefield was a football star at Camelback high school before making his impact for the Sun Devils. Miniefield played cornerback for ASU as he earned first-team All-Pac-10 Conference honors in 1992 as he played in the Blue-Grey classic, an all-star bowl game. After his senior year, Miniefield was drafted in the eighth-round in the 1993 NFL draft (201st pick overall) by the Detroit Lions.  Miniefield went on to play five seasons in the NFL, four with the Chicago Bears and one with the Arizona Cardinals where he compiled 100 tackles, three interceptions and two forced fumbles with one fumble recovery in 51 career games. After his NFL career, Miniefield has worked in several-different positions in the Phoenix area before joining the Sun Devil Club in 2008. Kevin's position as Coordinator of Former Student-Athlete Development consists of communication with former student-athletes, forming ambassador programs for each sport by era and eventually helping former student-athletes join the Sun Devil Club.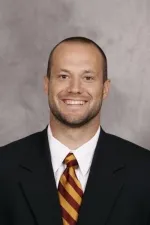 Mike Nixon (2006-2009) — Sunnyslope High School
The No.1 player in Arizona by SuperPrep.com posted a 37-11 record as a quarterback and was twice named to the All-State team as a Safety. After high school, Nixon signed with the Los Angeles Dodgers out of high school and played in their farm system until 2005. Once he got to ASU, Nixon appeared in all 50 games during his four years and made 31 starts. Nixon emerged as one of the best players on the Sun Devil defense in 2008 and led the team in tackles from 2008-2009. Nixon also led the Pac-10 in interceptions in 2008 with five.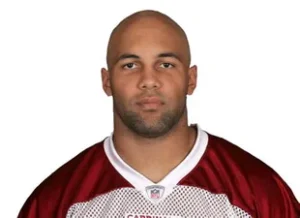 Colu Parler (2007-2011) — Hamilton High School
The Hamilton alum was the No.35 outside linebacker in the nation, and the No.1 linebacker in Arizona by Rivals.com. Parker struggled with injuries which liimited his time on the field during his junior and senior season. Parker totaled 140 tackles during his time at ASU, and appeared in 44 career games including 18 starts.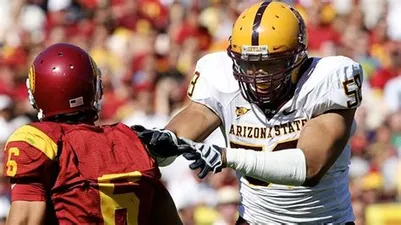 Mike Pollak (2003-2007) — Corona Del Sol High School
Pollak carved out a solid seven-year NFL career after getting drafted by the Indianapolis Colts in the second round in 2008.  The Corona del Sol graduate was first-team pick by the Arizona Republic and also a solid baseball player in high school. The starting center in his junior and senior years, he received All-Pac-10 second-team in 2006 and in 2007 he received first-team honors. He received the Tim Landers Iron Man Award, Cecil Bono Team Captain Award and Pat Tilllman Award team awards following his senior season.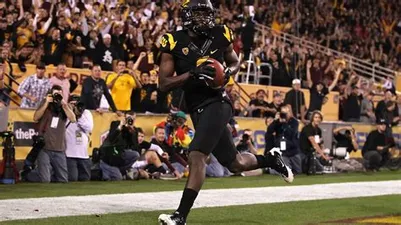 Gerell Robinson (2008-2011) — Hamilton High School
Robinson was the No.1 player in Arizona and the No.77 player in America according to Rivals.com during his senior year at Hamilton in 2007. Robinson was rated as the No.78 player in the country according to Scout.com. During his two years at Hamilton, the Huskies posted a 25-2 record as Robinson made an impact in all facets of the game. Robinson threw six touchdowns, rushed for four and caught nine. On Hamilton's 2006 state title run, Robinson was mainly featured on defense. The all-purpose athlete tallied 49 tackles, eight interceptions and a fumble recovery. Robinson picked the Sun Devils over Notre Dame and Oregon. Once he got to campus, Robinson appeared in 47 games making 25 starts over four years. He finished his career with 135 catches for 2,071 yards and 12 touchdowns.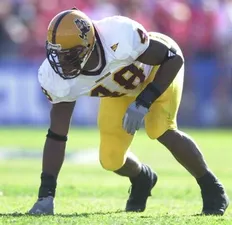 Terrell Suggs (2000-2002) — Hamilton High School
Listed as the No. 1 jumbo athlete in the nation by SuperPrep Magazine, Suggs was named the 2000 Arizona player of the year by USA Today. Suggs was a dominant all around athlete and racked up 297 carries for 2,274 yards and 26 touchdowns in a one-back offense in 2000. Suggs holds the Hamilton record for the most rushing yards and touchdowns in a game with 367 yards and five touchdowns in a 48-21 win over Yuma Kofa. After high school, Suggs wrecked havoc in the Pac-10. In 2002 Suggs became the NCAA record holder for sacks in a season with 24. In that same season, Suggs also recorded the most tackles for loss in the country with 31.5 while leading ASU to a berth in the Holiday Bowl. Suggs won the Ted Hendriks award, given to the nations best defensive end. Suggs also won the Bronko Nagurski Trophy, the Lombardi Award, the Rotary Lombardi Award, the Bill Willis Trophy and the Pac-10's Morris trophy. Suggs was selected with the 10th overall pick in the 2003 NFL Draft by the Baltimore Ravens where he would be named the 2011 Defensive Player of the Year and would be selected to seven Pro-Bowls. Suggs is a two time Super Bowl champion, winning his first title with the Ravens in 2012 and his second as a member of the Kansas City Chiefs in 2019.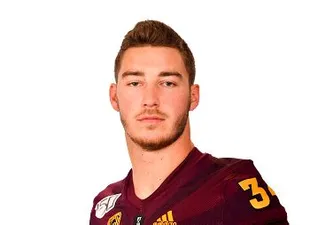 Kyle Soelle (ASU 2017-2022) — Saguaro High School
During his senior season at Saguaro, Soelle was named to the Arizona All-State second team, was ranked the No. 5 prospect in Arizona by 24/7 sports and helped lead the Sabercats to the 2016 AIA Division 4A State Championship. After putting himself on coaches' radars in 2015 as a tight end, he transitioned to defense for his senior season and racked up 53 tackles, 16.5 tackles for loss and recorded nine sacks.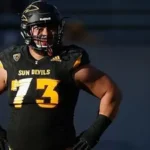 Vi Teofilo (2011-2015) — Moon Valley High School
A state champion wrestler and standout lineman at Moon Valley, Teofilo also aided the Rockets' rushing attack in short yardage situations with 16 carries for 32 yards and a touchdown. Teofilo was rated as the No. 16 prospect in Arizona by SuperPrep. When Teofilo saw the field at ASU, he stayed on it making 40 consecutive starts from 2012-2015.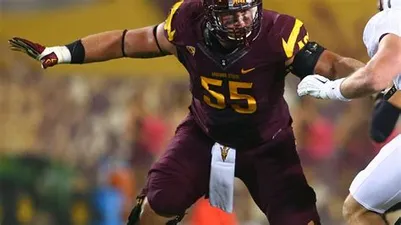 Christian Westerman (2013-2015) — Hamilton High School
Westerman was one of the highest touted recruits in Arizona high school football history. ESPN ranked Westerman the No. 2 offensive tackle and the No. 6 ranked player nationally. The All-USA first team selection helped guide Hamilton to back-to-back undefeated seasons during his junior and senior years, helping the Huskies to a 29-0 record in that span. After a brief stint at Auburn from 2011-12, Westerman returned to Arizona to join the Sun Devils in 2013 as a redshirt sophomore. Westerman appeared in 26 games, making 25 starts during his time as a Sun Devil and was selected in the fifth round of the 2016 NFL Draft by the Cincinnati Bengals.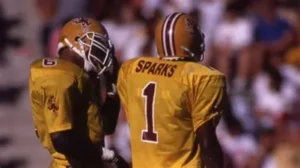 Phillippi Sparks (1990-91) — Maryvale High School
While Darren Woodson had to walk on at ASU and earn his spot, Sparks, his Maryvale teammate had an equally adverse road. Before Sparks boasted two stellar seasons in Tempe, he played two seasons at Glendale Community College where he led the Guacho's to the 1988 Junior College National Championship. After his two years of Juco football, Sparks made the short trip to Tempe where he was named to the All Pac-10 second team during his first season with the team. In 1991, Sparks was named to the All Pac-10 first team and entered the NFL Draft. Sparks was selected in the second round by the New York Giants and played nine years in the NFL before retiring after the 2000 season.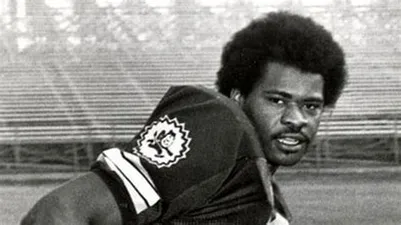 Larry Gordon (1972-1975) – Phoenix Union High School
Gordon is one of the greatest defensive players to play for the Sun Devils, in his time at Tempe, he assembled back-to-back seasons with 100+ tackles and led the team in tackles for loss in 1974 with 10. Over the 1974 and 1975 seasons, he gathered numerous honors while playing at ASU. He was named honorable mention All-American, All-Western Conference First Team, and most notably being named the Fiesta Bowl MVP.  Gordon was apart of the 12-0 1975 Sun Devil team which finished ranked second nationally, and went on to play in the NFL as he was selected by the Miami Dolphins as a first-round pick and was a rookie starter in 1976.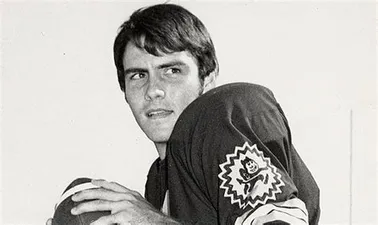 Danny White (1971-73) — Westwood High School
The first native Arizonan to be inducted into the College Football Hall of Fame, White quarterbacked the Sun Devils to a 32-4 record over three seasons. White led the Sun Devils to three straight wins in the Fiesta Bowl over Florida State, Missouri and Pittsburgh. White also punted for the Sun devils, averaging 41.7 yards per punt. White set records for passing yards with 6,717 and passing touchdowns with 64. White played professionally for 15 years with the Memphis Southmen of the World Football League from 1974-1975, and with the Dallas Cowboys from 1976-1988.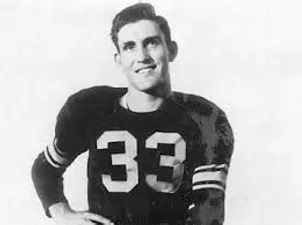 Wilford "Whizzer" White (1947-1950) — Mesa High School
The father of Danny White, "Whizzer" finished his career with 3,173 rushing yards which was the most in program history. White scored 48 touchdowns during his collegiate career, tallied 16 100-yard games and had his number 33 retired by the school. His 1,502 yards in 1950 is still the second best mark in school history for rushing yards in a single season. White was drafted in the third round of the 1951 NFL Draft by the Chicago Bears.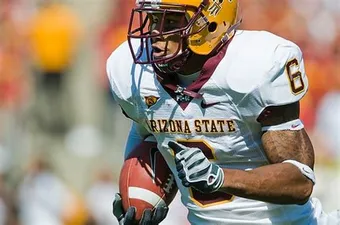 Kyle Williams (2006-2009) — Chaparral  High School
The No. 8 player in the state by Rivals.com, Williams was named the Big School Player of the Year by the Arizona Republic in 2005. Williams compiled 2,294 all-purpose yards and 30 touchdowns as a senior and led the Firebirds to a 11-2 record and a Desert Valley League championship. Williams picked up right were he left off once he got on campus, as he appeared in 41 games throughout his career. He totaled 109 receptions, 1,626 yards and 18 touchdowns during his collegiate career. Williams was also a dynamic kick returner, fielding 74 punts for 768 yards and 31 kickoff returns for 709 yards.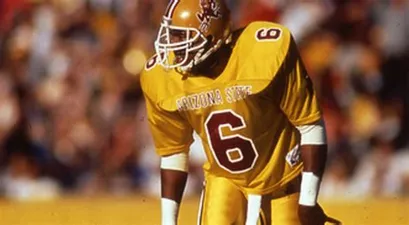 Darren Woodson (1988-1991) — Maryvale High School
As a senior at Maryvale, Woodson earned All-Metro Division AAA and All-City honors. Woodson did not meet the qualifications to receive a scholarship, so he walked on with the Sun Devils where he would be coached by then linebackers coach Lovie Smith. Smith helped mold Woodson into a ferocious hitter and tackle machine, as he led the Sun Devils in tackles in 1989 with 122 including five for loss. After his collegiate career, Woodson was drafted in the second round of the 1992 NFL Draft by the Dallas Cowboys. Woodson became aa three time Super Bowl champion, a five time Pro-Bowler and a four time first team All-Pro with the Cowboys. Woodson was inducted into the Cowboys Ring of Honor in 2015.
Press Release courtesy of Sun Devil communications student assistant Zach Wargo 
**Other player additions soon to come: Chris Hopkins (1992-1995) Salpointe Catholic High School, Art Malone (1967-1969) Eloy Santa Cruz High School, Bennie Malone (1971-1973) Eloy Santa Cruz High School