"I'm super proud of our soccer family after this weekend," GCU head coach Chris Cissell said. "They played two really good teams and faced a lot of adversity in travel and change of game times. But at the end of the day we are coming back to Phoenix with two wins, six points, and a pair of shutouts on the road."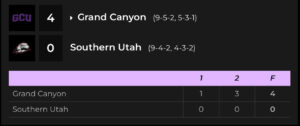 The Lopes were aggressive in the first half with 16 shots and took the lead in the 23rd minute, thanks to team captain Gianna Gourley. The junior forward scored a point-blank shot for her 12th goal of the season after a great run and pass from forward Bekah Valdez.
GCU took a 1-0 lead into halftime after locking down Southern Utah to two shots and none on goal.
The Lopes were efficient on offense in the second half, scoring three goals on nine shots. The first goal in the second half was scored again by Gourley in the 53rd minute for her WAC-leading 13th goal. The Las Vegas native received a long pass from sophomore midfielder Brenna Alderson before firing a 30-yard chip shot that caught the Southern Utah goalkeeper out and bounced into the net for her fourth multi-goal game of the season.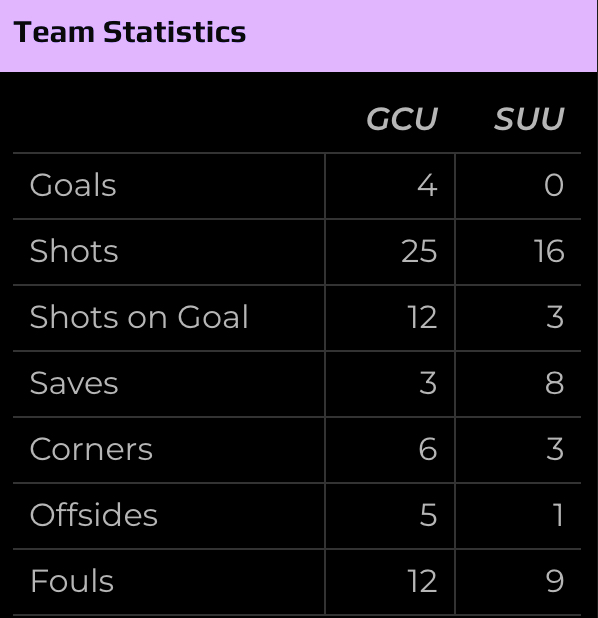 Gourley ranks in the national top 10 for goals and tied the GCU single-season record of 13 goals with at least two home matches remaining to break the record set by Marleen Schimmer last season and Vanessa Young in 2005.
The Lopes leaned on their depth the rest of the way with junior midfielder Magdalena Schwarz and sophomore forward Maya Gaona coming off the bench to score goals in the 64th and 83rd minutes, respectively. Sophomore goalkeeper Jordan Ferguson also came off the bench and faced a season-high 14 shots while making three saves in the team's second consecutive shutout.
GCU sits at fifth in the WAC standings with two matches remaining in the regular season at home next week. The Lopes will look to climb higher with matches against New Mexico State and Sam Houston on Oct. 27 and 29, respectively, in GCU Stadium.
Press Release courtesy of Grand Canyon Athletics – Jerob Moon