(Phoenix, AZ)  When a pair of last season's top-20 offenses and NCAA tournament qualifiers met Sunday night at GCU Stadium, the women's college soccer world turned upside down for Grand Canyon and South Dakota State.
Neither the Lopes nor the Jackrabbits put a shot on goal for the first 82 minutes, leaving GCU vulnerable to a single mistake that decided a 1-0 South Dakota State victory.
The Lopes outshot the Jackrabbits 12-4 and came tantalizingly close on multiple occasions, including sophomore midfielder Brenna Alderson's shot off the crossbar and a two-on-one breakaway.
But South Dakota State prevailed on its lone shot, a 22-yard goal from sophomore midfielder Avery Murzdek in open space.
"Soccer can be crazy like that," GCU head coach Chris Cissell said. "It was a really good game between two really good teams. They came in here off a high of getting a draw at Arizona State. We came in here feeling good after starting the season winning 3-1 (vs. Hawaii). In the heat of the moment, I thought the game was more even. But to see the shots were 12 to 4 us and only putting one on goal, is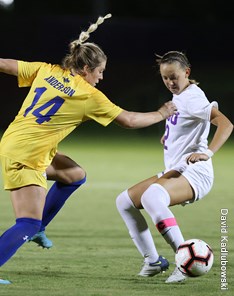 "We know we've got a lot to work on and it's early in the season, but I was really proud of how hard we fought. We competed to the very last second. It stinks. It hurts. But we'll get better."
The Lopes (1-1) were on the verge of a lead several times in pursuit of a 2-0 start to their season, but they were facing the defending Summit League champions with nine returning starters.
Like the opener, GCU experienced a weather delay with this one pushing the start to 8:25 p.m. The Lopes still emerged as the aggressor with newcomers creating the threats. Redshirt freshman midfielder Leah Pirro and junior forward Bekah Valdez fired shots and junior midfielder Magdalena Schwarz'sbreakaway and pass made for another solid scoring opportunity.
The Lopes outshot the Jackrabbits 9-2 in the second half, as the all-new GCU defense quickly jells with sophomore Aleisha Ganief, an Iowa transfer, being the line's early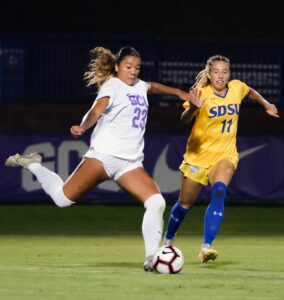 "As a unit, we stayed tight," Ganief said. "If one came off, we talked and I think we definitely did lock them down. Honestly, I'm really proud of our back line and how we did this game.
"Team chemistry off the field definitely helps on the field. We're all on the same page with the same mindset every day. Today, we knew that they were going to play over the top and making runs across and behind our back line and we dealt with that really well."
Ganief barely left the field Sunday night, but cramps forced her out in the second half. Within four minutes of her absence, South Dakota State found the net with its only shot on goal after putting 10 on goal in its tie at ASU. The Jackrabbits' four shots on Sunday paled to the 16 they took against the Sun Devils.
The Lopes' best chance came off an upfield push by sophomore forward Renee Sainz with sophomore defender Reese Mendenhall's hustle trailing to keep the possession. That set up Alderson at the top of the box for an 18-yard strike off the crossbar with junior forward Jaycee Iranshad's rebound shot being deflected.
Other than a half-opening sliding shot that went wide and three corner kicks, South Dakota State did not make an offensive threat in the second half until its goal.
"We're still figuring things out," Cissell said. "One game doesn't dictate our season. We want to play these tough games now, so that we're ready for the tough teams in the WAC and make another run at a regular-season and tournament conference championship. We were in a really tough battle and fell one goal shot. The next time we're in a fight like this, we're going to make sure we're on the other side of this."
Eleven of the 19 Lopes who played Sunday were competing for GCU for the first time this weekend. They will make their first road trip this week, heading to UNLV on Thursday and Utah State on Sunday.
"I'm really loving it," said Ganief,  who is from Vancouver, British Columbia. "I'm really loving the team. The campus is great and the school is great. I definitely made the right decision coming here."
Press Release courtesy of Grand Canyon University Athletics – Paul Coro