(Tempe, AZ)  Sun Devil Lacrosse Head Coach Taryn VanThof completed her first staff on Thursday with the addition of Caroline Wakefield, who will serve as an Assistant Coach at Arizona State.
One of the winningest players in the history of the storied North Carolina Women's Lacrosse program will be patrolling the sidelines in Tempe next season. Former All-American Caroline Wakefield joins Haley Warden, who accepted a role on the staff last week, to make up an extremely decorated assistant coach duo.
"We are thrilled to have Caroline Wakefield join our staff," Head Coach Taryn VanThofremarked. "She has an exceptional ability to connect and build relationships with student-athletes. I can't wait to get to work with her."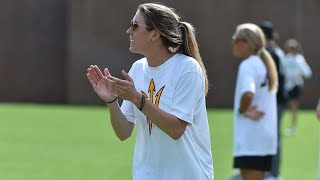 "Thank you to Taryn VanThof and Christina Wombacher for having the trust and confidence to give me the opportunity with Sun Devil Lacrosse," Caroline Wakefield reflected. "I am excited to get to know the team and be a part of this amazing coaching staff."
As part of her over 14 years of hands-on experience in the sport of lacrosse, Wakefield has been the Head Coach of Team91 Carolina since 2018. In this role, she developed Team91's program to reach their maximum performance. She most recently served as a Director of Operations for the travel teams she helped establish, coordinating all travel and logistics.
"Arizona State is a unique place to play lacrosse and offers an extraordinary student-athlete experience," Wakefield observed. "I am looking forward to being a part of something special in Tempe."
Wakefield currently competes in the Athletes Unlimited Lacrosse League, recently beginning her second season in the professional ranks. She has played in three games this season, collecting four ground balls and causing three turnovers. During a standout 2021 debut campaign, she collected 1,124 leaderboard points with seven games of 100 or more points. She finished second in the league with 34 ground balls.
During an illustrious career as a defender with the Tar Heels, Wakefield left Chapel Hill as one of the most successful players in program history. She is one of the winningest players in UNC Women's Lacrosse, having been a part of a dominant run from 2016-2021. The highlight of her career came in 2016 when she was on the team that won the program's second National Championship.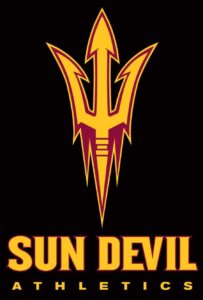 "Caroline is a winner and brings more championship experience to our staff," Head Coach Taryn VanThof explained. "She is a natural leader and tireless worker who is hungry to prove herself in the industry."
Caroline was the first Carolina player to win 5 ACC championships in a career, with the defender making major contributions throughout the five-year streak. She left Chapel Hill as the only ACC player to ever win five championships. Wakefield also received several individual honors during her career in addition to her countless accomplishments with her team.
Her final season in Carolina Blue was a memorable one, as she was the 2021 UNC Breakthrough Athlete of the Year and Team "Hard Hat" on a team that went 20-1 and finished as the National runner-up. She was named an IWLCA Third Team All-American after starting all 21 games on defense, collecting 33 ground balls and causing 27 turnovers. She received the UNC "Hard Hat" Award, identified as one of the hardest working and toughest in the program. The ACC All-Tournament Team selection also received IWLCA Second Team All-South Region honors in 2021.Caroline holds the UNC record for 5 caused turnovers and 5 ground balls in a single game.
The 2020 season was shortened by COVID-19 with Wakefield and company sitting at 7-0 and No. 1 in the national rankings. Wakefield was off to a great start, leading the team in caused turnovers.
Wakefield's resurgence came in 2019, when she battled back from an injury that caused her to miss the 2018 season.. She started the final ten games of the season, helping the Tar Heels win the ACC Championship and make a run to the NCAA Semifinals. Wakefield compiled 20 ground balls and 13 caused turnovers in 20 games.
She showed her versatility during the 2017 campaign, seeing action and producing on the offensive side of the field. Wakefield appeared in 20 games, scoring nine goals and dishing out three assists, adapting to a temporary new role.
The highly touted Class of 2015 recruit wasted no time making an impact at one of the nation's premier programs. She started ten and played in 13 games as a true freshman on North Carolina's 2016 NCAA Title team. Wakefield got a first-hand look at what it takes to win a championship, appearing in the final victory over No. 1 Maryland.
"I will never forget the time I spent in Chapel Hill as a Tar Heel," Wakefield remarked. "Thank you to Coach Levy and the entire North Carolina Lacrosse family for all the support."
Wakefield graduated from the University of North Carolina, receiving a B.A. in Communication Studies in 2021. She minored in coaching, entrepreneurship, and history. Wakefield is also a 2020 graduate of the Carolina Leadership Program.
She comes from an athletic family, as her father played football at James Madison University and her aunt was a two-time All-America soccer player at William & Mary.
Press Release courtesy of Sun Devil Athletics – Connor Smith