(Tucson, AZ)  Pima Community College men's basketball assistant coach H Hendrickson is heading home to continue his coaching career at the NCAA Division II level after a five-year stint with the Aztecs.
Hendrickson accepted an assistant coaching position with the men's basketball program at Minot State University in North Dakota. He joined Matt Murken's staff and headed out there at the end May. Hendrickson is from Fargo, North Dakota and played two years at Bismarck State College.
"I've known Coach Murken I think probably about 10 years and it just happened to work out this year that his assistant coach was going to the University of North Dakota and he was looking for somebody to come in and replace him," Hendrickson said. "He reached out to me. I had to think about it a decent amount. I talked about it with my family. I got my grandparents out there. I got my cousins out there. I got people that I'll be able to see for a little while and at least take a break. Going back to the weather was definitely the hardest part about saying yes.
"It was tough to move on and leave the situation that we have here but my ultimate goal is I want to try to be the best coach I can be and I think this was the next best step for myself in my career."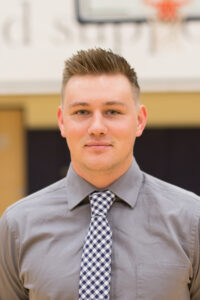 Hendrickson became an assistant coach for Brian Peabody in the fall of 2017 and helped coach the team to two straight Region I, Division II titles in 2018 and 2019. The Aztecs finished as the NJCAA Division II National Runner-Up in 2018 and took seventh place in 2019.
"It was a lot of confidence (after those first two years) because of Coach Peabody. He has the system rolling the way it rolls and I think the players, and all the guys that we were lucky enough to be able to be a part of their college basketball careers, were the right ones," Hendrickson said. "They came in and just kept doing what we asked them to do. That was always the positive. I was here behind the scenes. A lot of the players and a lot of the reason for success and winning is all on him. That's what is positive about the situation."
Hendrickson credits former assistant coach Dylan Hidalgo for helping him get his feet on the ground when he first started. "I kind of had a little understanding of the playing side but I didn't understand the coaching and all the extra work that went into it. I was very thankful that I had Dylan Hidalgo. That was the guy I ended up replacing, he just did everything 110 percent and did everything the right way. He showed me the ropes and taught me the things I needed to know."
Hendrickson began his coaching career helping his dad for a year in Fargo and then moved to Phoenix. Hendrickson credits Derrick Donaldson with helping him get a job at Highland High School as the junior varsity boys basketball coach. Hendrickson was there for two years. He got connected to Peabody from Andrew Svorinic, who grew up with him, and also Mark Schumaker, who had a connection to Peabody when he coached with him at Ironwood Ridge High School. The coaches put in a good word on Hendrickson's behalf to Peabody and the rest is history.
"H has left Pima a better place than when he got here. He did a great job behind the scenes with recruiting, academics, scheduling and travel," Peabody said. "He will be missed at Pima College. Minot State is getting a great assistant that is ready for any challenge. Thanks for a great five years."
The Aztecs went 99-40 in five seasons with Hendrickson on the bench and earned playoff spots in each season. He was also instrumental in coaching four NJCAA All-Americans: Traivar Jackson (2022), Jake Lieppert (2020), Abram Carrasco (2019) and Keven Biggs (2018), 11 All-ACCAC and 10 All-Region players. In the last five years, Hendrickson believes he has a better understanding of players and is more assertive in telling them to take care of business on and off the court.
"There's been memorable moments every single year. The one that comes to mind first is going us going to the national championships game. Not a lot of people get an opportunity to ever say, 'I coached in a national tournament, let alone the national championships game.' I'm very thankful for that opportunity," Hendrickson said. "Another one that will always stick out to me is when we signed Rashad Smith. I felt I had talked to him a decent amount and tried my best to build a good relationship with him. He is a heck of a basketball player. I remember the exact day and exact moment when he said, 'Hey I'm coming to Pima' and that is just something that stood out to me.
"Being able to see Abram Carrasco break the all-time season scoring record. That was always fun. Watching all the guys that did what they're supposed to do and earn a chance to get their school paid for at the four-year level. Every single one of them I can name from top to bottom and those are memories that I'll miss."
Press Release courtesy of Pima Athletics – Raymond Suarez