(Louisville, KY)  Freshman first baseman Cydney Sanders and senior right fielder Yannira Acuña were two of fifty-four student-athletes voted to one of three 2022 NFCA Division I All-America teams. Sanders was voted to First Team All-America in her opening season in the Maroon and Gold while Acuña made Second Team All-America.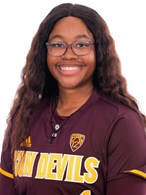 The Association announced the All-America teams Wednesday afternoon during its annual press conference at the Women's College World Series (WCWS).
On the Division I First Team, Sanders is the At-Large First Base player and is the only Pac-12 player to earn that honor on the First. She is joined by fellow conference player, shortstop Baylee Klinger (Washington).
Acuña, an Arizona native, is one of three outfielders that were voted to the Second Team. Joining her is pitcher Megan Faraimo and catcher Delanie Wisz (UCLA), pitcher Gabbie Plain (Washington) and Allie Skaggs (Arizona). 

"They are two great players that absolutely crushed it on the field this season," head coach Trisha Ford said. "Yanni has worked so hard on both her physical game but more importantly, her mental side of the game. She has put in work and I am so excited to see her be rewarded."

"The sky is the limit for Cydney Sanders. She is a special player I think will be a consistent force for years to come," Coach Ford stated. "I'm truly happy for both Cyd and Yanni, this is a huge accomplishment and honor."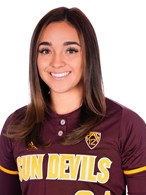 The pair were also named to the NFCA's Division I All-West Region First Team on May 19th and to the All-Pac-12 First Team on May 11th.
Along with being named the Pac-12 Freshman of the Year, Sanders was selected a Top Three Finalist for the 2022 NFCA National Freshman of the Year and on the Pac-12 All-Freshman team. Sanders has been named Pac-12 Freshman of the Week three times this season, along with being named Freshman of the Week twice by D-I Softball to help lead No. 8 Sun Devil softball to the Super Regionals in the NCAA Tournament. The first baseman led the team in home runs (21), slugging (.952%), RBIs (63), walks (45) and had 52 hits, just two short of the team leader, Yanni Acuña.

Her 21 homers broke the single season career record at Arizona State, passing Maddi Hackbarth (20, '21), Cheyenne Coyle (20, '13) and Kaitlin Cochran (20, '09). 

Acuña led the team in doubles (19) and hit by pitch (20) while sporting a .982% fielding average. She finished the season behind team-leader Sanders in both slugging percent (.852%) and on-base average (.562%). She was one of four Sun Devils to hit a triple this season and had 14 home runs.

The senior tied Kaitlin Cochran's 2008 single season career record in doubles with 19. She will have the opportunity to break her own record next season as she will be returning for one last eligible season.

Press Release courtesy of Sun Devil Athletics