(Phoenix, AZ)  Grand Canyon held college baseball's No. 25 hitting team without a hit for the first five innings Tuesday night.
The Lopes opened the game with hits on their first two at bats and led for the first five innings in front of 5,015 fans, the second-largest crowd in GCU baseball history.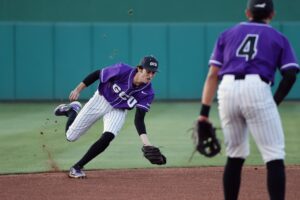 But with two hits on their last 31 at bats and three runs yielded by the bullpen, the Lopes evened their season series with No. 15 Arizona by taking a 5-3 loss at GCU Ballpark.
Lopes right-handed pitcher Carter Young, a sophomore from Wyoming, delivered his best start of the season by building on previous performances against GCU's challenging mid-week schedule. After his previous starts came in Lopes wins at Oregon State and Arizona State, Young held an Arizona team that was hitting .308 on the season without a hit for 5 1/3 innings.
Sophomore center fielder Mac Bingham and catcher Daniel Susac belted solo home runs to take away the no-hitter and the lead in the sixth inning. No GCU pitcher has thrown a no-hitter since Keith Baker in 1982.
"I tried to stay locked in, one pitch at a time," Young said. "But as soon as I started falling behind in that sixth inning, it did cross my mind, I won't lie. I tried to stay within myself and I got too overexcited."
Young struck out seven batters, as GCU's staff totaled 13 strikeouts to give it nine double-digit strikeout games this season. Two of its three top strikeout games this season have come against Arizona (18-7), whose side Young fanned in the fifth.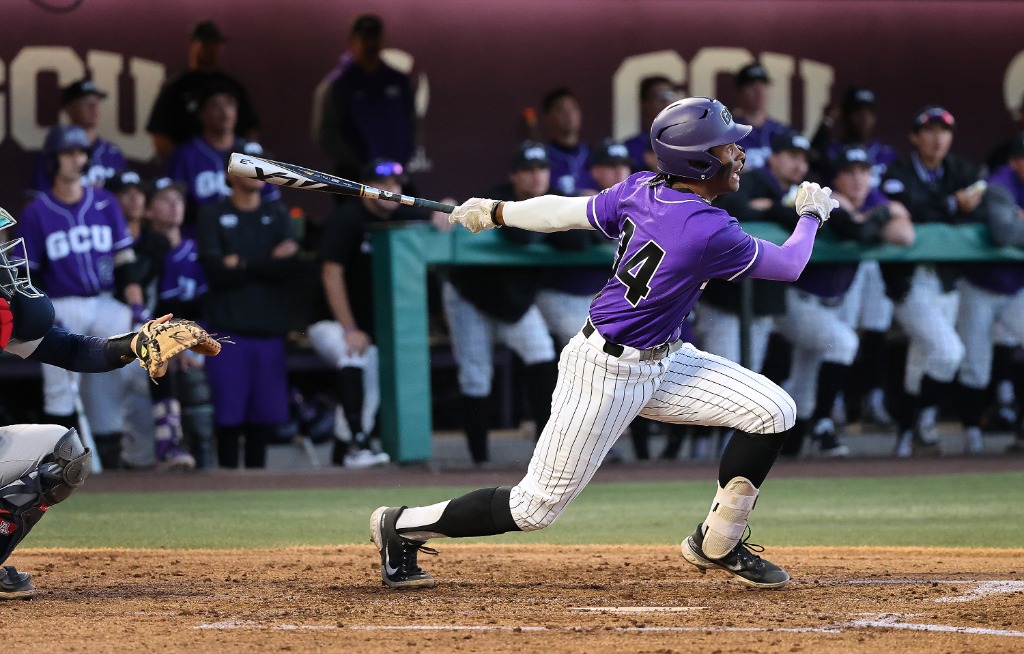 "I knew coming in that it was just going to be a dogfight," Young said. "They're one of the best hitting teams in the country, so I knew I had to execute my pitches and I felt like I did a really good job of that. Probably the best I've done all year.
"I had a talk with (pitching coach Jon) Wente after that (Arizona State) game about competing and challenging hitters more, trying to stay within myself and not play their game. I really focused on that tonight and that was the difference."
GCU (16-10) had won seven of its past eight games to enter Tuesday night at No. 21 in NCAA Ratings Percentage Index, making the Lopes-Wildcats matchup one of two pairing RPI top-25 teams on Tuesday.
That made for a great turnout at GCU Ballpark, which had its program record for attendance with 5,261 fans on Opening Night this year.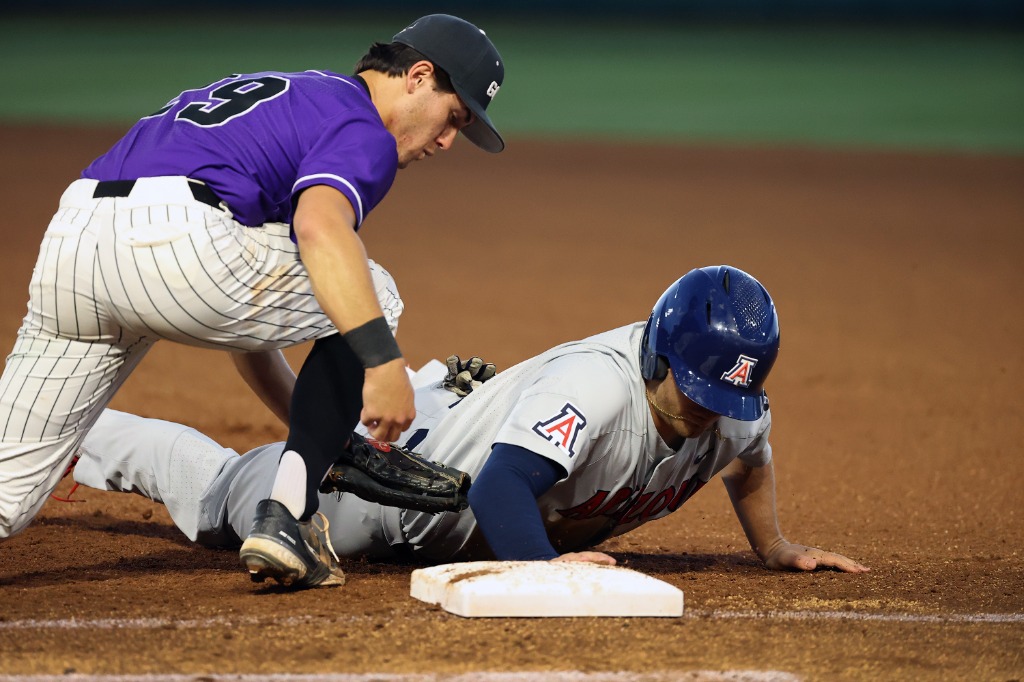 The Lopes had won three of the previous five meetings with the Wildcats and hopped to a 1-0 lead with sophomore center fielder Homer Bush Jr. beating out an infield grounder and sophomore first baseman Elijah Buries singling to right field to start the game.
But once a booted ball at shortstop turned into a lucky carom to second base for a force out, the Lopes' offensive fortunes shifted. GCU only managed a 1-0 lead out of the opportunity on a RBI ground out by senior third baseman Juan Colato.
The Lopes did not get another hit until the fourth inning, when Colato hit a leadoff single and stole second but was stranded by the pop-ups that plagued GCU throughout the game.
"Long swings aren't going to work," Lopes head coach Andy Stankiewicz said. "We have to be short to the ball. We weren't particularly short to the baseball tonight and it cost us.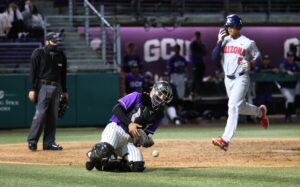 "Lazy pop-ups to the infield, lazy fly balls to the outfield. Those don't work. We're not that type of team that can just sit back and wait for a three-run homer. We've never been that team and don't really have that personnel. We have to commit to hard contact, line-drive and on the ground and we'll take our chance from there."
GCU fell behind 5-1 with Arizona following the sixth-inning home runs with one run on two hits and a walk in the seventh and two runs on three hits and a walk in the eighth.
The Lopes pushed back with the Bush-Buries combination again. Bush drew a walk and Buries singled to center with one out before both came home when Colato's deep drive to center field was dropped. GCU stranded two men to end that inning and followed a ninth-inning leadoff walk by sophomore center fielder Cade Verdusco with three strikeouts.
GCU did not make an error for the fourth consecutive game, matching last season's longest error-free streak. But the Lopes hit .121 and gave up three runs in three relief innings.
"We didn't execute well like we have in the past," Stankiewicz said. "That's a great ball club over there and a great crowd. I'm disappointed. I thought we would hopefully give a better performance."
GCU continues the homestand and protects its WAC West Division lead with a Friday-Sunday series against New Mexico State. No. 7 Texas Tech visits GCU Ballpark next Tuesdayand Wednesday.
"Stank does a great job of putting us up against tough opponents," Young said. "It makes us have to work harder and execute even more. Hopefully down the stretch, it will help us in the tourney and further."
Press Release courtesy of Grand Canyon University Athletics – Paul Coro