(Phoenix, AZ)  Two NCAA tournament teams from last spring took the GCU Arena floor, but only one played like it could be back this spring.
Grand Canyon picked apart Abilene Christian for a 50-point first half and its superb backcourt and superior depth kept stretching the lead until the Lopes ran off with a 95-68 home victory.
The Lopes (13-2, 4-0 WAC) won their sixth consecutive game by following up season-best 58% shooting at UT Rio Grande Valley last week with 63% shooting against the Wildcats on Thursday night.
The offensive firepower kept their lead in double digits against Abilene Christian (11-5, 2-3 WAC). GCU pulled away from the team that won the Southland Conference and upset Texas in last year's NCAA tournament, blowing out the Wildcats by 31 at one point when GCU sophomore guard Jayden Stone capped his career-high 14-point game with a driving 3-point play.
For the fourth time this season, the Lopes won after not playing a game for at least a week to match the best 15-game start in their Division I era.
"Abilene is one of the best defensive teams in the country and they're the best at forcing turnovers, so that was a big key coming into the game," GCU head coach Bryce Drew said. "Jovan and Holland were sensational with the ball and I thought our other guys really moved to open areas and gave them some good passing angles."
GCU destroyed Abilene Christian with depth, getting 49 of its 95 points off the bench to deliver the Wildcats' worst conference loss since 2015. It was the usual dominant starting backcourt performance from junior Jovan Blacksher Jr. and graduate Holland Woods II, who handled the nation's turnover margin leader by combining for 31 points, 12 assists and two turnovers.
Blacksher's and Woods' precision play off screens and instincts off Abilene Christian's traps led to the Lopes' record shooting performance for a WAC game. That efficiency included 12-for-24 3-point shooting, giving GCU its third consecutive game of nine or more 3-pointers for the first time since December 2017.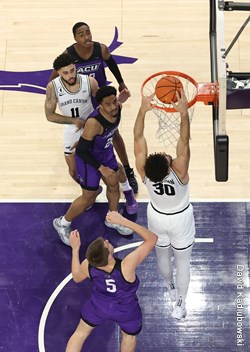 Woods made GCU's first three 3-pointers for a 22-15 lead with the third 3 coming off a Stone hustle save that symbolized the Lopes' supreme, consistent effort. GCU kept the lead but took its final challenge when Abilene Christian cut the lead to 37-30, only to have a Stone backdoor layup from Woods flip the close. Junior power forward Gabe McGlothan had a series of quality plays to help the Lopes to a 50-37 halftime edge.
Another quality bench effort came from senior forward Taeshon Cherry, who helped GCU pull away in the second half. He finished with the second-highest scoring game of his career, a 16-point game that came with him making three 3-pointers for the first time since 2018. He scored 12 consecutive GCU points to build a 71-51 lead and have his name chanted by the Havocs.
"We've just got to stay ready and locked in and I think that's what we're doing," Cherry said. "Coach Drew is doing a great job of that. I think we all play for each other and we were all looking for each other, moving the ball around and everybody was touching the ball.
"Over these last couple weeks, I've had as much confidence as I should have. Coach Drew has done a great job with my confidence level and that's all it took."
Cherry went 5 for 6 from the field, pairing up an intermediate game with his long-range ability. He made 3 of 4 from 3-point range and added four rebounds, a steal and an assist in 17 minutes.
"This is probably the best game he has played in a couple years," Drew said. "It was just fun to see him in a rhythm and making shots. His 16 points off the bench were huge."

In the middle of the second half, the Lopes went on a 9-0 run that buried the Wildcats, who had been on an 11-game winning streak until a week ago. Cherry made consecutive 3s before graduate forward Sean Miller-Moore had a baseline drive for a 73-51 lead with 9:43 to go. Stone's consecutive drives took the lead to 88-57 with 4:24 to go.
Blacksher led GCU with 19 points, giving him 19 consecutive double-digit scoring games as he continued his career-best 42% 3-point shooting on the season.
"As a team, we just enjoy getting better every day at practice," Blacksher said. "We enjoy getting better and that's what we're here for.
"We have a great coaching staff, a bunch of great players who mesh well, good chemistry, know how to play basketball. If we keep executing and listening to the coaching staff, we should be good."
GCU won the boards, outrebounding Abilene Christian 39-22 with a team-high seven rebounds from junior power forward Yvan Ouedraogo and six from Miller-Moore. The Lopes won by 27 against a team that entered the game with an average scoring margin of plus-10 that ranked 10th nationally.
"If we just stay hungry, stay down, don't get overly confident, have confidence but not overly confident, I think that we could be a great team," Cherry said. "We're still trying to put it together and figure each other out, but we have a lot of time left still and that's scary so I can't wait."
Press Release courtesy of Grand Canyon University Athletics – Paul Coro