(Phoenix, AZ)  The Grand Canyon women's basketball team suffered its first home loss of the season Thursday night after falling 62-50 to UT Rio Grande Valley.
The Lopes (8-5, 1-1 WAC) had two players score in double figures, led by sophomore guard Tiarra Brown with 15 points, two steals and three blocks. Freshman point guard Ja'mya Powell-Smith posted 11 points and two steals off the bench while graduate guard Amara Graham added seven points and a game-high three steals for GCU.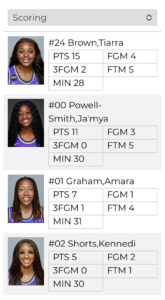 The Vaqueros shot 41.4% at GCU Arena while the Lopes were kept to 24.5% shooting from the field. UTRGV also outrebounded GCU 48-30.
Lopes senior forward Kennedi Shorts made her first start of the season and scored the first points of the game with a layup, giving GCU its only lead at 2-0. The Vaqueros then went on a 12-0 run, setting the tone for the rest of the game. The Lopes trailed 23-12 at the end of the first quarter.
The second quarter was nearly even, sending GCU to halftime tralining 39-27.
The Lopes had their lowest-scoring quarter in the third, when they had nine and trailed by as much as 18. Powell-Smith made both of GCU's third-quarter field goals along with two free throws to score six of the nine points.
The Lopes outscored the Vaqueros 14-8 in the fourth quarter with a strong showing by Brown's nine points, but it was not enough to rally.
GCU (8-5, 1-1 WAC) continues conference play on Saturday when it hosts Lamar (5-4, 0-0 WAC) at 2 p.m. It will be Lamar's first-ever WAC game
Press Release courtesy of Grand Canyon Athletics – Sierra Smith