But GCU's legs were no worse for the lack of rest and the Lopes' shooting eye found the focus in a hurry. After flight issues delayed GCU's arrival to midday, the Lopes shot a season-high 58% with the help of seven dunks Thursday night to slam the Vaqueros 84-70.
"I think we had one guy who had ever come same day and then played a game," GCU graduate guard Holland Woods II said. "For us to wake up this morning in Phoenix and then travel with a bunch of unknowns for the trip, we didn't want to make any excuses. We wanted to just come get the job done."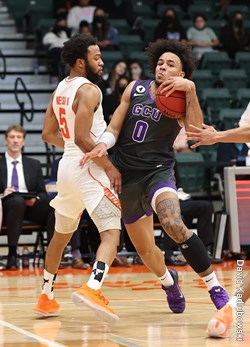 GCU (12-2, 2-0 WAC) did that by nearly leading for the entire game despite 11 first-half turnovers. The Lopes pulled away in the second half even though leading scorer Jovan Blacksher Jr. went to the bench with his fourth foul just four minutes into it.
The three-point play that sat Blacksher was an unexpectedly good pivotal moment for the Lopes, who shut out UTRGV for the next six minutes without the junior point guard. In his first game in two weeks, Woods shared the playmaking and delivered a 17-point, seven-assist, two-steal game with five passes setting up GCU dunks. His game paired nicely with Blacksher's 13 points, six assists and two steals.
UTRGV cut the GCU lead to 49-40 when Blacksher went out with 16 minutes to go, but the Lopes responded with 14 unanswered points that began with four consecutive scores at the rim in half-court offense. Sophomore guard Chance McMillian set up a Gabe McGlothan slam and scored on a left-handed drive, as did Woods before he delivered a shot clock-beating alleyoop to junior power forward Dima Zdor.
"I had no idea he had four fouls," Woods said. "The second half was going on and I was looking at Coach like, 'Can I get a break?' I was tired. We just knew what we had to do. No matter what happens on the floor, we always have guys that will be able to have that next-man-up energy."
The Lopes handed the Vaqueros their worst home margin of defeat since March 2018, giving GCU its largest win in Edinburg. The Lopes' previous shooting best had been 50.9% this season, but they far exceeded that by going 33 for 57 with 40 points in the paint and 10-for-21 shooting from 3-point range.
"It has been an adventurous 24 hours, to say the least," Lopes head coach Bryce Drew said. "Our school has done a great job. Ryne Lightfoot, our operations coach, has done a great job. After nearly about two hours of bus time today and over two hours in the air and losing an hour in a time-zone change, we got here and went to the hotel and did a shootaround in the parking lot for about 10 minutes. And then a couple hours later, we came over here and played. I really credit our guys for their focus, for their determination and not letting them get distracted."
GCU broke open the game when graduate guard Walter Ellis, in his first playing game, made back-to-back 3-pointers for a 63-40 lead with 10:13 remaining. Lopes fouls and UTRGV's Mike Adewunmi's 20-point, 10-rebound game kept the Vaqueros within rallying range, but the Lopes took better care of the ball in the second half to finish off UTRGV.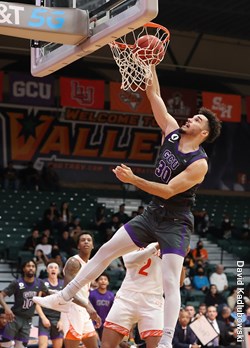 The Lopes rode the strength of their starting backcourt but had their most accurate shooting game of the season with graduate swingman Sean Miller-Moore posting his career scoring best against a Division I team (15 points) and McGlothan making a career-high four 3-pointers for his GCU career scoring high of 18 points. Miller-Moore went 7 for 8 from the field with each score coming in the lane, including three alleyoops from Woods.
The Lopes went from using a frenetic early pace to their advantage with transition scores to falling back into a 2-3 zone defense in the second half, when Zdor controlled the middle.
When Blacksher returned with the starters, he scored the first four points before Woods delivered assists for back-to-back GCU dunks by McGlothan and Miller-Moore. With six of his 13 points after returning, Blacksher recorded his 18th consecutive double-digit scoring game.
"Experience helps, especially in these situations when you're on the road and you've had some adversity," Drew said. "You're out of your routine and you need upperclassmen and leadership. That's what those guys provided."
Adjusting to UTRGV using primarily perimeter players, the GCU defense did not allow the Vaqueros to score on consecutive possessions for the first 15 minutes of the game. The Vaqueros were 15 of 44 (34%) from the field through 30 minutes of play until finishing on an upswing, as they had Monday with a 16-2 close at Sam Houston.
The 14-0, second-half run without Blacksher, the only Lope who previously had played at UTRGV, equated to the game's final margin.
"That's the luxury of having two points guards with Holland Woods and his experience being able to step right in," Drew said.
Press Release courtesy of Grand Canyon University – Paul Coro