(Ahwatukee, AZ)  In the City of Chandler, sports is second only to breathing. This was very apparent when both Home and Visitors grandstands were packed at neighboring Desert Vista High School for the rematch of the Battle of Arizona Avenue just twenty two days prior.
For three hours, things were as normal as they were in 2019, pre-covid and the only thing contagious was the excitement in the air.
The Beasts of the East Valley, the four time reigning champions Chandler High Wolves came in ranked 4th in the nation.
To the south on Arizona Avenue, the #24 nationally ranked Hamilton High Huskies entered as little brother, but very ready to smack the beast in the mouth.
The Huskies won the coin toss and elected to defer to the second half. In a blink of an eye, Chandler took the ball at the 20 and less than ten seconds later, Eli Sanders took a handoff off the right side and galloped eighty yards to pay dirt and a quick 7-0 Wolves lead.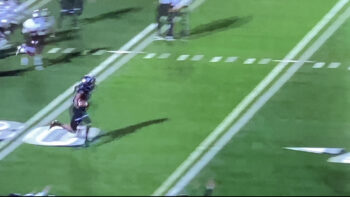 Sanders who is the 2020 602 Sports Talk Player of the Year has verbally committed to Boise State University and finished with 131 yards on 19 carries.
After another Wolves touchdown, the Huskies got on the board themselves and cut the lead to 13-7 and that's how the half ended.
In the second half, Chandler scored the next ten points to extend their lead to 23-7 and thought they had this one in the bag.
Hamilton said, "not so fast," as the Huskies scored two fourth touchdowns and drew within two points at 23-21.
Hamilton forced a three and out on Chandler and got the ball back with good play calling and time management, they were at the doorstep at the Chandler five yard line.
In a penalty marred game, the yellow hankies flew on the next play and backed up the Huskies on a illegal motion call.
There was seventeen seconds left and Hamilton chose to try to win the game with a field goal attempt.
The wind had been present the entire game, but just as the ball was snapped, a big gust of wind hit the south end zone and the potential wining kick sailed wide right.
Chandler drew a huge sigh of relief and dodged the biggest bullet they faced all season long to win their fifth consecutive AIA State Title.