TUCSON – The Tucson Sugar Skulls have announced their 16-game schedule for the 2021 Indoor Football League (IFL) season.
Tucson will begin the 2021 season on the road in Prescott Valley against their newest, in-state rival, the Northern Arizona Wranglers on Saturday April 3. 
The Sugar Skulls will then return to Tucson for their home opener at the Tucson Arena on Sunday, April 11 at 3:05 p.m., when they host the Louisville Xtreme.
In their final home game of the season, the Sugar Skulls will host their Phoenix rivals, the Arizona Rattlers on Saturday, July 17 at 6:05 p.m.
Six expansion teams appear on the Sugar Skulls' schedule, including the Northern Arizona Wranglers, Louisville Xtreme, Frisco Fighters, Massachusetts Pirates, Duke City Gladiators and Spokane Shock. Tucson will host each one of these teams in 2021, with the exception of Spokane.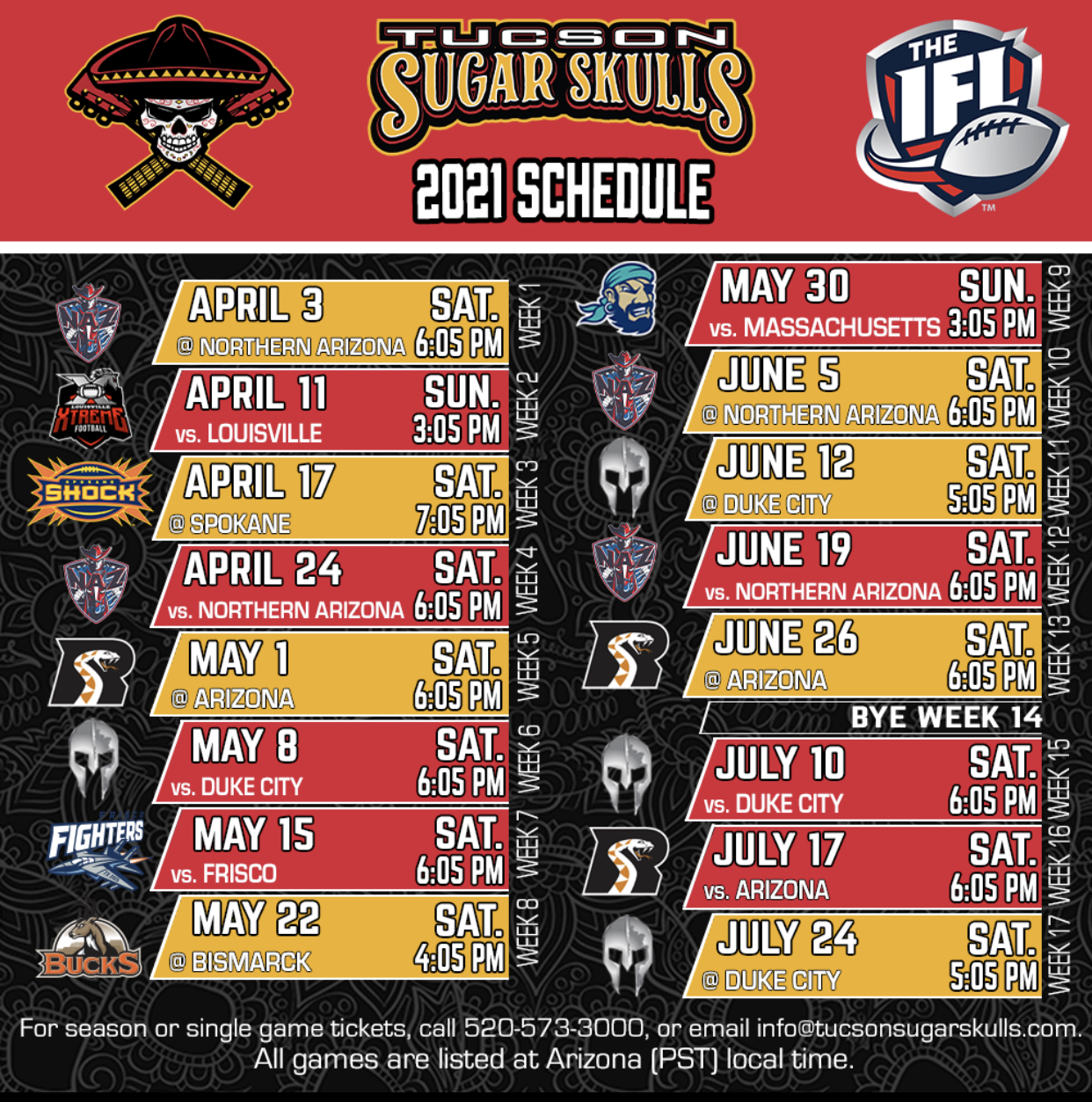 The Sugar Skulls will host the Duke City Gladiators on Saturday, May 8 at 6:05 p.m. and on Saturday July 10 at 6:05 p.m. Frisco will visit Tucson on Saturday, May 15 at 6:05 p.m., Massachusetts will visit on Sunday, May 30 at 3:05 p.m., and Northern Arizona will visit for a second time on Saturday, June 19 at 6:05 p.m.
The first round of the 2021 IFL Playoffs is scheduled to begin on the weekend of July 31, with the second round taking place on the weekend of August 7. United Bowl weekend will be August 21.
Press Release courtesy of the Tucson Sugar Skulls