(Tucson, AZ)  Pima Community College men's basketball player Cole Gerken (Ironwood Ridge HS) signed his letter of intent to continue his education and collegiate basketball career at the four-year school level.
Gerken, a guard, signed to play at Columbia College, an NAIA school in Columbia, Missouri. The Cougars play in the American Midwest Conference.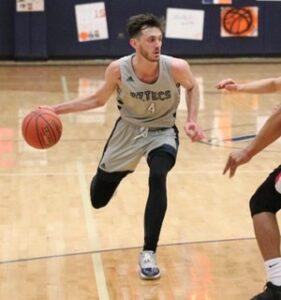 Germen played in all 32 games last season; making 29 starts in the backcourt. He averaged 11.3 points, 6.9 rebounds, 3.6 assists and 1.2 steals per game.
"Pima was a place to go get better and compete and I want to continue to get better and I believe Columbia is that place," Gerken said.
He helped the Aztecs earn their third straight NJCAA Region I, Division II title during the 2018-19 season. He played in 31 games as a freshman; making six starts while averaging 5.5 points, 3.1 rebounds and 2.5 assists.
Press Release courtesy of Pima Athletics