OKLAHOMA CITY – Both the 16-Under and 18-Under divisions at the 2020 USA Softball GOLD Nationals have concluded pool play at the end of Day Two, with the 18-Under division having begun bracket play and continuing the quest for a coveted National Championship title.
In the 16-Under division, the first extra-inning contest took place in the last round of pool play games as teams battled for a top-seed in the playoff bracket. The hits were rolling as three contests were determined via the run-rule, while 14 teams collected double-digit hits. On the opposite side of the game, five teams earned shut-out victories in a shortened second day of action before bracket play begins tomorrow in Broken Arrow, Oklahoma.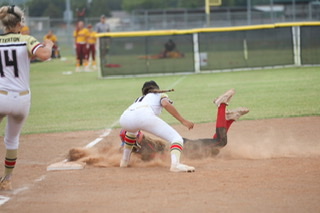 An impressive 32 balls went over the fence in today's action, while a total of 84 were scored after 62 pool play games. Illinois Chill Gold 16U and Oklahoma Ultimate Gold 16U each sent out eight home runs apiece, while Kaylee Edwards (Oklahoma Ultimate Gold 16U) sent out three of her team's eight total. Going a perfect 3-0 in pool play were Aces Fastpitch, Gametime 16U Gold – Self, Illinois Chill Gold 16U, St. Louis Stix 03, TX Bombers Gold 16U – Burgess and Top Gun National 16U, who each earned three wins. Bracket play will kick off tomorrow at 8 a.m. and continue through 8:30 p.m. CT at Arrowhead Park.
In the 18-Under division, teams concluded the final day of pool play with seven shutouts, five of which were won by an explosive eight or more runs. The bats were hot for the second day in a row, sending a total of 54 balls over the fence for a combination of 102 homeruns hit in pool play.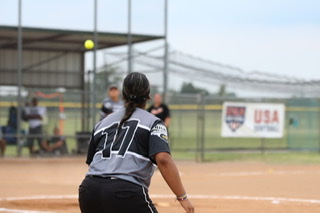 Claiming the No. 1 seed in each of their respective pools was Firecrackers Rico Weil (3-0), Texas Glory 18 Gold (3-0), Aces Fastpitch (3-0), Tampa Mustangs TJ (3-0), OK Exclusive Premier (3-0), Batbusters Stith (3-0), Select Fastpitch (2-0), Corona Angels (3-0), Jersey Intensity (3-0), Wichita Mustangs (3-0), SoCal Athletics (3-0), Birmingham Thunderbolts (3-0), Prospex Gold (3-0), Illinois Chill (3-0), Texas Bombers Gold (3-0), Lady Lasers Blue (2-1), Rock Gold (2-1), Colorado Styxx (2-1), and Nebraska Thunder (2-1).
The double elimination quest to the 18-Under GOLD National Championship trophy kicked off
at 6 p.m. CT
in the evening in Mustang, Okla. (Wildhorse Park), Choctaw, Okla. (Bouse Sports Complex) and in Oklahoma City, Okla. (USA Softball Hall of Fame Complex). Recording a shutout victory in their first bracket play game was Tampa Mustangs TJ, Texas Bombers Gold, Heartbreakers Gold, Southern Force and Tulsa Elite National while Top Gun Academy, Hotshots Premier Dumezich and Oregon Thunder each rallied late in the game to claim their first win by a close margin of one run.
Also earning wins to advance in the winners bracket was Firecrackers TJ Housh, Lady Lasers Blue, Tulsa Shootout, Texas Glory Blue, Select Fastpitch, GCB Gold, Nebraska Gold, SoCal Athletics, Rock Gold, LLG NOVA, OC Batbuster Gomes, Tulsa Elite OKC Walde, Oklahoma Athletics Premier, Oklahoma Athletics Platinum Williams, Firecrackers Rico/Weil and Texas Blaze Elite Lindsey.
Participating teams earned a berth to their respective GOLD National Championship through a network of qualifying tournaments and through berths awarded by USA Softball's Chief Executive Officer (CEO). With pool play having concluded for both divisions today, the 16-Under division will open up Day Three with double-elimination bracket play games while the 18-Under division will continue competing in bracket play which began earlier tonight. The Championship contests will take place
on Saturday, July 25
with the 16-Under division taking place
at 11 a.m. CT
and the "if-necessary" game
at 1 p.m. CT
. The 18-Under division will crown a champion
at 12 p.m. CT
with the "if-necessary" game
at 2 p.m. CT
.
Press Release courtesy of USA Softball