(Tucson, AZ)  Arizona Wildcat fans and players along with former players from Hawaii, San Jose State and other universities will say farewell to former head football coach Dick Tomey at 9 am inside McKale Center on Friday May 31st.
Tomey, the all-time leader in wins at Arizona with 95 died after a courageous battle with lung cancer on May 10th in Tucson.
He came to Arizona from the University of Hawaii in 1987 after coach Larry Smith was hired at USC.
Coach Tomey was very successful in developing the talent he recruited including numerous players from the Pacific Islands and from Oceanside High School in San Diego County.
Having come to the U of A from Hawaii, his "Samoan Pipeline" was very instrumental in establishing a consistent team including a rock solid defensive squad which in 1992 turned into the famous "Desert Swarm" defense that terrorized offensive units through the PAC-10 and the country.
Tomey also continued to recruit talented defensive backs from La Mesa's Helix High School that previous coach Larry Smith had started. Current Pueblo Warrior football coach Brandon Sanders (Helix) was a key part of the "Desert Swarm" defense.
Under his guidance, he developed and coached five first round NFL draft picks and twenty All-Americans.
His Wildcat career was highlighted by the 1998 team that went 12-1 and beat a highly regarded Nebraska Cornhusker team in the Holiday Bowl which placed them with a #4 national ranking in the final polls. The highest ranked finish in Arizona history.
In 1992, the Cats shutout the defending National Champion Miami Hurricane team 29-0 in the Fiesta Bowl.
After leaving Arizona in 2000, he didn't resurface in football until 2003 where he was a defensive coach in charge of the nickel defense for the NFL San Francisco 49ers.
Although Tomey never took the Wildcats to Rose Bowl, he coached defensive ends in 2004 for the 11-1 Texas Longhorn team that beat USC in the Rose Bowl.
The following year Tomey was named head coach at San Jose State University helping turn that program around.
His career went full circle as he returned to the islands to help Hawaii head coach Greg McMackin as a special teams coach for the Rainbow Warriors.
Tomey returned to Tucson and was instrumental in the success and resurgence of the Pima College Aztec Football under the guidance of head coach and now Athletic Director Jim Monaco.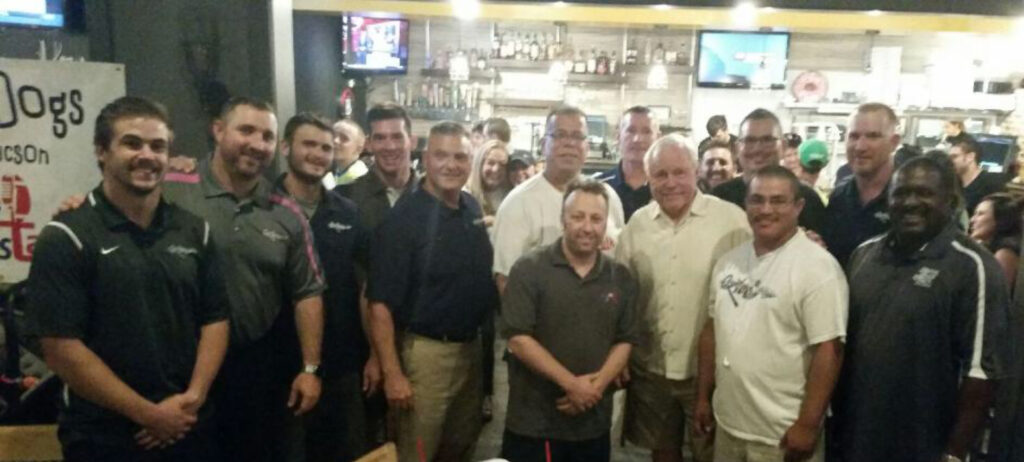 Dick Tomey was a guest on the 520 Sports Talk Show in 2017 with the Aztec Football Team.
Coach Tomey was able to celebrate the 20th anniversary of the 1998 team last October at Frog & Firkin in University Main Gate Square.
His legacy is rock solid and his relationship with his players and assistant coaches throughout his illustrious career is unparalleled.