Courtesy of Pima Athletics
Tucson, AZ – The Pima Community College softball program will have a changing of the guard starting this fall but the last name will remain the same.
Armando Quiroz stepped down after being the longest running head coach in program history and Rebekah Quiroz was named head coach.
Armando accumulated a record of 501-197-2 in his 11 seasons at the helm. He won his 500th career game on Apr. 14 when the Aztecs beat Chandler-Gilbert Community College 1-0.
The Aztecs took third place at the NJCAA Division I National Tournament in 2013 and fourth place in 2012. The Aztecs claimed two NJCAA Region I titles and made the region tournament in 10 out of the 11 years.
Quiroz was inducted into the Pima County Sports Hall of Fame in 2008 and the Flowing Wells High School Sports Hall of Fame in 2014.
"My thoughts go to all the great players that have come through our program and to all the great assistants I have been blessed with," Quiroz said. "To be able to coach and coach with my daughter Rebekah is a dream experience. Thank you to my loving wife Elsa, who is always supportive and understanding. Thank you to all the special people that God has put in my life. I am truly blessed. GO PIMA AZTECS."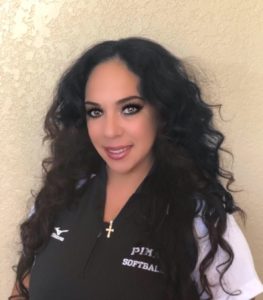 Rebekah Quiroz will get her chance to lead the Aztecs after being an assistant coach for the past 13 seasons under Armando Quiroz and Stacey Iveson. She was on the 2006 NJCAA Division I National Championship team where the staff was named National Coaching Staff of the Year. She has 606 wins in her career as an Assistant Coach at Pima.
Rebekah played at Flowing Wells High School and won two state championships in 1999 and 2000. She was also named Player of the Year by the local newspapers. She was selected to the Flowing Wells Sports Hall of Fame in 2016.
She joined the Pima softball team during the 2001-02 season. She was selected NJCAA first team All-American, first team All-ACCAC conference and first team All-Region after she led the nation with a .500 batting average. She transferred to the University of Arizona and was a part of the 2002 National Runner-up and Co-PAC 10 champions team. She went on to play for the Arizona Heat in the National Fastpitch League from 2005-2008.
"I am most humbled and honored to accept the position of Head Softball Coach for Pima Community College. I will do my absolute best to ensure continuity of this nationally recognized and respected program that my father (and prior coaches) have created," Rebekah Quiroz said. "Thank you for the opportunity to serve Pima College and the Tucson community that I love.
"I am everything I am because of my father; I am honored, and proudly carry his name through this next journey of my coaching career."
Rebekah is finishing her master's degree in Human Relations from Northern Arizona University. She earned a bachelor's of Arts in Sociology with an Emphasis in Theology and earned an associates degree in Liberal Arts at Pima.