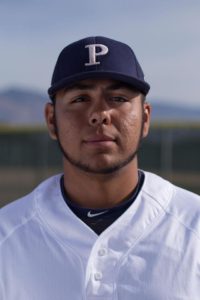 Tucson, AZ – The Pima Community College baseball team (7-5, 2-3 in ACCAC) played one game on Saturday at the West Campus before the weather rolled in.
The Aztecs fell 8-5 to No. 6 ranked Mesa Community College in an ACCAC conference match-up.
Sophomore Manny Ramirez (Bisbee HS) tied the game at 2-2 in the first inning when he hit a two-run home run to plate fellow sophomore Anthony Felix (Canyon del Oro HS).
The Aztecs trailed 5-2 after the top of the third inning but cut the deficit with two runs in the bottom half of the inning. Sophomore Erick Migueles (Canyon del Oro HS) hit a two-run RBI double to score sophomore Oscar Larranaga (Sunnyside HS) and Felix but the Aztecs couldn't convert with Migueles on second with no outs.
The Aztecs tacked on a run in the sixth when pinch runner Gavin Ortiz (Ironwood Ridge HS) scored on a passed ball to cut it to a one run game at 6-5. The Thunderbirds scored two runs in the top of the seventh inning to help seal it.
Migueles finished the game 1 for 4 with two RBIs while Ramirez also went 1 for 4 with two RBIs and a run scored. Felix was 1 for 3 with two runs scored and Larranaga and freshman Austin Treadwell each scored a run.
Sophomore Trevelle Hill (Tucson HS) took the loss (1-2) as he started and pitched four and two-third innings giving up six runs (five earned) on 11 hits with four strikeouts and one walk on 85 pitches.
The second game of the doubleheader was canceled due to the weather conditions so it will be made up at a later date.
The Aztecs will play their first ACCAC conference doubleheader at Kino Veterans Memorial Stadium on Tuesday against Phoenix College. The games will be at 4:00 and 6:30 p.m. Entrance is free.