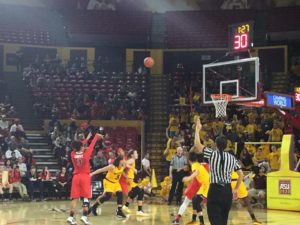 TEMPE, Ariz. – The Arizona State Sun Devils (17-10, 8-8 Pac-12) pulled away in the second half to defeat the Arizona Wildcats (13-14, 4-12 Pac-12) by a score of 67-54 on Sunday evening in Wells Fargo Arena.
Malena Washington scored 14 points for the Wildcats and has now scored in double-figures in two of her last three games after failing to hit double-figures in three-straight.
LaBrittney Jones also added in 14 points. That is the 22nd time this season and the fifth-straight game she has hit double-figures. She is four points away from moving into 13th all-time on the Arizona scoring list.
JaLea Bennett scored in double-figures for the second time in three games as well as she poured in 11 points. Over her last three games, the junior averages 10 points per game.
Breanna Workman was very good defensively as she grabbed a game-high 11 rebounds and had a career-high five steals. Her 11 rebounds also ties her career-high. The senior also added in seven points.
Turnovers were an issue for the Wildcats as they committed 25 on the day and Arizona State turned those turnovers into 22 points. Much like last game, the Sun Devils also won the rebounding battle as they outrebounded Arizona 33-28.
Arizona State ended the first quarter on a 12-4 run to take a 17-8 lead into the second period. Bennett scored the first six points for the Wildcats. The two teams would head to the locker rooms with the Sun Devils up 33-21.
The Sun Devils pulled away in the third quarter as they outscored Arizona 18-11 to take a 51-32 lead into the fourth quarter. Arizona would go on to win the fourth quarter 22-16, but it wasn't enough to erase the third-quarter deficit.
With that, Arizona will head back to Tucson for their last regular season games of the year. The Wildcats host UCLA on Friday night at 6 p.m. MST and USC on Sunday at 2 p.m. MST on Senior Day. Both games will be aired on the Pac-12 Networks.