(Grambling, LA)  fDespite a pair of team-high 18-point efforts by Jaddan Simmons and Kadidia Toure, the Sun Devil women's basketball team came up short at Grambling State, 70-67 on Thursday.
Simmons scored 10 of her 14 second half points in the fourth quarter, including a 3-pointer with 38 seconds remaining that tied the score at 67-67. Simmons' triple capped an 18-7 ASU run that Simmons started with a jumper to get ASU within single-digits, 60-51 with 8:48 remaining.
Trailing by as many as 17 points early in the third quarter, the Sun Devils were a defensive stop away from getting a chance to win the game in regulation or overtime. After scoring only seven points the first nine-plus minutes of the final quarter, the Tigers were able to churn out one final field goal – a 3-pointer by DeMya Young with 11 seconds remaining – that turned out to be the game-winner after ASU was unable to send the game to overtime.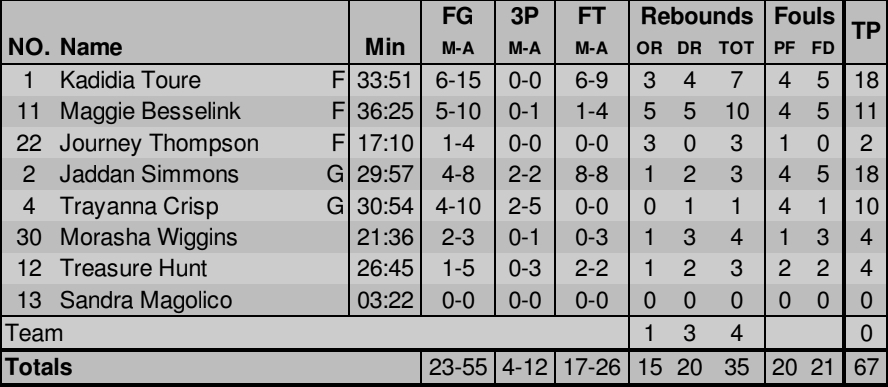 Maggie Besselink scored 11 points and grabbed a game-high 10 rebounds to post her second career double-double while Trayanna Crisp had 10 points and three steals.
Simmons (2-2 3FGs) and Crisp (2-5 3FGs) were responsible for ASU's four 3-pointers in the game. Simmons (three assists, one turnover), who came into the game leading the Pac-12 in assist-to-turnover ratio and free throws made and attempted, was successful on all eight of her free throw attempts and had a game-high four steals. In addition to her scoring contributions, Toure also added seven rebounds and two assists.
Young's 3-pointer – the last of Grambling State's 15 triples – capped off her game-high 23-point performance. Young (7-11 3FGs) and Jazmyne Jackson (15 points/5-5 3 FGs) accounted for 38 of Grambling State's points and combined to hit 75 percent (12-16) from beyond the arc.
The Sun Devils (3-1) scored a season-high 31 points off turnovers and doubled the Tigers in points in the paint (24-12).
After each team scored 18 points in the first quarter, the Tigers produced a second quarter that defied probabilities as they scored all 27 of their points via a 75-percent performance from long distance (9-12). Outside of the second quarter in which the Tigers were plus-13 on the line score (27-14), ASU outscored the Tigers 53-43 over the game's other 30 minutes.
The Sun Devils, who were without their third-leading scorer Jalyn Brown (13.5 ppg) for a second straight game, were not able to take full advantage of the 26 free throw attempts they earned, shooting 65 percent (17-26) for the game.
Thursday's game was part of the Pac-12-SWAC Legacy Series. Announced in Sept. 2021, the allyship between the Pac-12 and SWAC was the first series of its kind as it pertained to scheduling between Autonomy 5 and HBCU leagues. Each of last year's games – last season Grambling State played at ASU – featured programming with emphasis on raising awareness for anti-racism and social justice initiatives. A critical component of the Legacy Series is ongoing educational opportunities for student-athletes featuring community leaders and expert Conference alumni.
The Sun Devils return to action on Sunday (6 p.m. MST) when they host Idaho State at Desert Financial Arena.
Press Release courtesy of Sun Devil Athletics – Steve Rodriguez