(Gilbert, AZ)  Park University Gilbert men's track and field junior Owen Olney is the first track and field athlete to qualify for the NAIA National Outdoor Track and Field Championships May 24-26 in Marion, Ind.. Olney qualified in the high jump.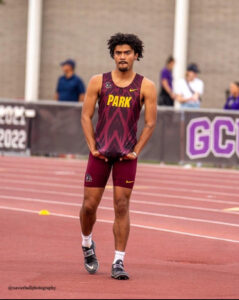 This is the second Buccaneer athlete to qualify for a national track and field championship as Seville Groebe qualified for the indoor national championships in the 2021-22 season.
Olney, from Rio Rancho, NM, qualified with a jump of 2.02 meters (6 feet-7.5 inches) which was inside the "B" Standard of 2.01 meters (6 feet-7 inches). He will compete with 20 other athletes who also made the qualifying jump distance. The "A" Standard is 2.04 meters (6 feet-8 inches)
The high jump competition will commence on Thursday, May 25 at 1:30 p.m. PST/3:30 CST.
Press Release courtesy of Park University Athletics – Preston English