Arizona State (19-9, 10-7) trailed for most of the game and a stretch of 17 minutes in the second half, but took the lead for good on a Desmond Cambridge Jr. trey with 2:19 to play. The Sun Devils closed the game on a 12-2 scoring edge over the last 2:19 and held Utah (17-11, 10-7) to one make in its last seven shots. The Utes were previously 17-0 when leading at the half this season until ASU earned the win.
On senior night, Warren Washington dropped 18 points, tied for his second highest output as a Sun Devil. ASU also received 29 combined points from the Cambridge brothers – 15 from Desmond Jr. and 14 from Devan – in the winning effort. Overall, Sun Devil seniors contributed 59 of ASU's 67 points.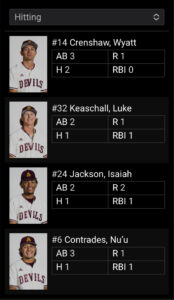 HOW IT HAPPENED
Desmond Cambridge Jr. scored the first points of the contest on a midrange jumper from the right side. Luther Muhammad nailed a jumper for his first points after a Utah turnover.
The defense forced another stop and Devan Cambridge drilled his first three point attempt less than three minutes into the contest. After ASU scored the first seven points, Utah responded with a triple, making it 7-3 Sun Devils.
The game remained separated by four or less until the Utes took their first lead at 7:51, a trey to make it 17-15. Arizona State closed the opening stanza on a 6-0 run over the final 2:21. Utah entered the halftime break with a one point lead and ASU trailing 26-25.
Arizona State took the lead back on an alley-oop slam from Desmond Cambridge Jr. to Warren Washington, 27-26 with 19:19 left in regulation. It was ASU's first points of the second half.
Neither team could garner separation, with the lead totaling six points or fewer for 38:59 of the 40 minutes played and the second half was never separated by more than three for the first 9:15.
Finally, ASU drew blood.
The Sun Devils took their first lead in exactly 17 minutes on a Desmond Cambridge Jr. triple with 2:19 to play, with the assist coming from Horne. ASU led 58-57. He extended his personal 4-0 run with a basket to give ASU a 60-57 lead with 1:41 left.
Devan Cambridge drilled a triple from Desmond Jr. with :48 seconds left, extending ASU's lead to four. After giving up two offensive rebounds, Washington erased a Ute shot with :21 on the clock, forcing Utah to call a dead ball timeout.
The Sun Devils held on for a 67-59 victory. Arizona State will head to Tucson Saturday for a rivalry match against the Wildcats. Tip is set for 12:00 p.m. on CBS.
Press Release courtesy of Sun Devil Athletics – Josh Schwam, Graduate Media Relations Intern