(Tempe, AZ)  No. 11 Sun Devil Wrestling swept CSU Bakersfield 42-0 Thursday afternoon at Desert Financial Area to cap off the regular-season home slate. Bonus points were earned in six bouts, and freshmen Emilio Ysaguirre and Shay Addison earned their first dual victories as Sun Devils. ASU celebrated its graduating seniors prior to the match, honoring contributions of Zane Coleman, Brandon Courtney, Michael McGee, Kordell Norfleet, Josh Nummer and Ethan Pickren. The Maroon and Gold close out the regular season Sunday afternoon at 12:30 p.m. AZ against No. 2 Nebraska on the Big Ten Network.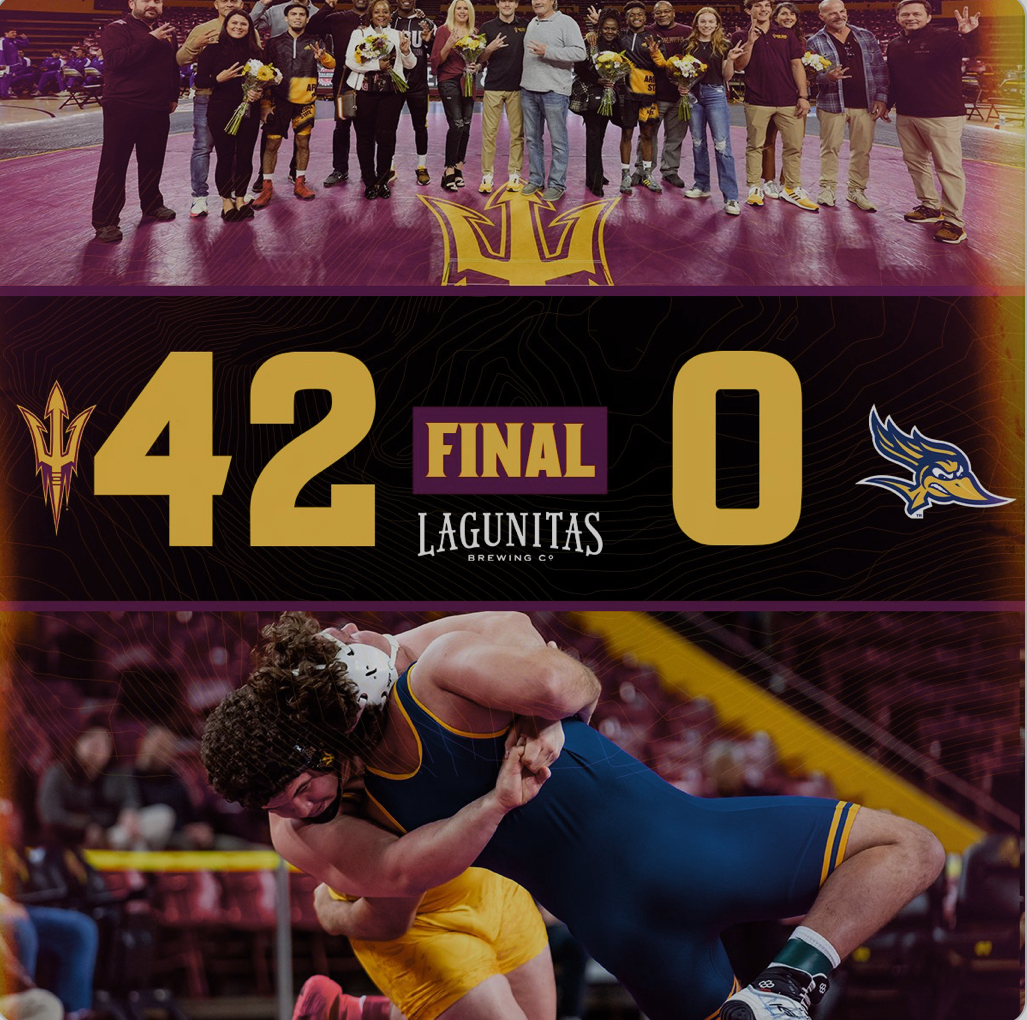 No. 11 Arizona State vs. CSU Bakersfield
125: Brandon Courtney (ASU) over Eddie Flores (CSUB) (MD 14-4)
133: Michael McGee (ASU) over Romeo McNeal (CSUB) (TF 18-3 3:00)
141: Emilio Ysaguirre Jr (ASU) over Louie Ramos (CSUB) (MD 15-3)
149: Kyle Parco (ASU) over Josh Brown (CSUB) (MD 10-1)
157: Max Wilner (ASU) over Brock Rogers (CSUB) (SV-1 9-7)
165: Tony Negron (ASU) over Braden Smelser (CSUB) (Dec 6-0)
174: Cael Valencia (ASU) over Albert Urias (CSUB) (Dec 6-5)
184: Shay Addison (ASU) over Jacob Hansen (CSUB) (MD 12-4)
197: Josh Nummer (ASU) over (CSUB) (For.)
285: Cohlton Schultz (ASU) over Paul Sharp (CSUB) (Fall 1:08)
"It was a great senior class, just a bunch of really good guys who've bonded together and had a high goal and they wanted to be good and obviously propelled the program to where it's at right now," head coach Zeke Jones said. "You don't replace guys like Brandon Courtney, Michael McGee and Kordell Norfleet. Ten-to-12 Pac-12 Championships and multiple-time All-Americans. They're irreplaceable and they're Sun Devil legends now."
Today's win was ASU's first shutout since a 43-0 victory over Cal Poly in January 2020. In addition to the freshmen's win, 125 through 149 earned bonus points, and Max Wilner'ssudden victory at 157 improved ASU's overtime record to 9-2 on the year. McGee earned his fifth tech fall victory of the season too.
"It's nice to get a big, convincing win," Jones said. "We wrestle a lot in phases. Shay Addisonand Emilio Ysaguirre were new faces in the lineup. Those young kids did a good job, so the future is bright."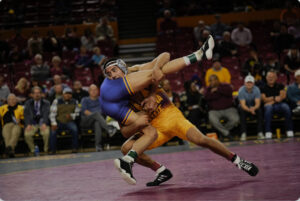 Quoteables
Michael McGee
On the last home match of his career….
"It feels good man. It's bittersweet that I will never have another home dual. It is crazy it is really coming to an end, but we aren't done yet. Feels great every time to come out here and put on a show for the fans."
On the fan support….
"Honestly, ever since I transferred here all the love and support has been overwhelming. I love being a Sun Devil and they're like my family. They just welcomed me with open arms and it has been just awesome."
Brandon Courtney
On the last home game of his career….
"Man, it was awesome. It made it so much better that none of us lost and just dominated. We put the pressure on just like we train to do."
On the fan support….
"It has been a wild five years, actually six years. It's my sixth year and Sun Devil Nation has been great. The support I get is awesome."
Kordell Norfleet
On the last home match of his career….
"It lets me know I have been a part of something pretty special. Unfortunately I haven't been able to contribute recently. Injuries suck, but that is life. I know I got nine other warriors out there to kill it, pick me up, and get the job done. I appreciate everything and don't take it for granted. I've loved everything about the past 4 years.
On the fan support….
"The fans mean so much. They watched me transition from an unsure freshman, to a title contender every year. I love bringing people to their feet, watching their kids get excited, and being someone people remember and want to be around. It has been nothing short of spectacular and it warms your heart. You can always sleep good at night knowing you just made an impact. I think my job is done here, and that is what I care about, doing my job to bring people to their feet."
Press Release courtesy of Sun Devil Athletics – Will Edmonds