CORVALLIS, Ore. – The Arizona State men's basketball team improved to 6-1 in Pac-12 play for the first time since the 1980-81 season with a 74-69 road win over the Oregon State Beavers Saturday afternoon.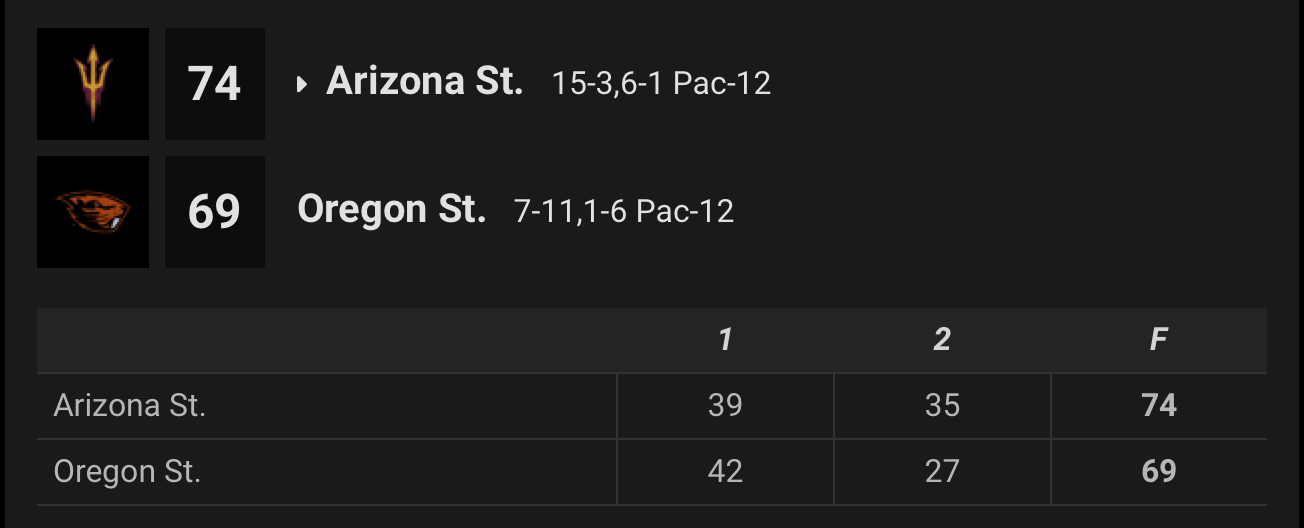 Paced by a second consecutive 21-point output by Desmond Cambridge Jr., ASU now has 31 wins in games decided by two possessions (six points) or less since the start of the 2015-16 season. It is the most wins in all of Division I over that stretch.
Additionally, Sun Devils trailed by three at the half, marking their 37th halftime comeback win under Bobby Hurley. Of those comeback wins, 18 have been on the road and 18 have come in conference play.
KEY MOMENTS
Leading by seven, Oregon State ripped off a 17-8 scoring stretch over 5:15 and led 34-18, their second 16 point lead of the game, with 5:07 to play in the first half.
Arizona State ripped off runs of 4-0 and 5-0 in two minutes, conceding just one OSU jumper to go on an 11-2 scoring stretch and trailed by seven at 3:07 in the first half.
The Sun Devils closed the first half on a 21-8 advantage over the final 5:07 and entered the locker room down by just three, 42-39.
ASU went on a 6-0 run over 2:45 to tie the game on two Austin Nunez free throws with 13:07 left in regulation.
ASU hit six three throws in the last :45 seconds to seal the victory.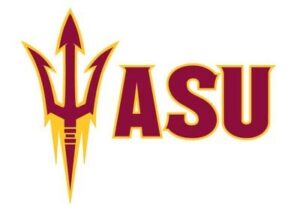 NOTABLES
ASU has 15 wins in its first 18 games. It is the first time ASU is 15-3 since the 2008-09 season.
It is the best 18 game start under Head Coach Bobby Hurley.
The Sun Devils are 6-1 in Pac-12 play for the first time since the 1980-81 season and just the third time in the Pac-10/12 era.
Additionally, ASU is 3-0 on the road in league play for the first time since the 1980-81 season, where they started 5-0 on the road in Pac-10 play.
The Sun Devils now have 37 halftime comebacks under Bobby Hurley including 18 on the road.
In fact, the Sun Devils now have four halftime comebacks this year and three on the road (OSU, Colorado and SMU). All four comebacks have come away from home, with the other one being a neutral site contest against VCU at the Legends Classic held in Brooklyn, NY.
In both of ASU's road Pac-12 wins (Colorado, Oregon State), the opposition has combined to shoot 14-48 (29.1%) from the field including 7-26 (26.9%) from three in the second half.
Arizona State is 31-14 in games decided by six points or less under since 2015-16. It is the most wins in Division I in that time (Wisconsin, 30).
18 of the 37 halftime comebacks under Coach Hurley have been in Pac-12 play.
Arizona State started 4-17 from the field before drilling eight of their last nine shots in the first half.
The Sun Devils trailed by as many as 16, making it the largest comeback since they overcame a 22 point deficit against Arizona on February 25, 2020.
The win was also ASU's largest road comeback since trailing by 18 at Georgia on December 15, 2018.
Arizona States' four road wins this season have come in hostile environments and difficult places to play (Colorado, SMU, Oregon, Oregon State). Over six seasons from 2016-17 – 2021-22, those three teams combined to go 294-97 (75.2%) at home. This includes five individual seasons of undefeated home records.
In fact, the Sun Devils are one of just two teams in the league to have four road wins (UCLA).
In the NCAA's quadrant system, losses outside of Quad 1 are highly detrimental to at-large candidacies. ASU is tied for third in the Pac-12 for fewest losses outside of the top quadrant with two.
The Sun Devils have swept the Oregon Schools on the road for the first time since the 2009-10 season.
ASU has won seven of their last eight in the series against Oregon State and three of the last four in Corvallis.
The Sun Devils have led the turnover battle in six of their seven conference games including six straight contests after a +3 margin against the Beavers.
In fact, ASU is +23 in the turnover battle this season
Arizona State is 11-0 this season when scoring at least 70 points.
DJ Horne's four assists marked the second time he has had an outright lead of assists for the Sun Devils. He had four at Colorado.
Duke Brennan's three blocks were a career high.
Desmond Cambridge Jr. is ++54 in seven league play games this season after a +4 tally against Oregon State.
He scored 21 points, his second contest in a row with at least 20
A key to the Sun Devil win was bench points. Arizona State led 17-15 against the Beavers, just the third time they have led the category in Pac-12 play this season.
Arizona State was also +3 in the turnover category.
Devan Cambridge paced the offensive rebounding effort for the Sun Devils, who came into the game leading the Pac-12 with 11.6 per game, grabbing 5. It is tied for  season high (7, San Diego).
Arizona State has outscored their opponent in the paint 16 times in 18 games this season, including today's 28-22 margin against the Beavers.
In fact, the Sun Devils are 7-0 in the paint in league play. ASU is outscoring opponents by 45  points in the paint in league play.
ASU has scored 41.8% of their points this season from inside the paint (552/1,319).
Arizona State is +17 in steals in conference games this season.
Opposing guards only made six shots from the floor against the ASU defense and committed seven turnovers.
Through 18 games this season, opposing guards are shooting 36.5% against ASU in conference play and 34.6% for the season against the Sun Devil defense.
ASU has also scored more fast-break points than opponents in 12 out of 18 games, and eight of the last nine. The Sun Devils are outscoring opponents by a +58  margin on the fast break this season. They outscored Oregon State 17-5.
In fact, the Sun Devils have outscored their league opponents on the run in six of seven possible games (except Washington).
The +12 margin is the largest in conference play and second largest overall in the 2022-23 campaign (NAU, +14).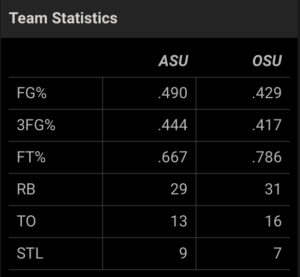 FIRST HALF
Trailing by a triple, DJ Horne knocked in two free throws at 18:06 for Arizona States' (15-3, 6-1) first points of the contest.
Offenses were stagnant, with both sides starting a combined 2-11 from the floor.
A turnover by the Oregon State Beavers (7-11, 1-6) at 16:26 gave way to a Desmond Cambridge Jr. triple, ASU's first field goal at 15:50 on a find from Frankie Collins.
Into the media timeout at 15:35, the Sun Devil defense was holding Oregon State to one make in their last seven shots including the last five. The Beavers were on a stretch of 2:07 without a point.
OSU snapped that cold spell with a layup out of the break, and with another layup, the Beavers were on a 6-0 run over 1:31 with 13:58 left in the half and led by seven, 12-5.
Arizona State went on a 5-0 run out of the timeout over 1:27 on an and-one from Austin Nunez and a layup from Alonzo Gaffney.
The Beavers continued to step on the accelerator, adding another nine points to their advantage over a 17-8 stretch in 5:15 from 10:19-5:07 and had their lead up to a game high 16, 34-18.
Resilient as always, the Sun Devils battled back. They raced to runs of 4-0 and 5-0 sandwiched around one Beaver jumper and cut their deficit to seven, 36-29 with 3:07 left in the half after that 11-2 stretch. Desmond Cambridge Jr. knocked in seven of the 11 points for ASU.
The Sun Devils continued their aggression, finishing the final 3:07 on a 10-6 stretch and DJ Horne cashed in a trey with :5 left, bringing Arizona State within a basket heading into the break, a 42-39 Beaver lead.
SECOND HALF
Collins cut the lead to one, 42-41 Beavers, with a layup at 18:39 for the first points of the second half.
Desmond Cambridge Jr. found brother Devan for an alley-oop jam with 16:55 left, 46-45 Beavers.
Devan Cambridge knotted the contest at 49 with 14:57 to play in regulation after an offensive rebound and a layup. It was the first time since the opening tip the game had been tied.
The Sun Devils took their first lead of the game on two free throws from Nunez at 13:07, 51-49. ASU was on a 6-0 run over 2:45.
Jamiya Neal drained a triple with 11:14 on the clock and brought the ASU lead to three, 51-49. The Sun Devils went on a 7-1 scoring stretch over 2:51 from 12:16-9:25, raising the lead to six, 58-52. The Cambridge brothers had four points along with Neal's three.
OSU went from 16:10-8:45 without a basket before a three pointer made the score 58-55 Sun Devils. However, the Beavers would not go away. Trailing by eight, Oregon State went on a 7-0 run to cut the deficit to one with less than 1:40 remaining.
With :45 left, Desmond Cambridge Jr. hit 1-2 from the free throw line and ASU led by two, 69-67. On the next possession, stifling defensive switching by ASU forced Oregon State to throw the ball away with :26 left.
Then, with :22 to play, Nunez came up big, as the true-freshman made it a two-possession game, knocking in two free throws to make it 71-67. Leading by two with :08 to play, Collins went 1-2 from the stripe and made it a three-point game, 72-69.
Gaffney then hit two free throws to ice the game, sending ASU to a 74-69 road victory.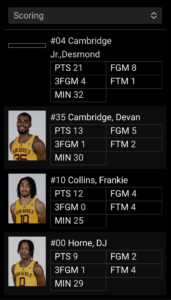 QUOTABLES
Arizona State Men's Basketball Head Coach Bobby Hurley
Opening Statement…
"Anytime you go on the road and in conference games, you can find yourself in a dog fight. So, not surprised, especially the way I saw Oregon State play in the second half versus Arizona. Young players woke up and I got to compliment Oregon State and Wayne (Tinkle) and the job he's done and definitely who he's brought in here. He's got some guys that he build with. So the future is going to be really good here down the line."
On Frankie Collins' play down the stretch
"It's huge, he doesn't hang his hat and you're going to miss shots, you're not perfect. But he's been a constant on the ball defender for us, so it's not like he just showed up for that possession and got it done, it was a really good defensive play."
Arizona State Men's Basketball Guard Frankie Collins
On message for ASU students to come against UCLA…
"We hope they're there and for the ones who can't make it, we still love you. We want them to have fun.
On if he feels like the underdog…
"Yeah, we're always the underdog. We love being the underdog.
On it being fun seeing new teams in the Pac-12…
"Yeah, especially UCLA because they have a great point guard over there in Tyger Campbell. After working out with him, it'll be fun to play against him for the first time. It's a big stage and you dream of playing on it."
On Tyger Campbell…
"My uncle trained both of us. We used to live together for like three months. I grew up watching him play."
UP NEXT
The Sun Devils return home for a matchup of the top two teams in the Pac-12 with the UCLA Bruins coming to Tempe Thursday night. Tip is set for 8:30 p.m. MST.
Press Release courtesy of Sun Devil Athletics – Josh Schwam, Graduate Media Relations Intern