(Nacogdoches, TX) – On the last day of November, the Sun Devil women's basketball team found itself with a 6-1 record after it overcame an 11-point, fourth-quarter deficit in its dramatic 80-72 win at Grand Canyon.
 Eleven days into the new month the Sun Devils are still searching for win No. 7. Their most recent opportunity came on Sunday in Texas where the Sun Devils were on the wrong end of a 75-60 decision at Stephen F. Austin.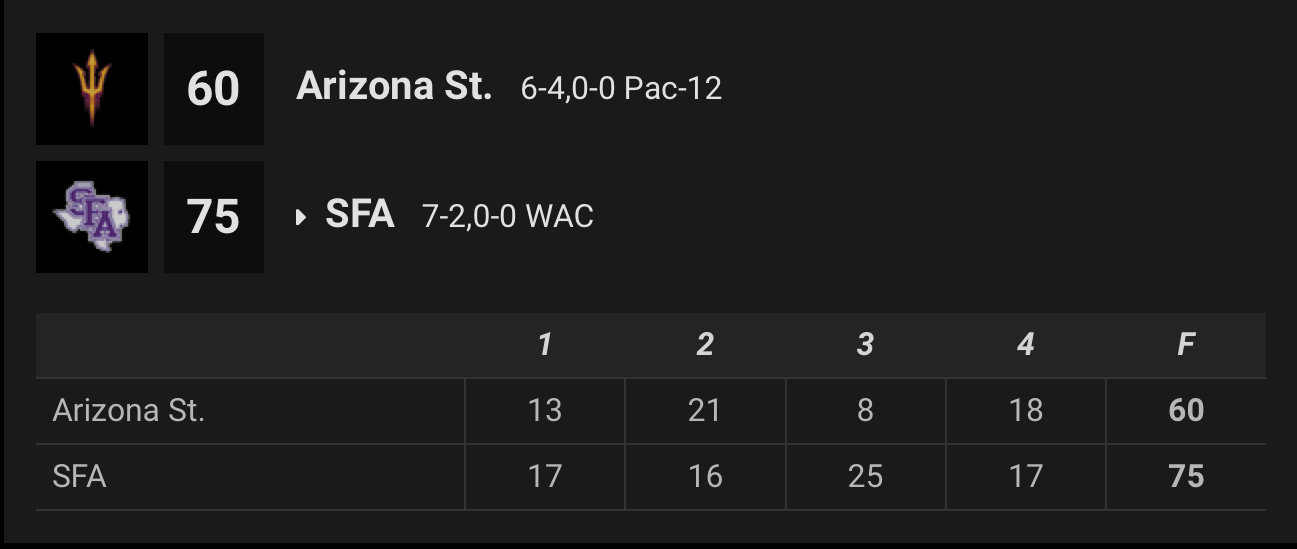 For the second straight game, the numbers game – as in ASU's number of healthy players – played a major factor in the outcome. Coming into the month of December, the Sun Devils (6-4) had eight players who were averaging double figures in minutes. And that number did not include junior center Imogen Greenslade and freshman forward Journey Thompson, two players who were gradually seeing increased playing time.
In the last week, the talented depth that was a major factor in the team's success has been dramatically reduced due to an unlucky spate of injuries/illness. In last Sunday's game vs. Missouri, the Sun Devils were without junior guard Jaddan Simmons (the team's second-leading scorer), senior guard Isadora Sousa (averaged seven rebounds in her three most recent outings in addition to providing the team with an important defensive presence) and freshman forward Journey Thompson (after accounting for six points, four rebounds and one block in the win at GCU, Thompson was coming off her first career double-double vs. UMass on Dec. 2).
On Sunday, Simmons was back in the lineup but Greenslade was not available in addition to the other players who missed last week's game. Thus, for the second straight game, ASU had seven players who accounted for nearly all the minutes. Despite their lack of depth, like last week, the Sun Devils did their best to employ the strategy that had been so successful for them over the last month. Like in last week's loss to Missouri, ASU looked every bit the team that had won six of its first seven games – for the first 20 minutes.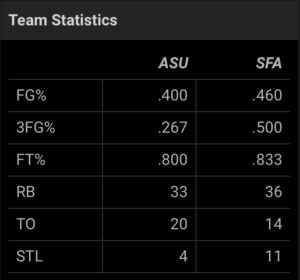 In both games the Sun Devils
Led at the half, had the advantage in rebounding and kept both teams from shooting the ball as well as they had coming into the game
Saw its lack of depth come into play in the second half as the opposition outscored ASU by an average of 15.0 ppg over the last 20 minutes, outrebounded the Sun Devils and shot a combined 51.5 percent compared to ASU's 33 percent
Finally, ASU faced an uphill battle in the fourth quarter of both games trying to overcome a double-digit deficit for most of the combined 20 minutes
Like after last week's loss to Missouri, head coach Natasha Adair talked about the team's willingness to keep battling, despite its current health situation.
"We're going to always battle and find ways to compete and fight to win and there are just some things we just have to get better at," Adair said. "I'm never going to question the want to and I'm never going to question our will. It's just a group that right now is just finding ways to win and identifying what those ways are winning plays. Their heart is in it and their effort is in it, now we just have to finish."
On Sunday, Tyi Skinner continued to lead ASU's offense as the junior guard, who came into the game No. 10 in the nation in scoring (20.9 ppg), finished with a game-high 22 points, her sixth game scoring over 20 points this season. Also scoring in double figures for ASU were junior guards Treasure Hunt (12 points) and Jaddan Simmons (11 points). Skinner and Simmons (ASU's top two scorers in points per game) were limited by foul trouble as both players ended the game with four fouls.
Meg Newman added four points and tied for the most rebounds by any player in the game with seven. Grad center Kayla Mokwuah and Hunt also pulled down six rebounds each.
ASU's best sequence of the game came at the start of the second quarter. After falling behind by six, the Sun Devils scored the game's next 10 points to go up 23-19.
Neither team led by more than three points for the rest of the half and the Sun Devils held a 34-33 edge at the half.
ASU stuck first in the third quarter after Hunt's basket extended ASU's lead to 36-33.
SFA (7-2) scored the next five points before Hunt tied the score at 38-38 with her second field goal of the quarter.
The Ladyjacks scored the next eight points to take a 46-38 lead midway through the quarter.
A battle of wills would ensue over the next few minutes as the Sun Devils cut SFA's lead to six twice only to see the Ladyjacks go back up eight.
In what proved to be the game's deciding sequence, SFA outscored the Sun Devils 8-0 over the last 2:13 of the quarter to double its lead to 16, 58-42, going into final 10 minutes.
The Sun Devils were able to create some momentum after Skinner scored five straight points to get ASU within 11 with just under seven minutes remaining. Another battle of wills would follow. After SFA went back up by 13, Hunt once again got ASU within 11. If it could get within single digits, ASU might be looking at a whole different game. It was not to be, however, as the Ladyjacks scored the next seven points to go up by 18 and put the game out of reach.
Press Release courtesy of Sun Devil Athletics – Marco Salas, Media Relations Graduate Assistant