The individual work often is highlighted by senior setter Klaire Mitchell, who racked up 46 assists, seven digs and five blocks on Thursday night. With another 46 assists, the Idaho native will reach the 3,000-assist mark for her career.
"Klaire put us in some really, really good situations," Nollan said.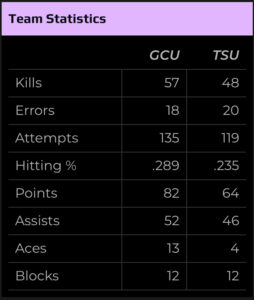 That led to Lifgren hitting .375, graduate outside hitter Melanie Brecka hitting .304 with 10 kills and senior middle blocker Hannah Eskes hitting .583 with seven kills and five blocks.
Lifgren's return to health has been essential to the team's turnaround, but the emerging play of sophomore middle blocker Alissa Uhlenhop also has made a major impact.
Uhlenhop went 9 for 10 in attacks Thursday night, giving her 36 kills in the last six matches after having one kill in the first six matches of the season. The Glendale Mountain Ridge High School graduate's .900 hitting was the third best in the nation this season for any Division I player with 10 to 19 attacking attempts in a match.
The Lopes' service game started the night strongly with six aces by five players in the first set. Back-to-back Brecka kills sparked a 5-0 run that put GCU ahead 22-12 on a Brecka ace. Graduate middle blocker Annabelle Kubinski, getting her first action of the season because of a foot injury, ended the set on a block assist with freshman outside hitter Tatum Parrott.
Tarleton (10-12, 2-5 WAC) evened the match with a second-set win, but GCU never trailed in the third set with .452 hitting. Graduate outside hitter Megan Taflinger notched five of her 11 kills in the third set, when Lifgren also had five kills and junior setter Ava Mason added two aces.
"We had a lot of aces, but we had 15 missed serves, which is too many for my taste," Nollan said. "If we can continue to create that type of service pressure, but reduce our errors a little bit, we'll be a lot tougher to beat."
The Lopes never led by more than in the fourth set until an Eskes solo block put GCU ahead 22-18. Team play with a Lifgren dig getting the ball up for a Mitchell assist on the move to Taflinger, whose left-side swing made it 24-22 to set up Wise's winning ace.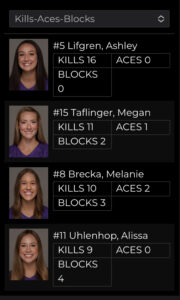 Since ending nonconference play on a four-match losing streak, the Lopes are 4-2 and already avenged one of those losses.
"Getting healthy certainly helped," Nollan said. "Whenever you travel, you learn something about your teams. We're making sure that this team knows there's no such thing as an easy night. You're going to have to grind it out on the road. We always say you have to win by four on the road. Having all these matches on the road while we were nicked up and building back to health has built the character of our team as well. They've proven that they're going to work for it."
The Lopes stay on the road for the Saturday match at Abilene Christian (4-13, 1-4 WAC).
"That would be a really big deal for us and help set us up for the second half of conference," Nollan said.
Press Release courtesy of Grand Canyon University Athletics – Paul Coro