(Phoenix, AZ)  The Grand Canyon women's soccer team wrapped up the regular season with an emphatic 6-0 home win over Sam Houston, featuring a hat trick by junior forward Gianna Gourley on Saturday.
The Lopes (10-6-2, 6-4-1 WAC) dominated the Bearkats (3-11-2, 2-8-1 WAC) at GCU Stadium, thanks to a solid defense that was backed by graduate goalkeeper Shantel Hutton, the lone honoree on Senior Night, and Gourley notching her 15th, 16th and 17th goals of the season in just 53 minutes.
With the win, the Lopes earn the No. 5 seed in next week's WAC Tournament and will face No. 4 seed Utah Tech in a Wednesday first-round game at 7 p.m. in Seattle.
The Lopes will defend their WAC Tournament championship from last season on a hot streak, going 6-1-1 since Oct. 7 while outscoring their opponents 23-5 in that span.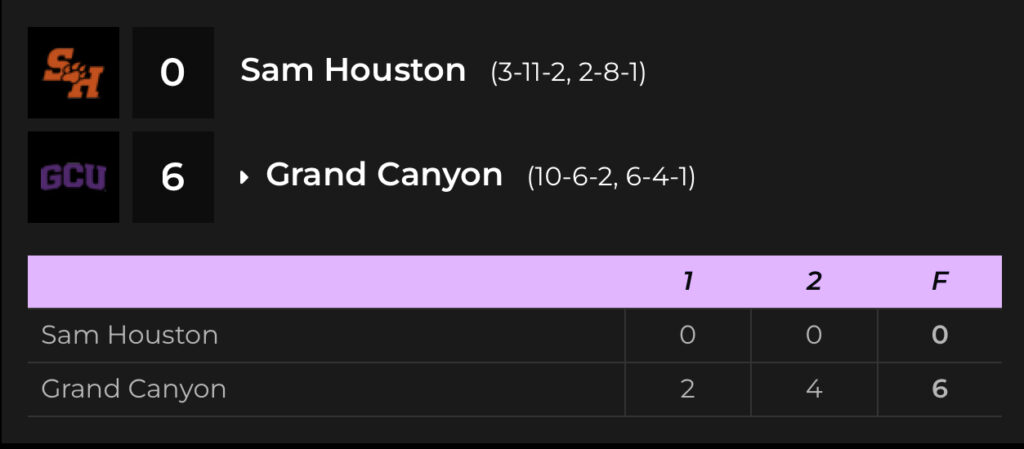 "We conclude our regular season tonight with a huge team win," GCU head coach Chris Cissell said. "To score six goals felt really good. It was our Senior Night, and we were able to honor and recognize Shantel. For her to get the shutout, combined with Cassidy (Samuelson) at the end, was great. All 22 healthy players all got in, played and did well, so it's an extremely exciting night for our soccer family. That's a great way to end the regular season."
With their WAC Tournament berth secured after a Southern Utah loss earlier Saturday, the Lopes came out aggressive in the first half by tallying 14 shots. Gourley began the scoring in the 25th minute, with her second penalty kick of the homestand after breaking the GCU single-season scoring record from the penalty spot on Thursday.
Gourley added goals in the 51st and 54th minutes for the Lopes' first hat trick of the season. The GCU captain finished the regular season with 17 goals and 39 points, putting her in a tie for third nationally for most goals.
Those 17 goals extended her GCU single-season record, and she now sits one point behind former teammate and National Soccer Women's League first-round draft pick Marleen Schimmer for the GCU single-season points record that was set last year.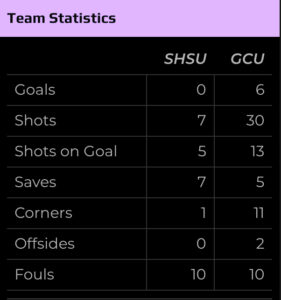 Gourley's record watch doesn't stop there. She moves into a tie for the GCU career goals record with 27 while her 63 points are two away from breaking the GCU career points record.
A pair of Lopes also scored their first goals of the season. Sophomore defender Reese Mendenhall and sophomore forward Ani Jensen both scored in front of the goal off corner kicks in the 29th and 85th minutes, respectively, and sophomore forward Maya Gaona came off the bench for the exclamation point in the 89th minute for her second goal of the season.
The Lopes recorded at least 30 shots for the third time this season with 13 of them being shots on goal. In between the posts, Hutton made four saves over 81 minutes in her 31st career start.
The Lopes will prepare for the WAC Tournament, a six-team event that will kick off in Seattle for the Lopes against No. 4 Utah Tech at 7 p.m. Wednesday.
Press Release courtesy of Grand Canyon University Athletics – Jerob Moon