(Abilene, TX)   The Grand Canyon women's volleyball team hit the midpoint of WAC play by emerging from a 2-0 hole to force a fifth set at Abilene Christian before losing Saturday night.
GCU (10-8, 4-3 WAC) remains in fourth place in the WAC but is now tied with UT Arlington. The Lopes play five of their final seven conference matches at GCU Arena.
With standout freshman performances from outside hitter Tatum Parrott (19 kills, second best of the season) and libero Tatum Thomas (25 digs, one off her season best), GCU shook off a pair of 25-22 losses in the first two sets to pull out clutch 25-23 and 25-22 wins in the next two sets.
But Abilene Christian (5-14, 2-5 WAC) shook off its 1-11, five-week slump with a match victory by dominating the fifth set, racing to a 10-4 lead before clinching the match 15-9 at Moody Coliseum.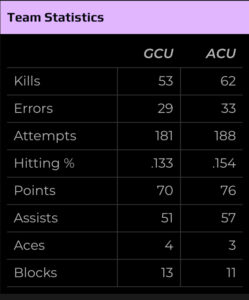 The Wildcats looked like they might make quick work of the Lopes after only making five errors in the second set and taking a 9-3 lead in the third set. But GCU head coach Tim Nollan called time out and the team responded with a rally. But the Lopes still did not lead until Parrott ripped her sixth kill of the set for a 22-21 edge.
GCU graduate outside hitter Melanie Brecka delivered her fifth kill of the set for a 24-23 set point that the Lopes closed out on an Abilene Christian error. Brecka finished the match with 10 kills.
The fourth set was just as tense with ties at 17-17, 20-20 and 21-21 before Parrott added another kill and GCU took advantage of three Wildcats errors to extend the match.
GCU could not sustain the momentum into the fifth set, when it had four kills and four errors. Abilene Christian moved to match point at 14-7 and the Lopes could only fight off two chances before ending the match on their 15th service error.
After delivering a season-best 13 aces in Thursday's win at Tarleton, GCU only had four on Saturday night. The Lopes went from their third-best hitting of the season (.289) against the Texans to their third-lowest clip of the season (.133) against the Wildcats.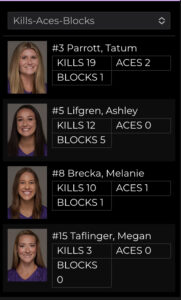 GCU senior setter Klaire Mitchell put herself in position to hit 3,000 career assists when the Lopes return to GCU Arena on Thursday night against conference leader UT Rio Grande Valley. In addition to 16 digs and five blocks, Mitchell set 42 assists Saturday night and needs four more to reach 3,000 with the Lopes.
GCU junior outside hitter Ashley Lifgren added 12 kills and five blocks at Abilene Christian. Since being limited by injury during nonconference play, Lifgren is averaging 15 kills per match in her past four full matches.
After Thursday's 6 p.m. match against UTRGV, the Lopes will remain home for a 3 p.m. match against New Mexico State next Saturday.
Press Release courtesy of Grand Canyon University Athletics