(Tempe, AZ)  Sun Devil Soccer closed out non-conference play with a 5-0 win over Toledo on Sunday night. Ava Wright, Olivia Nguyen, Nicole Douglas, Kennedy Mayo and Eva van Deursen all scored and goalkeeper Pauline Nelles posted her first complete game shutout to help the Sun Devils finish non-conference play unbeaten (4-0-2).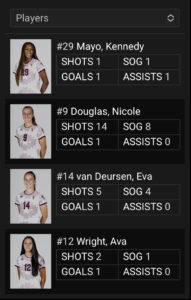 With the win, the Sun Devils are now 28-7-2 in regular season, non-conference games going back to 2018, including a 14-1-2 mark the last two seasons.
Toledo (1-4-2) was held scoreless for the first time this season.
The Sun Devils start Pac-12 play on Friday when they play at Colorado (4 pm MDT/3 pm MST). The game can be seen on Colorado's live stream.

Press Release courtesy of Sun Devil Athletics