(Cedar Falls, IA)  Grand Canyon women's volleyball displayed resilience against Southeast Missouri, as the Lopes battled for a 3-2 UNI Tournament victory in McLeod Center on Friday night.
"We weren't comfortable, and we couldn't quite get into a rhythm, but I'll give our team a lot of credit for not backing down or throwing in the towel," GCU head coach Tim Nollansaid after the Lopes' fourth consecutive win. "They just kept trying to be better and I'm really proud of the team for finding a way to grab a win on the road."

GCU (6-1) and Southeast Missouri traded sets throughout the match, as the Redhawks took the first and third frames (25-18 and 25-23) and the Lopes won the second, fourth and fifth sets (25-19, 25-21,15-8).
Outside hitters Megan Taflinger, a graduate student, and McKenzie Wise, a sophomore, led the team in scoring, respectively posting 19 kills, two aces and two block assists for 22 points and 17 kills, one ace and three block assists for 19.5 points.
Wise led the team in digs as well with 21, followed closely by freshman libero Tatum Thomas' 20 and senior setter Klaire Mitchell's 19.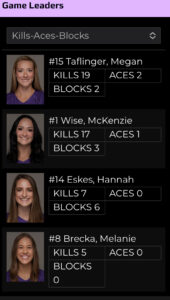 The Lopes found much more of a groove in the fifth set, turning a 6-6 tie into a 15-8 win by scoring nine of the match's final 11 points. Among those final nine points, Taflinger, Wise and sophomore middle blocker Sydney Reed each recorded a pair of kills off six of Mitchell's 44 assists.
"I give a lot of credit to the whole team for the effort they put forward," Nollan said. "Tonight was a test of finding a way to win when it doesn't feel like things are working right and our kids did that so I'm proud of them."
GCU continues the UNI Tournament on Saturday at 8 a.m. (Phoenix time) against Western Michigan and will conclude its weekend competition with a match against host Northern Iowa at 5 p.m. on Saturday.
Press Release courtesy of Grand Canyon University Athletics – Adrianna Candelaria