(Tempe, AZ)  Contests against eight teams that qualified for postseason play last season highlight the Arizona State women's basketball team's 2022 non-conference schedule, announced by head coach Natasha Adair on Wednesday.
The Sun Devils will play five of their non-conference contests at home, including tilts against 2022 NCAA Tournament participant and Atlantic-10 champion UMass (Dec. 2) and 2022 WNIT participant Missouri (Dec. 4).
The Sun Devils will be spending Thanksgiving weekend at the Goombay Splash (Nov. 25-26/Bimini, Bahamas) where they will face two 2022 NCAA Tournament teams in the form of Notre Dame (NCAA Third Round) and American (NCAA First Round and Patriot League Tournament champions).Other teams ASU will face that qualified for 2022 postseason play include road contests against Montana State (Nov. 15/NCAA First Round), New Mexico (Nov. 20/WNIT Third Round), Grand Canyon (Nov. 30/WNIT First Round) and Stephen F. Austin (Dec. 11/NCAA First Round).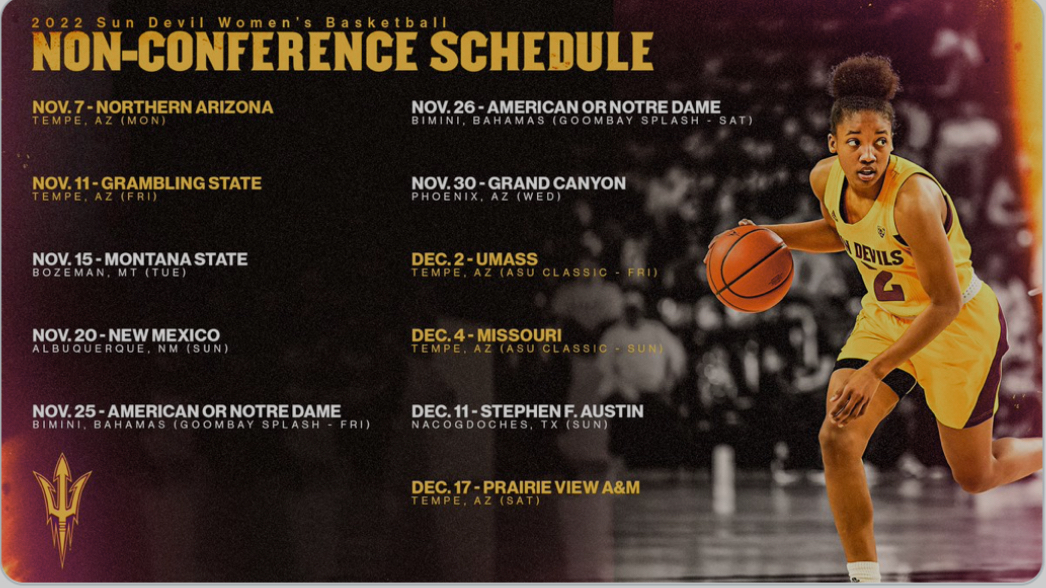 ASU will open the 2022-23 campaign at home vs. in-state foe Northern Arizona (Nov. 7). The Lumberjacks just missed out on an NCAA Tournament berth after falling in the Big Sky Tournament Championship game. ASU will then host Grambling State (Nov. 11) and will not return home until the first weekend of December.
The Sun Devils will close out non-conference play at home vs. Prairie View A&M (Dec. 17).
Pac-12 pairings/weekends were announced earlier this month. The Sun Devils, who will be led by new head coach Natasha Adair, will open Pac-12 play at Arizona on Dec. 29.
Press Release courtesy of Sun Devil Athletics – Steve Rodriguez