(Tempe, AZ)  Arizona State Game Notes versus Oklahoma State 
Date: Sept. 10, 2022
Time: 4:30 p.m. AZT/6:30 p.m. Local Site: Stillwater
Stadium: Boone Pickens Stadium Capacity: 55,509
Surface: Astroturf
Series: ASU leads, 2-1
TV: ESPN2
Radio: ESPN 620 AM/98.7 FM-2
ARIZONA STATE
(1-0, 0-0 Pac-12) @TheSunDevils @ASUFootball
#11/#10
OKLAHOMA STATE
(1-0, 0-0 Big 12) @CowboyFB @OSUAthletics
THE GAME
Sun Devil Football hits the road for the first time this Saturday, Sept. 10 against the #11/#10 Oklahoma State Cowboys at at Boone Pickens Stadium in Stillwater, Okla. The game is slat- ed for a 4:30 p.m. AZT/6:30 p.m. Local kickoff on ESPN2 (Dave Flemming, Rod Gilmore and Tiffany Blackmon on the call) and will be carried over the airwaves on ESPN 620 AM/98.7 FM-2 (Tim Healey, Jeff Van Raaphorst, Kevin Turner).
ON THE COWBOYS/RANKED OPPONENTS
ASU leads the all-time series against the Cow- boys, 2-1. The two squads last played in 1993 – a 12-10 victory for the Sun Devils in Tempe. ASU won the only contest in Stillwater in 1991, 30-3.
This marks the fourth-straight season that ASU's first road game of the year is taking place against a ranked opponent (#23 BYU in 2021, #20 USC in 2020, #18 Michigan State in 2019). ASU is 6-6 under Herm Edwards against AP-Ranked opponents, including three road wins against ranked teams – no- table as the Sun Devils had just three total from 2003-17. The three wins are tied for the fifth-most in the FBS since 2018.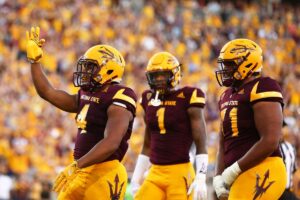 KICKING OFF
» ASU has held opponents to less than 30 points in 31 of 44 games under Herm Edwards, notable as it DID allow 30+ in 32 of 43 previous games dating back to a span from 2013-17.
» ASU has rushed for at least 100 yards as a team in 19 straight regular season games. It is the longest streak of rushing for over 100 yards as a team since the last 10 games of 1995, all 11 in 1996 and the first two of 1997 – a 23-game stretch over three seasons. The 19-game streak is the eighth-longest active streak in the nation.
» The Sun Devils were the only team in the FBS to not allow a 50-yard play last season, and extended the program's active streak of games without a 50-yard play allowed to an FBS- leading 16 games against NAU. The next closest team in Ole Miss at 12 games.
» ASU is one of just three FBS teams to rank in the Top-35 nationally in fewest plays over 30 yards allowed in EACH of the last four seasons. Coincidentally, the other two teams in the category are the Pac-12's Cal and Utah.
» Under Herm Edwards, ASU has held opponents to 400 total yards of offense or less on 26 occasions over 44 games (59.1 percent of the time). For comparison, ASU accomplished the feat just 24 times in the 65 previous games (36.9 percent) from 2013-2017.
» The 120 yards of total offense by Northern Arizona were the fourth-fewest by an ASU opponent since 1996. It was just the seventh time since 1996 that ASU has held an opponent to under 100 passing AND rushing yards.
» Carter Brown's four field goals in the opener were tied for the fourth-most in a single game since 1996 and are the most for any Sun Devil kicker in their debut performance in program history.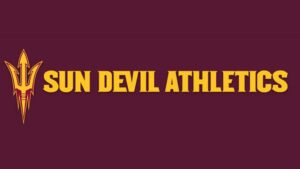 AN ASU VICTORY WOULD…
• Move ASU to 7-6 against AP-ranked teams under Herm Edwards.
• Be the fourth road win over an AP-ranked team in the Edwards era – notable as ASU had just three total from 2003-17.
• Give ASU a 9-2 record in regular season non-conference games since 2018.
• End Oklahoma State's nine-game winning streak at Boone
Pickens Stadium and keep the Cowboys from tying their school record for consecutive home victories. 1
• End OSU's 10-game non-conference game winning streak. • Be just the third loss for the Cowboys in its their last 23 non-
conference games.
• Be just the third loss for OSU in its last 18 games overall – dating
to 2020.
SMART DEVILS
• Arizona State University recorded a multiyear Academic Prog- ress Rate (APR) average of 995 over a four-year period (2017-18 to 2020-21), an all-time ASU high and first in the Pac-12, the first time leading the conference. ASU's single year overall APR score for 2020-21 is 994, which is the highest score in Arizona State history. Sun Devil Football earned a multiyear APR of 983, which is an all-time high for the program.
• The Sun Devils saw nine players (four draftees and five undrafted free agents) sign NFL contracts after last season. All nine of those players earned their undergraduate degrees while at ASU.
• The 2022 roster will feature 14 Sun Devils who are working toward graduate degrees.
MILESTONE WATCH
• 13 all-purpose yards for X Valladay to reach 4,000 for his career (currently at 3,987)
• 4 tackles for Khoury Bethey to reach 300 for this career (currently at 296)
• 181 yards of total offense for Emory Jones to reach 5,000 in his career (currently at 4,819 – 3,499 passing, 1,320 rushing).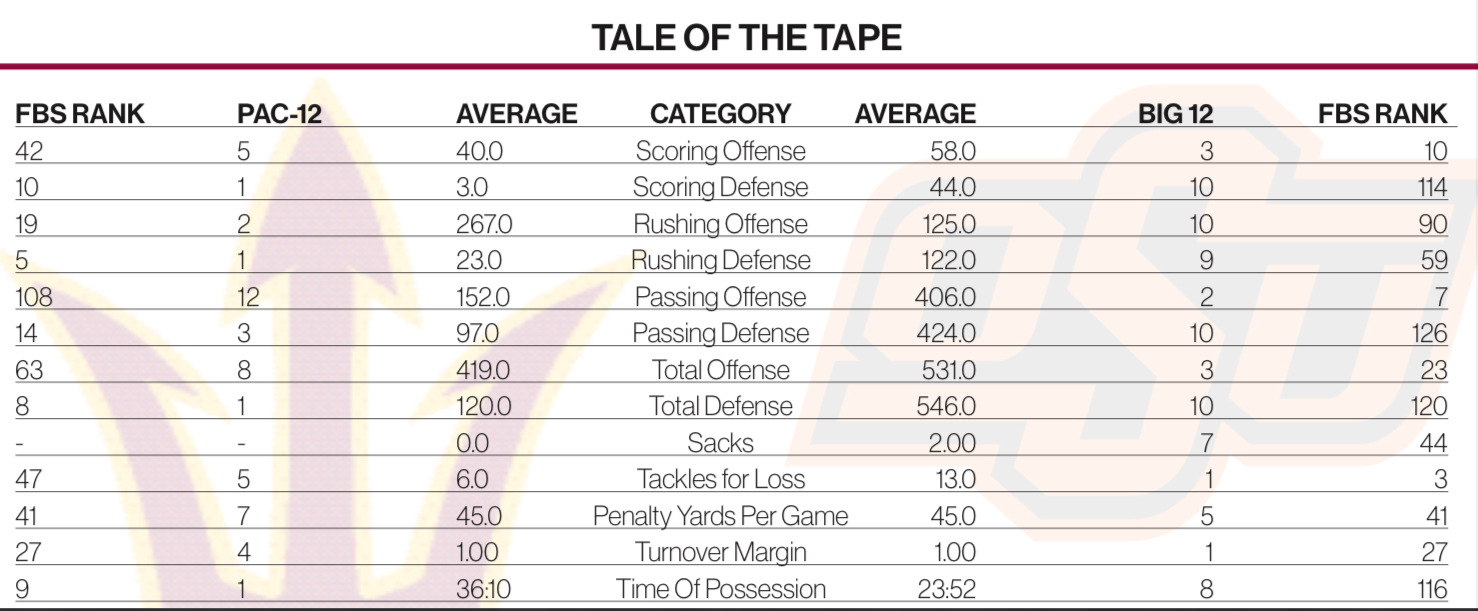 Game Notes courtesy of Sun Devil Athletics  – Doug Tammaro