(Phoenix, AZ)  The Arizona Rattlers finished the regular season 13-3 and claimed the rights to the top seed in the Western Conference.
This will be the franchise's 26th playoff appearance in 28 years of operation. The Rattlers are 21-4 in franchise history in their first playoff game of the postseason. Their last loss in the first game of the playoffs came on June 23, 2018, to Sioux Falls, when Arizona lost 69-68 in an overtime thriller.
Round Four
This will be the fourth and final contest of the season between the Arizona Rattlers and Duke City Gladiators. This season, Arizona holds a 3-0 advantage over Duke City including a trio of 20+ point victories (22, 22, 20).
In the all-time series between the teams, Arizona currently holds a perfect 6-0 advantage. That 6-0 record includes a 58-55 thrilling Rattlers win that came down to the final moments in the semifinals last postseason.
In their most recent meeting in Albuquerque, Arizona defeated Duke City 58-38 despite zero passing touchdowns. All of their offensive damage came on the ground attack, as they had 5 rushing touchdowns, including two from Drew Powell and Tobias Little and one from Braxton Haley.
It should be quite the quarterback battle between Drew Powell and Ramone Atkins, as the two QB's are at or near the top in just about every passing category.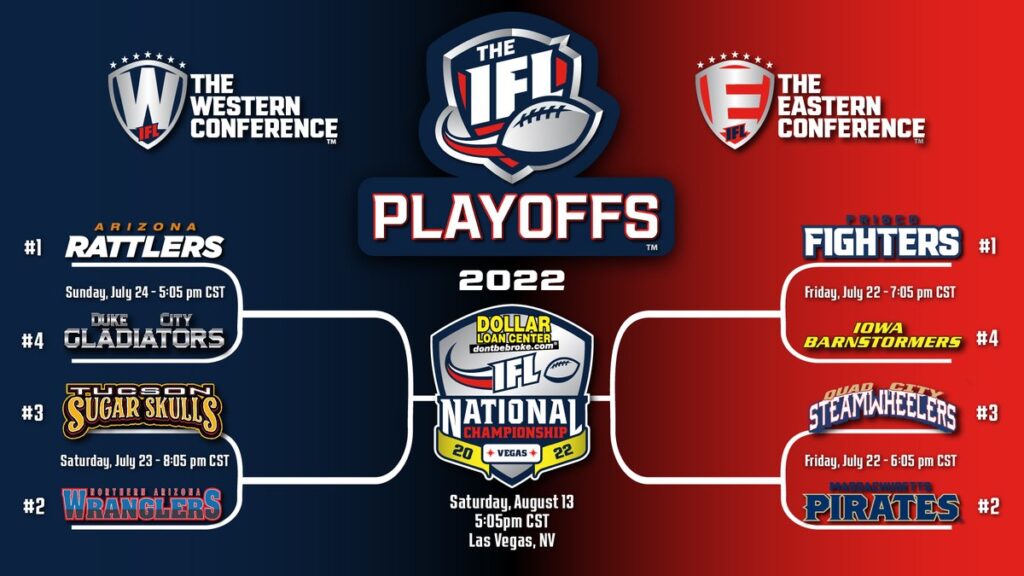 Season Stats:
AZ Rattlers:
Points Per Game: 1st (52.9 ppg)
Points Allowed Per Game: 2nd (31.2 ppg)
DC Gladiators:
Points Per Game: 4th (42.6 ppg)
Points Allowed Per Game: 10th (42.9 ppg)
The winner of this contest will face the winner of the Northern Arizona Wranglers and Tucson Sugar Skulls on the other side of the Western Conference bracket.
Strong Season
The Rattlers lead the IFL in points per game scored, touchdowns scored, yards per play, yards per rush, completion percentage, yards per pass attempt, average yards per kick return, kick return touchdowns, third down conversion percentage and fourth down conversion percentage.
They were also the best team in the league in not allowing sacks and were tied for the fewest touchdowns allowed (67).
Arizona finished the regular season with a 7-1 home record, with their lone home loss coming to the Frisco Fighters, who they defeated in Frisco earlier in the season.
Chasing Seven
The road to seven begins, as the Rattlers will look to add their seventh banner to the Footprint Center. Their last championship came in 2017 when they defeated the Sioux Falls Storm by the score of 50-41.
Press Release courtesy of the Arizona Rattlers – Brandon Dueñas