(Tempe, AZ)   In a tie for the most runs scored in a postseason game, the eight-seed Arizona State Sun Devils (41-9) advanced to the final day of the Tempe Regional with an 11-8 win over San Diego State (38-15) on Saturday afternoon at Farrington Stadium.
The win marked the 100th postseason win in school history (100-63). With 19 combined runs, this is the highest scoring postseason game for the Maroon and Gold. 

It was an electric top of the first for the Sun Devils with seven hits and every runner reaching base to have an 8-0 lead going into the bottom of the first inning. This was the most runs scored in a single inning for Sun Devil softball in the postseason. 

The Aztecs climbed back into the game with a five-run inning of their own, but starting pitcher Lindsay Lopez was able to get out of the jam with two strikeouts. Marissa Schuldcame in for relief with one out and the Sun Devils ahead still 8-6 off an Aztec single, and struck out a batter and had a groundout to get out of the second inning.

"I thought today was a different kind of game," head coach Trisha Ford said. "We came out offensively with a great approach and we executed big time in the box."

Jaz Hill, who went 3-for-3 through three innings, had a two-run single with two out and the bases loaded to bring ASU ahead by four runs in the top of the third inning. A fielder's choice and single in the bottom of the third kept SDSU within two.

Bella Loomis had two doubles, one in the eight run first inning and again in the top of the fifth. After the Sun Devils had consecutive singles, it scored Loomis to pull them ahead by three. 

Up next, the Sun Devils will play the winner of game 5 tomorrow at 3 pm MST at Farrington Stadium for the Regional Championship. The game will be available to watch on ESPN.com/watch.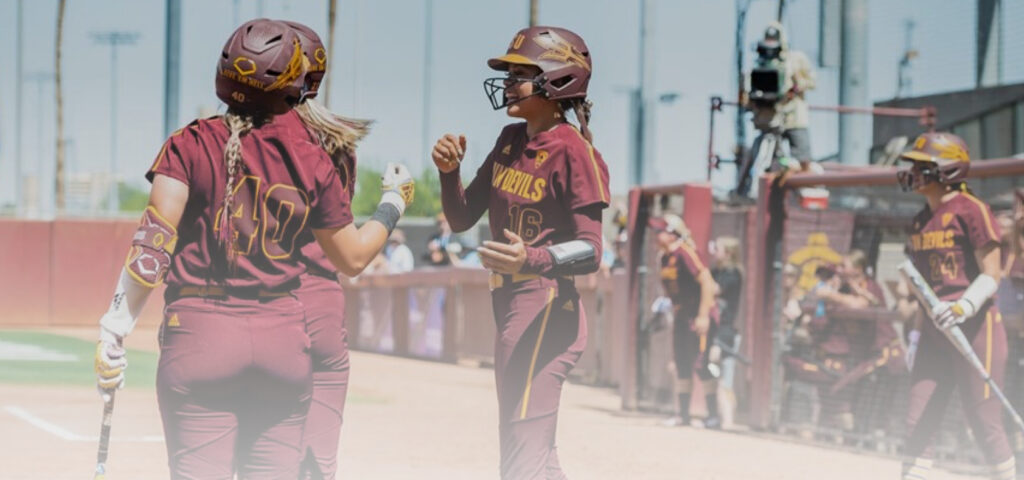 HOW IT HAPPENED:
ASU 11, San Diego State 8
Alynah Torres was patient early on for the Sun Devils as she got on first via a hit by pitch and made it on third off a Cydney Sanders double to left center. A single to center field from Jaz Hill brought in Torres and Sanders to give ASU a 2-0 lead in the top of the first.
Emily Cazares had an infield single, but would advance to second due to a passed ball while Hill moved to third. A Mailey McLemore walk loaded the bases with one out. Savannah Price singled to shortstop to bring in Cazares and Hill to add on two more runs for the Sun Devils.
Jessi Puk then bunted to load the bases for the second time in the first and advanced to second on a wild pitch which brought in McLemore to give the Sun Devils a 5-0 edge.
A double to center field from Bella Loomis brought in Price and Puk to tack on two more runs for ASU in the top of the first inning to lead 7-0. Yanni Acuña doubled to left center to bring in Loomis to make it an 8-0 ballgame going into the bottom of the first.
After a 35 minute top half of the frame, Lindsay Lopez headed to the circle for her first appearance of the day. The Aztecs had three singles to load the bases with one out in the bottom of the first. A single to right field put SDSU on the board and a three-run double put the Aztecs within four runs, 8-4. An Aztec runner reached on error to make it 8-5, and Lopez had a strikeout to get out of the inning.
SDSU had two on base with one out in the bottom of the second inning and a single to third base made it 8-6 with the Sun Devils ahead. Marissa Schuld came in for relief and a single to left field loaded the bases for SDSU and got out of the jam with a strikeout and a groundout going into the third inning.
ASU had back-to-back singles from Torres and Acuña with two out and Torres made it to third and Acuña stole a base to reach second. Sanders was walked to load the bases and Hill had a two-run single to score Torres and Acuña to further the Sun Devils' lead 10-6. A fielder's choice and a single by the Aztecs in the bottom of the third kept them within two going into the fourth inning.
After 18 combined runs and 23 hits through three innings, both teams had 1-2-3 innings in the fourth. Going into the top of the fifth, Loomis had her second double of the day as the leadoff batter and reached third after Torres had a base hit. Loomis scored after a single from Acuña to lead 11-8 and Sanders loaded the bases.
The final two innings were scoreless as Schuld had three consecutive 1-2-3 innings going into the seventh. With two out from a double play, the Aztecs had base runners on first and second in the bottom of the seventh, but a fly ball gave the Sun Devils the win, 11-8.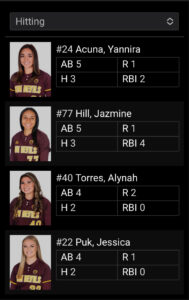 QUOTES
Head coach Trisha Ford
On Schuld's performance and team's overall performance 
"Today it took us awhile to find our rhythm in the circle, but I think that's what makes us great is that we can do it in a multitude of ways, I just love our fight. I think top to bottom we fought today and came up big when we needed to. Marissa did a great job closing out the game and I thought she got better as the game went on."

On substitutions throughout game
"We went a couple of ways, we're pretty athletic as Bella (Loomis) can basically play pretty much every position on the field besides catcher. So, I was going with a defense that had more range because SDSU doesn't bunt much. That was my thought because as a coach you kind of always go back to your comfort, so I think Halle Harger brings some calmness and leadership on the infield."

On being the away team
"It definitely changes your routine and it's different but part of going through all of this is it's going to be hard. Our season this year has been a grind, we win and advance and will worry about everything else afterwards." 

Bella Loomis
On being in the visitor dugout 
"It's a little bit different and out of our comfort zone, but it's still a game right? We go to other fields and play in that dugout, so it's still a game."

TEMPE REGIONAL SCHEDULE
Friday, May 20, 2022
Game 1 – 5:00pm – San Diego State 10, LSU 5
Game 2 – 7:30pm – ASU 5, Cal State Fullerton 2
 
Saturday, May 21, 2022
Game 3 – 2:00 p.m.- ASU 11, San Diego State 8
Game 4 – 4:30 p.m.- LSU vs. Cal State Fullerton
Game 5 – 7:00 p.m.- San Diego State vs. Game 4 Winner
 
Sunday, May 22, 2022
Game 6 – 3:00 p.m.- ASU vs. Game 5 Winner
Game 7 (if necessary) – 5:30 p.m.
Press Release courtesy of Sun Devil Athletics