(Tempe, AZ)  Arizona State has announced the promotion of Bobby Wade and Juston Wood to full-time positions on the Sun Devil Football coaching staff.
"I am thrilled to make the announcement to elevate Graduate Assistant Bobby Wade to Wide Receivers Coach and Interim Assistant Coach (tight ends) Juston Wood to Tight Ends Coach," says Sun Devil Head Coach Herm Edwards.  "Both of these young men are up-and-comers in the coaching profession and both possess a bright future.  Both are young, energetic and have a passion that is a perfect fit on our staff.  I look forward to seeing them thrive in our program."
Both Wade and Wood served in these same roles last year, Wade as a graduate assistant and Wood in an interim capacity. During that season, the position groups saw improvement, as Arizona State matched its highest bowl placement (Pac-12 No. 3 team) since the 1996 Rose Bowl team (2007 & 2013 Holiday Bowl). The duo also helped ASU to their fifth-straight Territorial Cup win.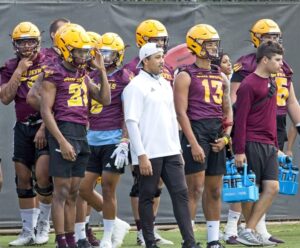 "I want to thank Herm Edwards, Ray Anderson, and Jean Boyd for this amazing opportunity," Wade stated. "Football has always been a true passion of mine and I can't wait to help these young men engineer their lives over the next 3-5 years. I want to give them the opportunity that I had, which was to play in the National Football League. I not only want to develop them on the field, but help create strong men that come into their own in this world."
"I am extremely thankful to Herm Edwards, Ray Anderson, and Jean Boyd for having the trust and confidence in me to promote me to this position and give me an opportunity to develop tight ends at Arizona State," Juston Wood remarked. "It truly is a huge privilege to get to coach in the Pac-12 and at a program like Arizona State."
Former NFL wide receiver Bobby Wade is now officially a member of the Sun Devil Football coaching staff after previously spending two years with the Sun Devils as both an Offensive Analyst and a Recruiting Assistant before moving into a Graduate Assistant role prior to last season. He was tasked with coaching the wide receiver's group, molding a well-rounded unit.
Ricky Pearsall, LV Bunkley-Shelton, and Andre Johnson all enjoyed breakout years under Wade, becoming reliable targets for quarterback Jayden Daniels. The room not only challenged opponents in the passing game, but also physically. Known for their willingness and ability to block, Wade's group had a big impact on Rachaad White's brilliant 2021 campaign.
"My goal would be to help grow this group into one of the best units in the Pac-12 and eventually the entire nation. That would put us in a great position to be contenders for a National Championship each year. More than that, I want to build strong relationships with these young people that are going through a lot of changes and transitions in their lives. Finding a way to be a steady, consistent presence in their world each and every day with positivity and really good energy."
Under Wade's tutelage, junior wide receiver Ricky Pearsall was a Pac-12 All-Conference Honorable Mention selection. The local product developed into a go-to target throughout the season, making big plays in crucial situations. He led the team with career highs in receiving yards (580) and touchdowns (4), while also adding a rushing touchdown and a passing touchdown. He caught two touchdowns in two games, first in a massive win at UCLA and again in the season finale against Arizona. Against UCLA, he became the 16th Pac-12 player since 1996 to have two 50+ yard receiving touchdowns in the same game. He was only the fourth one to do it in the same quarter, with both his 65-yard and 54-yard scores coming in the second quarter. A trademark of Wade as a player, Pearsall also excelled in the run game, registering the fifth-highest grade in the league among receivers as a run-blocker
Sophomore wide receiver LV Bunkley-Shelton offered an excellent complement, taking a step under Wade during his second season in Tempe. He finished with 33 catches for 418 yards and two touchdowns, making at least one catch in 11 of 12 games. Fellow sophomore wide receiver Andre Johnson was effective when healthy, grading out as the best run-blocking wide receiver in the Pac-12 according to PFF. He also eclipsed 100 yards receiving, one of six to accomplish the feat, a testament to the depth that Wade built in just one season.
Prior to joining the ASU staff in February 2019, Wade was immersed in the local high school scene as a member of Phoenix's Cesar Chavez High School coaching staff. As the team's wide receivers' coach for two-and-a-half-years, Wade specialized in developing strategies and game plan approaches through studying game tape and evaluating player talent.
Wade was also the head coach and co-president of Arizona Saints Sports for four-plus years, a youth football organization where he evaluated player talent and developed team training programs.
Wade is a graduate of Phoenix's Desert Vista High School and a University of Arizona alumnus, where he was inducted into the school's Ring of Honor in 2015.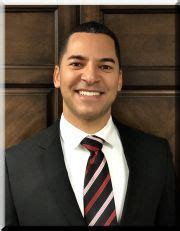 Thirteen-year coaching veteran Juston Wood is now officially a part of the Sun Devil Football full-time coaching staff. He originally joined the program as an analyst, working with the tight ends in 2021. In his only year as the position coach, a Sun Devil tight end was an All-Conference selection for the first time since 2014. Curtis Hodges, John Stivers, Jalin Conyers, and Case Hatch thrived under Wood's leadership, as Arizona State often used at least one tight end in their formations.
"The group that I had this year will forever be special to me," Wood added. "I am so thankful for those guys. I am not in this situation now without that group this year. They received me as their coach, bought in to what we were trying to do, and went out and played as hard as they could."
Curtis Hodges became a Pac-12 All-Conference Honorable Mention selection in his one year under Wood's guidance, emerging as one of the league's top targets at the position. He finished with 374 yards for the season in 12 games – notable as he entered the season with just 227 over his career over four seasons and 29 games. His two touchdown receptions last year also matched his career total entering the year. He produced the fifth-most yards in the Pac-12 and 32nd among all tight ends in the FBS. He was a big play threat who averaged 18.7 yards per catch – good for 20th in the FBS and second in the Pac-12 and second among all FBS tight ends. Wood takes pride in his unit being well-rounded, which was evident in Hodges' game. He recorded a 71.8 grade as a run blocker for the season, second among Pac-12 tight ends and 32nd among FBS tight ends.
Case Hatch was featured as a versatile weapon in the run game, having success lining up in a variety of different ways. He took home the Frank Kush Captains Award at the Sun Devil Football Awards Banquet, a testament to his leadership and hard work. Among Pac-12 tight ends with at least 150 snaps played this year, Case Hatch had the highest score in the league as a run blocker at 77.8, working with Wood to create advantages in the run game. That total is good for 17th among all FBS tight ends with at least 150 snaps played. Hatch played on 183 snaps this year, 150 of which he was assigned as a run blocker. He received a positive grade as a run blocker on 17.3 percent of those snaps– the 10th-highest rate in the FBS among tight ends.
"I feel so fortunate to be at this place with a special group of people, tremendous leadership at the top, and a vision for where we are going and what we can be." Wood reflected. "Tradition is important to me and I have had the chance to talk with Todd Heap, Zach Miller, and Brian Jennings, who I have a tremendous amount of respect for. I am eager to have those guys involved and connected with the program."
Class of 2022 signees Jacob Newell and Bryce Pierre were recruited by Wood and will join Sun Devil Football for the upcoming season. The 6-foot-5 Newell was a Polynesian Bowl selection and No. 5 overall prospect in Oregon and No. 30 tight end prospect in the country. Pierre is the highest-ranked JUCO tight end to ever sign with Arizona State in the internet recruiting services era. 247 Sports rates him as the No. 1 JUCO tight end prospect in the country, the first time ASU has signed the No. 1 player at a position out of Junior College since 2017.
Wood came to Tempe from Boise State, where he was a quality control coach for one season. In that role, Wood worked with game planning and running the scout team defense. Wood was also responsible for all opponent data & analysis, weekly advance scouting report, special projects, and gameday coverage & adjustments. In his lone season with the program, Boise State went 12-2 and won the MWC championship.
Prior to his appointment at Boise State, Wood spent two seasons at Georgia Southern where he coached the wide receivers (2017) and quarterbacks (2018). In 2018, quarterback Shai Werts had one of the most efficient seasons in school history. Werts was the only FBS starting quarterback not to throw an interception and Georgia Southern became the first team in NCAA FBS history not to throw an interception all season as the Eagles won 10 games and the Camellia Bowl.
In his first year on the Georgia Southern staff, he molded a young group of receivers that featured a junior, three sophomores and a freshman in the main rotation. That group combined to catch 57 passes for 871 and four touchdowns while recording nine plays of 25 yards or longer.
Wood, who played in the Arena Football League for three seasons, had eight successful seasons at Cal Poly. He was first the wide receivers coach at Cal Poly in 2009, then switched to coaching the quarterbacks in 2013 and was promoted to offensive coordinator in July 2016.
In 2016, his first season calling the plays, Cal Poly finished second in the FCS in rushing yards per game with an average of 343.5 yards. Fullback Joe Protheroe, offensive tackle Matt Fisher and center Joey Kuperman were named to the all-conference first team while senior quarterback Dano Graves made the second team.
Protheroe became Cal Poly's 20th 1,000-yard rusher for a single season, accumulating 1,334 yards and scoring 13 touchdowns. He also caught seven passes for 139 yards and two more scores. Graves completed 63-percent of his passes (97 of 153) for 1,485 yards and 17 touchdowns. He was intercepted just four times and finished the regular season No. 1 in the Big Sky in passing efficiency. Graves also rushed for 686 yards and nine touchdowns, averaging 4.4 yards per carry with three games of 100 or more yards.
Wood coached Dominique Johnson, who caught 90 passes in the 2009 and 2010 seasons combined and signed an undrafted free agent contract with the Minnesota Vikings in July 2010.
In 2014 and 2015, Wood coached quarterback Chris Brown, who set a school record for rushing yards in a season by a quarterback (1,265)  and finished with over 3,000 career yards both rushing and passing.
Wood was a quarterback for the New York Dragons in 2006, Philadelphia Soul in 2007 and back with the Dragons in 2008 before the Arena Football League suspended operations prior to the 2009 campaign. In those three years, he completed 140 of 230 passes (61 percent) for 1,531 yards and 25 touchdowns.
He played for the Central Valley Coyotes of af2 in 2005, earned second-team All-National Conference honors, led af2 in total offense averaging 282.4 yards per game and passed for 4,361 yards and 89 touchdowns. He also played for the Coyotes in 2004, completing 60 of 105 passes for 651 yards and 15 scores. Wood signed as a free agent with the Minnesota Vikings on April 28, 2003.
Wood has had some experience in Hollywood as well, serving as a stunt double on "The Longest Yard" movie remake starring Adam Sandler and also shot a commercial for the "Madden NFL 2005" video game.
Wood was a standout student-athlete under the tutelage of Tim Walsh at Portland State, twice earning ADA Academic All-American honors. He was a first-team All-Big Sky Conference selection at quarterback in 2001 and honorable mention in 2002, serving as team captain both seasons.
He ended his collegiate career ranked sixth in school history with 5,681 yards of total offense and finished his career with 5,653 passing yards, 37 touchdown passes, 414 completions and six 300-yard passing games. He led the Big Sky in passing as a junior.
Wood was a three-year varsity letter winner in football at David Douglas High School in Portland and served as an assistant coach at David Douglas High School for three seasons. Twice he earned all-conference honors in basketball. As a senior in high school, he played in the Oregon State All-Star Games in football, basketball and baseball.
Wood earned his bachelor's degree in public health education at Portland State in April 2003 and married his wife Lindsay in 2014. The couple has a daughter, Avila, and a son, Cash.
Press Release courtesy of Sun Devil Athletics – Connor Smith