(Tucson, AZ)  The Pima Community College men's tennis team completed the third day of competition at the NJCAA Division I National Tournament on Wednesday in Plano, TX.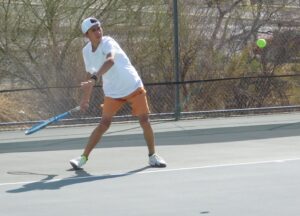 Freshman Anton Nazaroff (Catalina Foothills HS) defeated Cameron Garrett from Meridian Community College (Mississippi) 8-2 in the No. 2 singles Consolation Quarterfinals.
Freshman Emanuel Robles-Serrano (Desert View HS) advanced in the No. 6 singles Consolation bracket as he beat Christian Earth from Kaskaskia College (Illinois) 8-3 in the quarterfinal round.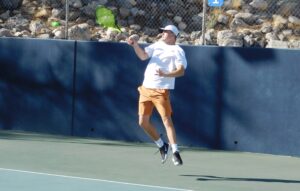 Nazaroff and Robles-Serrano will play in the semifinal round of their respected singles flights on Thursday.
Sophomore Landon Strickland dropped his second round match at No. 5 singles to Kristen Pavitt from University of South Carolina-Sumter 6-1, 6-2.
The No. 2 doubles team of Nazaroff and freshman Mitchell Wilkinson (Catalina Foothills HS) fell to No. 6 ranked Enzo Frequelin and Kyllian Savary from Seward County Community College (Kansas) 6-1, 6-0 in the second round of the winner's bracket.
Strickland and Robles-Serrano fell to Victor Pestana and Yordi Ponce from Barton Community College (Kansas) 8-1 in the No. 3 doubles Consolation Quarterfinals.
Wilkinson fell in the first round of the No. 4 singles Consolation bracket to Greyson Parman from Jones County Junior College (Mississippi) 8-3.
Sophomore Corey Pabst dropped his match in the No. 1 singles Consolation bracket to Kyele Mossman from Kaskaskia 8-1.
Press Release courtesy of Pima Athletics – Raymond Suarez