(Tempe, AZ)  Led by sophomore Iman Isanovic's match-high 17 kills, Sun Devil Volleyball won their third match in a row after taking down Cal in a second-straight sweep (25-17, 25-17, 26-24) in Desert Financial Arena on Sunday afternoon.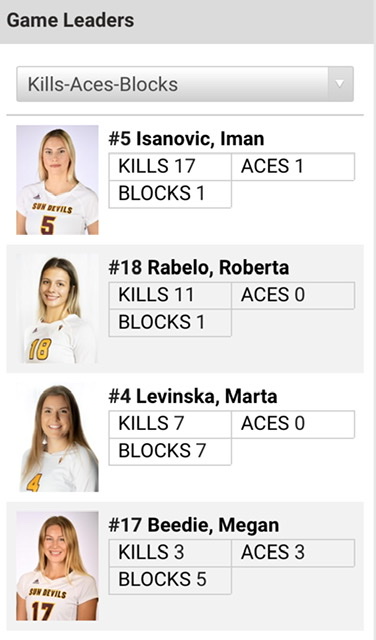 Notable Stats
Arizona State (4-10) has won nine-straight sets with this win over Cal (1-15), dating back to the Arizona win where ASU won the last three sets and then sweeping the last two.
This is the first season sweep over Cal since 2016.
ASU out-hit Cal, .301 to .148. For the Sun Devils, this is the second-highest hitting percentage of the season. This is also the fourth time this season that an opponent has been held to a sub-.200 hitting percentage.
The serve receive for the Sun Devils was the strongest it has been this season, not allowing a single ace for their opponent, which had yet to happen this year.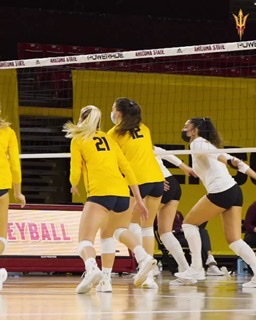 Isanovic reached double figures in kills with her 17 on a career-high .351 clip. She has reached double digits in kills in three of the last four matches and 11 times this season. Additionally, she had one ace and six digs.
The Sun Devil block was a force in the win, with the team collecting nine compared to the Bears' four. Freshman Marta Levinksa led the team in blocks with seven, matching her career high. She also had seven kills and six digs for a well-rounded match.
Another Sun Devil reached double figures in kills with freshman Roberta Rabelonotching 11, a new career-high for her. It's just her second match reaching double digits. She hit .320, her second time hitting over .300 this season.
Sophomore libero Annika Larson had a match-high 14 digs, her 10th match of the year reaching double figures in digs. She also had one ace and five assists.
Press Release courtesy of Arizona State Athletics