(Tempe, AZ)  With #15 UCLA (6-3) taking a four set victory on Friday over the young Sun Devils, (1-8) ASU looked to find the the right combination to bounce back.
With one lone senior, Megan Beedie was out of action with an injury.
This year's squad is loaded with freshman and sophomores, so the future is bright, but in the meantime, Arizona State will have take some lumps gaining valuable experience.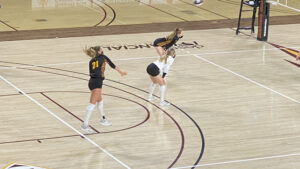 First Set
The Devils got off well in the fist set as they led 2-0 as they wanted to put the pressure on ranked UCLA but moments latter, the Bruins took a 6-5 lead.
ASU got the wheels rolling with a 5-0 run to regain the lead at 10-6.
The match's first challenge came with ASU leading 12-9 after an apparent touch by UCLA on a ball that went out of bounds. The Devils got the call reversed and now led 13-9
Midway through the first set, UCLA passed the ball with more precision, but the Sun Devil attack still maintained a 17-15 advantage at the next timeout.
The Bruins scored six of the next eight points to tie the set 21-21. both teams traded points at 22-22.'
A double reversal on a call out of bounds, the Sun Devils got the point and then tied it at 25-25.
A little confusion ensued as Arizona State was out of position as the resilient ranked Bruins scored the next two points to take a comeback with in the first set.
Marta Levinska led ASU's attack with 8 kills while Mac May led UCLA making 9 kills. Bruins up 1-0 in sets.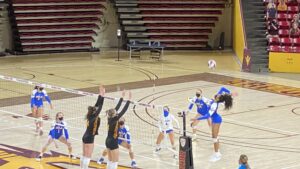 Second Set
It was UCLA's turn to get out of the gate quickly as they forged a 4-1 early lead.
A service ace by UCLA's Kate Lane extended the lead 6-2. Each team matched point for point while the Bruins kept a three point cushion 10-7.
With two service aces by the Bruin's Mac May 17-10, ASU called two timeouts trying not to let the set get away from them to the older and more experienced UCLA team.
Marta Levinska stopped the bleeding of the 5-0 Bruin run on a nice right to left cross court kill but the Devils were still down as the pressure an opportunities became insurmountable and UCLA cruised to a 25-15 win and a 2-0 set lead.
Much better passing and frontline defense aided in the relatively easy second set win.
ASU could not afford to let this Bruins team off to fast starts in the third set or it would be an early afternoon in the desert.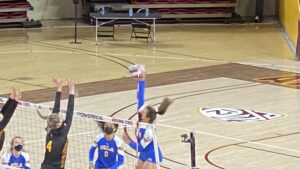 Third Set
Mac May continued to be a thorn in the Devil's side as she got two first three points on powerful kill shots, 2-1.
Arizona State fought back with quick 7-3 run of their own highlighted by Elan McCall and Sabrina Smith kills to bring them even at 8-8.
The score remained tied over the next six possessions until UCLA regained the lead 15-10 on a 5-0 run, once again forcing a Devils timeout.
The Bruins took advantage of the inexperience by cross front line passing that had ASU scrambling to double up on the block that left open angles for UCLA shots.
So the Bruins make quick work in Tempe with a 3-0 victory, but only had the second set well in hand as ASU lost 25-21 in the third and final set.
Arizona State falls to 1-9 extending their losing streak to nine after their victory at Washington on January 22nd. Sparky is still looking for their first win in Desert Financial Arena this season.
It's on to Los Angeles to face the Southern California Trojans on February 26th and 28th before a home and home series with rival Arizona March 5th and 7th.