A night later, that motivation played out in an 81-46 rout of the Trailblazers at Burns Arena that sent GCU into sole possession of first place in the WAC.
The Lopes (10-3, 4-0 WAC) won their sixth consecutive game with a dominant performance in nearly every phase. GCU shut out Dixie State for a 5:25 stretch of the first half, using that 9-0 run to open an 18-7 lead and go on to the program's largest margin of victory ever in WAC play.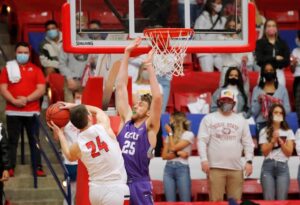 GCU senior center Asbjørn Midtgaard led the team with 16 points and nine rebounds with a 6-for-6 shooting game that extended his streak of consecutive made shots to 11 to keep his national field goal percentage lead. Midtgaard and sophomore reserve power forward Gabe McGlothan's 12 rebounds led the boards dominance, where GCU outrebounded Dixie State 42-26.
The Lopes kept the Trailblazers (4-7, 0-4 WAC) to 35.6% shooting with a more intense effort that caused 18 turnovers. Offensively, the Lopes were sharper with ball and body movement to shoot 49.1% from the field and cut down their turnovers to 13 on Saturday night.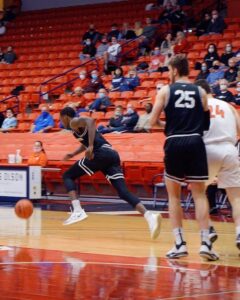 Freshman Chance McMillian provided quality minutes at the point guard, continuing his strong 3-point on the season (12 for 25) with 11 points in 18 minutes of play. GCU got 21 points out of the point guard position with Jovan Blacksher Jr.'s 10 points, holding Dixie State's Cameron Gooden to 14 points.
Dixie State scored the game's first points on a breakaway layup and never scored on a fastbreak again or led again. GCU led 36-22 at the half and opened the second half with 14 points in the first three minutes to lead 50-26 when Blacker made a 3-pointer to bookend an Alessandro Lever 3-pointer.
Press Release courtesy of Grand Canyon Athletics