Bryce Drew only has been GCU's head coach since March, but the usually measured leader showed his feel for the meaning of two victories in two nights against WAC defending champion and preseason favorite New Mexico State.
Drew began yelling in postgame celebration before he hit the GCU Arena locker room doorway Saturday night and received a celebratory shower as his Lopes players doused him with water from bottles and jumped in euphoric unison with him.
For the third consecutive WAC back-to-back set, the quality of GCU's second victory topped the first one but this 65-53 victory against the Aggies dripped with importance as much as meaning.
The Lopes (12-3, 6-0 WAC) won their eighth consecutive game to take an early commanding WAC lead while sending New Mexico State to its first 0-2 conference start since the 2012-13 season.
GCU showed that being the only team in the national top five for field goal percentage and opponent field goal percentage was no nonconference anomaly. The Lopes won by holding New Mexico State to 30.8% and 36.5% shooting in the two weekend games while GCU shot 53.1% and 48.1% to snap the Aggies' 31-game WAC regular-season winning streak, college basketball's fifth-longest conference winning streak of the century.
"I've heard a lot about New Mexico State and I knew that was a big goal for us that we had to beat these guys," said center Asbjørn Midtgaard, who put on a GCU practice uniform for the first time July 20 after transferring from Wichita State but roared with pride at the GCU Thundering Heard Pep Bad when Saturday's win ended.
"I could see it in all the returners' eyes when we just won right now. It was such a phenomenal feeling and I'm so happy that I could be a part of that and help that."
Midtgaard was big for more than his 7-foot, 270-pound presence. He recorded his sixth double-double of the season (and his career) Saturday by going 7 of 11 from the field for 14 points and 10 rebounds, right in line with his season averages of 14.8 points and 9.7 rebounds. His first miss ended his streak of 18 consecutive made shots for the national field goal percentage leader (74.4%).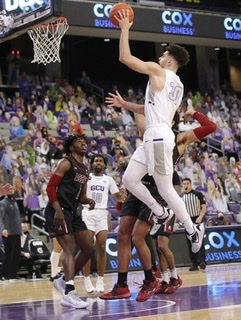 A night after being challenged by New Mexico State's aggressive, athletic play in a 70-62 win, the Lopes were the more assertive and confident team Saturday night. In crunch time, they shut out the Aggies for a five-minute, 41-second stretch that had GCU leading 59-45 entering the game's final three minutes.
"We've done this three times and every game has been an emotional game," Drew said of GCU matching its best WAC start ever (6-0). "I'm really proud of our guys. They really came at us in the second half with a couple runs and we were able to get defensive stops. The key was we were able to get the stops and the rebounds."
Midtgaard and senior power forward Alessandro Lever each scored eight points in the first half, when New Mexico State emerged with an early lead before succumbing to GCU's defense for a second straight night. The Lopes led 36-28 at halftime with a strong close that ran over into the second half for 13 unanswered points and a 45-28 lead.
Even as the Aggies intensified their defense pressure in the second half, GCU withstood it with Lopes sophomore point guard Jovan Blacksher Jr. being a steadying hand at the helm of the offense. The poised, speedy playmaker broke presses, navigated changing defenses and involved teammates to average 11 points, 6.5 assists and 2.0 turnovers in the two wins.
The Aggies closed the GCU lead to eight on three occasions but New Mexico State followed Friday night's 19% second-half shooting with a 2-for-14 finish on Saturday night.
"Oscar Frayer again really was locked in tonight defensively," Drew said. "He did a really good job at the end blocking that shot and getting some rebounds. Mikey Dixon, I thought this was one of his better defensive games. He really locked in on that side and allowed us to play more man-to-man defense."
The Lopes man-to-man defense went through a one-day improvement, as the team's experience continues to prove to help GCU adapt quickly to overnight coaching in this season's back-to-back sets.
"My goal that I had in my mind was we were going to come down here and shock everybody," New Mexico State head coach Chris Jans said. "We were going to come down here and bust out of the gate and play well and get some momentum. We knew they were big games. We didn't hide behind it.
"It was the Super Bowl for us in terms of how badly we needed to win this game going forward and we didn't. So now, we dug ourselves a hole and we're going to figure out what we're about with this particular team to fight out of that hole."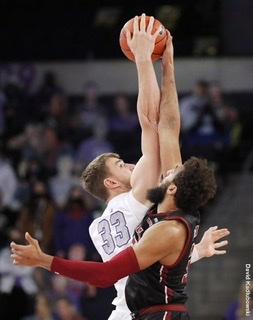 GCU's next opponent, UT Rio Grande Valley (8-3, 2-0 WAC), is the only other unbeaten team remaining in the conference. That will be a difficult road test for the Lopes, who are tied for the nation's ninth-longest active winning streak (eight games).
"We're still a new team with a new staff and I think we still have room to grow for sure," Midtgaard said. "We've got to play our best in March so there's still a couple months for that … I think we have more to prove and much more to give."
The Lopes were more devoted to the series' biggest key, rebounding, after New Mexico State stayed in Friday's game despite poor shooting because of 17 offensive rebounds. GCU cut that total to 10 on Saturday and resumed its season constant of winning the glass, 34-30, with improved perimeter box-outs.
"Our key for the game was to match their energy, box them out and share the ball offensively," Lever said.
Midtgaard said they had to put on their boxing gloves because the Aggies, the WAC's representative in seven of the past eight NCAA tournaments, hit hard.
"I don't think any of us were comfortable out there," Midtgaard said. "They were all up in our space. They were really good at sitting on my legs and using their speed against my size. Their rebound is tenacious. It's incredible. They just go and go and go and you've really got to lock in."
But the Aggies (3-3) are heading to February without a Division I victory, a point driven home by Frayer on consecutive nights with his Friday alleyoop dunk and his Saturday 3-point shot putting a late-game exclamation point on each win.
"Anytime you win, it's something to celebrate, especially beating a team as good as New Mexico State," Drew said. "Like any back-to-back weekend, we enjoy Sunday, so guys will take Sunday off and then we'll get back to work Monday."
Press Release courtesy of Grand Canyon Athletics – Josh Hauser