Eboni Walker (11 points, career-high 13 rebounds, first career double-double) and Ja'Tavia Tapley (11 points) also scored in double figures while Reili Richardson (3-5 3FGs, game-high six assists) and Taya Hanson (2-3 3FGs) added nine points each.
Early in the fourth quarter Richardson, who two weeks ago broke the program's career assists record, became the all-time career assists leader for ASU basketball – both men and women – when she recorded her fifth assist of the game to pass former Sun Devil men's basketball player Derek Glasser's total of 551 career assists. Richardson now has 553 assists in her career.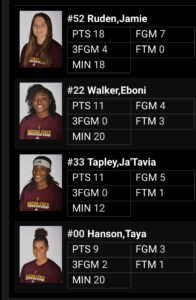 For the second time in as many games the Sun Devils (20-9, 10-7 Pac-12) tied a season high with 10 makes (10-17) from downtown. They also came out on top in rebounding (42-28) after being outrebounded in both contests last week.
The Sun Devils scored 45 points off the bench with Ruden (18), Walker (11) and Hanson (9) combining for 38 of those points.
The Sun Devils jumped out to a 10-4 lead before Cal (10-18, 2-15) responded with six straight points to tie the score. ASU scored four of the next six points to take a 14-12 lead after one quarter.
Hanson knocked down a pair of 3-pointers and scored seven points in the second quarter to lead the Sun Devils, who outscored Cal 21-11 in the period. Robbi Ryan (jumper), Tapley (layup) and Hanson (3-pointer) strung together consecutive scores for the Sun Devils to put them up 23-16. After the Bears closed to within two, ASU closed the half with a 12-2 run to take a 35-23 lead into the locker room. The scoring burst included triples from Hanson, Kiara Russell and Ruden, who beat the second quarter buzzer to put ASU by 12.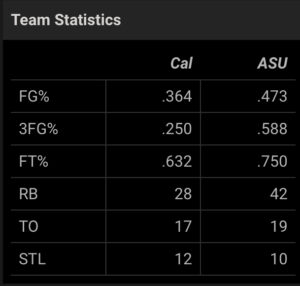 Cal got as close as eight before another Sun Devil flurry of points – this one a 13-2 run – erased any doubt about what the eventual final outcome would be. Richardson's 3-pointer put ASU up 50-31 with 3:21 remaining. It would lead by as many as 24 after Ruden's triple with 8:08 remaining in the game made the score 65-41.
For ASU, Friday's win was its 20th of the season, giving the Sun Devils their seventh straight season with 20 or more wins. Next month they will look to extend their streak of consecutive NCAA Tournament appearances to seven.
The Sun Devils close out regular season action on Sunday (12 pm MST) when they host No. 4 Stanford. Sunday's Senior Day contest can be seen on Pac-12 Bay Area and heard on KDUS AM 1060. Seniors Reili Richardson, Jamie Ruden, Kiara Russell, Robbi Ryan and Ja'Tavia Tapley will be honored in a ceremony after the game.
Press Release courtesy of Sun Devil Athletics