The 5A Blue Devils (1-3) from Sunnyside high school hosted the 4A Pueblo Warriors (3-0) for their homecoming game on a mild September evening in the South side.  The Brandon Sanders led Warriors had yet to face defeat this year, mainly due to their stagnant defense in addition to their ground and pound rushing attack, behind senior two-way player Julian Lopez.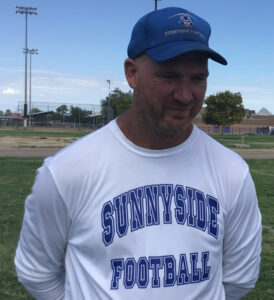 The Blue Devils, with freshman QB Deion Conde at the helm, had tasted victory only once, against a historically struggling Rincon Rangers squad.  Returning coach Glenn Posey had led Sunnyside to success in years past, and after leaving the program to coach with Pima Community College's now defunct football team, his goal this season is to bring the light back to a Sunnyside ball club that hasn't been above .500 since his departure.
Pueblo eventually found their momentum on the defensive side, with Sunnyside having controlled the line of scrimmage which suffocated Pueblo's notorious rushing attack.
Pueblo had two minutes worth of offensive momentum, with Lopez breaking off a 73 yard run and senior quarterback Marcellino Vega capped it off with a rushing TD and two point conversion.
Immediately following, it was Conde getting intercepted at midfield by senior defensive back Ricardo Laguna.  That momentum was short lived however, as Pueblo stalled.
Conde found Angel Cano for a 25 yard strike which set up sophomore Brock McDaniel's 21 yard TD reception in the corner of the end zone with 11 seconds remaining in the half to go up 21-8.
Pueblo was simply getting out muscled and playing with less energy than the scrappy Devils squad.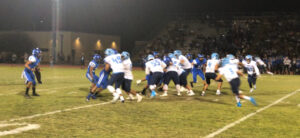 The second half looked like a different game than the first.  Emotions were high, Southside pride was at stake and the challenges would prove unrelenting to each team.
Pueblo's defense rediscovered their physicality in the third quarter by forcing a turnover on downs to slow down the Sunnyside offense.
Vega wasted no time capitalizing when he connected with senior wide receiver Hassan Aden for 34 yards and put the Warriors within 3 yards of the end zone.
Oscar Landry would soon find pay dirt from a yard out. Another successful two point conversion courtesy of Fernando Medina to put Pueblo down 21-16.
On the other side of the ball, the Warrior defense rose up and frustrated Conde. The Blue Devils then went three and out.
Then Lopez and the Warriors grounded out a 71 yard drive, capped off by a quarterback sneak from Vega on the opening play of the fourth quarter.
The 2 point conversion came up short, but Pueblo took their first lead at 22-21.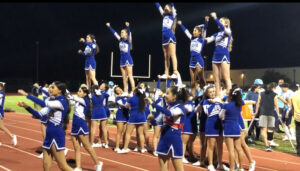 With less than a quarter left to play, and the score no longer in their favor, the frustrated Blue Devils squad had to find a way to rise up over this pesky Pueblo team. The Warriors had regained their identity and had taken control of third quarter.
The rivalry, with its emotions proved too daunting a challenge for the Blue Devils to overcome.  The Warrior defense dig down and was aided when Conte tripped over his own feet and forced the Blue Devils to punt.
With Pueblo now back on offense, Julian Lopez powered forward for what appeared to be enough for a first down, but an unfavorable spot from the officials brought up fourth down and one.
On the next play, the officials blew the play dead for an abrupt delay of game penalty call. The Warriors lost their focus and committed  yet another penalty, this time for illegal formation.
With nerves tightening, Pueblo was forced to punt it back to Sunnyside. The Devils returned it to their own forty four yard and great starting field position.
Conde had regained his swagger not a moment too soon as he found Galvaz for a huge 37 yard pickup. That put the Blue Devils just outside the red zone with under 5 minutes remaining.
The Warriors defense responded and pushed Sunnyside back and a fourth down, two yards shy.
The field goal unit for Sunnyside took the field, and senior kicker CJ Vasquez drilled it from 21 yards away and recaptured the lead momentarily. The Devils were called for a false start prior to the kick.
Vasquez now lined up from 26 yards away, and this time the attempt sailed wide left. An ecstatic Pueblo offense took over with 2:52 remaining.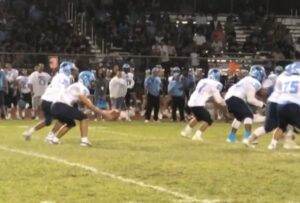 The Warriors needed to get a first down as Sunnyside still had two timeouts remaining.
On the next play, Landry kicked it into second gear and found the sideline for a fifteen yard scamper and enough for the needed first down as the clock reached the two minute mark.
A frustrated Sunnyside squad, once again let their emotions get the better of them and were flagged for an unsportsmanlike conduct penalty and 15 yards.
Pueblo had exactly what they needed to run the clock out.  Penalties and lack of discipline proved to be the downfall of the host Blue Devils down the stretch on their homecoming night.
On the flipside, the visiting Warriors of Pueblo reversed their initial course by emerging as the grittier, more physical, more disciplined, team determined to spoil a Sunnyside homecoming.
Pueblo improved their undefeated season and now stand at 4-0.  This South side battle between two of the oldest schools in Tucson was certainly one for the books, and left fans on both sides with much shorter fingernails by the end of the night!
Stay updated with 520 Sports Talk, as we travel to Sierra Vista on September 27 to provide live game coverage of the Buena Colts taking on the Apollo Hawks of Glendale for their homecoming night!